CVR Weekly Track Workouts start June 1!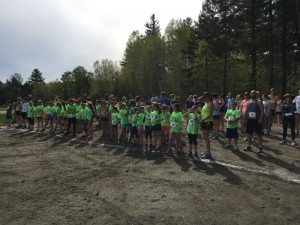 Running club shirts from CVR's donation to the Barre Girls and Boys Running Clubs. Wish I had a shot of them streaming down the road with Thorin, well in front of me, at the start.
---
Hi CVRunners,
I thought I kept the Central Vermont Runners apprised of most local running events. Imagine my surprise when I saw on the news that 1200 people ran (and walked) a 5K in Stowe this past Saturday and I'd never heard of it. I perused the results and didn't see any CVR members until Jeff pointed out that Leslie Welts was there. My guess is you can find out how her race went if you join the CVR Strava group. It's amazing how high quality, unlimited beer attracts people to races.