Leafpeepers Special Edition!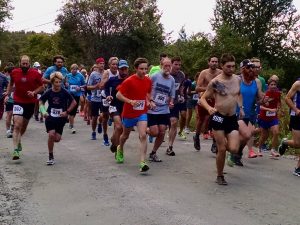 Multiply distances and elevations by 3 at Sodom Pond and you come pretty close to the Leafpeepers course.
Sounds like 3 times the fun except for no pasta and wine at the finish.
---
Hi All,
You still have time, barely!:..Online registration closes for
Leafpeepers Half Marathon
and 5K on September 28. I believe that is today! June Burr continues to need a few more course volunteers. She has divided many corners into 2 shifts, so you won't be out there too long.
Contact June
and let her know you can help. We really don't want any confused runners out there at the final corners of the race! Darragh Ellerson also could use one more finish line volunteer, so if you can help at the finish line,
contact Darragh
.
If you have friends, relatives or neighbors who might be interested in watching the race, you could get them to volunteer too–you don't have to be a runner to tell people which way to go and cheer them on. Maybe they will get inspired to join in the fun next year.
Continue reading

News and Notes from Donna