News you can use!
---
CVR Birthdays this Week!
Happy Birthday this week to: Richarda Ericson, Simon Bradley (New AG!), Sue Emmons, Steve Hill, and Colton Evans!
---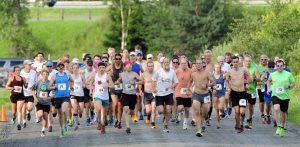 How many CVR Members can you count in this
Times Argus photo by Jeb Wallace-Brodeur?
Jeff Prescott named 21 CVR members he recognizes. Can you top that?
---
The Stowe Bike Club Wednesday Time Trials have finished for the year, so this week, I joined the Wednesday speed workout to force myself to continue to go hard once a week. Apparently, I just cannot push it unless somebody besides myself says "GO". I am happy to report that the Tuesday runs and Wednesday track workouts are both going strong. I met new people both nights this week. If you are looking for a change of "pace" this fall, join one or both groups. The only regulars that I saw at both runs are Mack Gardner Morse and Manny Sainz. And I happen to know they both go really fast 2 nights in a row… and as of now, Mack is leading the
CVR/ORS series
for his AG and Manny is less than 20 points out of 1st in his.
Continue reading

""