Let the FUN (runs) Begin!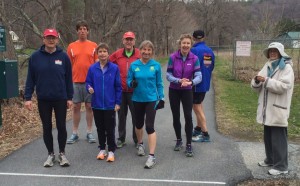 Looks like John Martin's back!
Hi Runners,
It was not a bad day for the first officially timed by Darragh Ellerson CVR Fun Run of 2016. Fashion choices ranged from shorts to capris to full tights on the bottoms and T-Shirts to vests to jackets and hats on top. It looks like I was the only one to choose mittens.
Do you run hot or cold? Or maybe hot and cold–especially if you are a 40-50 something female?

We shouldn't see so much fashion variety in Adamant this Saturday–forecast to be the warmest sunniest day of the week! Be there or be square. Still many relay opportunities out there I'm sure of it.
But prior to Adamant 20 Miler season kick off, remember to come Thursday to CVR Green Up of the Fun Run course coordinated by Mack Gardner-Morse on May 5. Meet at the Fun Run start between 5:15 and 5:30. There may be a prize or refreshments. You'll never know if you don't show.
You still have time to email Shannon Salembier, shannonsalembier@gmail.com by Friday, May 6th if you would like to be in the drawing for the Stowe 8 Miler free entries. In case you forgot, from the News and Notes of April 13: The Stowe 8 Miler and 5K on July 10 is now part of the CVR/ORS series and has offered CVR 5 Free entries! How can you say no to FREE?
The next CVR Meeting is scheduled for May 16 at the home of Denise Ricker, 399 Murray Rd., Montpelier. Potluck at 6 pm, meeting to start at 6:30. I shortened the potluck time so more of the dishes show up at the same time. Keeps me from getting so many 2nds when I go back and find new food on the table.
CVR's busy season is here….
Season Kick off: Adamant 20 Miler May 7: Believe it or not we are set for volunteers, so you have no excuse not to run it! Looking for a relay partner? I'll bet we can help out. eryea@aol.com
Don't forget Mutt Strutt May 15. Contact Brittany Lafirira if you can volunteer.
Barre Town Spring Run May 21 is your 2nd opportunity to score points in the 2016 CVR/ORS Race series. Counting to 5 is easy when you get an early start. Use the Corporate Cup as a tune up over a week ahead! Contact Andrea McLaughlin, ajvtskier@msn.com if you would like to volunteer.
The Corporate Cup on Thursday May 12 is looking for volunteers. If you are not running, it is fun to volunteer and see the masses running through Montpelier. If interested register on their website or contact Cindy Hier with questions.
See you in Adamant? Donna