All sorts of fun CVR info
Hi Runners,
Reminder! CVR Meeting next Monday, May 16 at the home of Denise Ricker, 399 Murray Hill Dr., Montpelier. Potluck at 6 pm, meeting to start at 6:30. There is so much to cover in the weekly notes, that I will send out one more reminder with a tentative agenda later in the week. Watch your mailbox for your possibly final snail mail newsletter this week!
CVR Fun Run Green Up was a great success. As you run, please enjoy the beauty exposed by the removal of Mack's entire truckload of trash. As you enjoy it, remember to thank our volunteers: Mack Gardner Morse, Pam and Dave Erickson, Scott Skinner, Fred Pond, Greg Gerdel (and me of course!). For the first time ever, we think we actually covered the entire 6 mile course.

It was a record breaking kind of day at The Adamant 20 Miler which attracted Vermont's fastest, most prolific, female marathoner. Leah Frost did not quite keep up to Gavin Boyles on the first 13 miles, but she put her Olympic Trials qualifying legs to work catching and passing Gavin's relay partner Mack Gardner-Morse to seal the overall, yes that's really overall win. She blew away her 2015 record by 7:40. And that wasn't the only record to fall Saturday. Dot Martin lowered her own prior 50-59 record by almost 2 minutes, Carlie Krolick lowered her own 60-69 record by 1:28 and John Hackney broke Newton Baker's 70-79 record by 1:22–only that 1:22 refers not to minutes and seconds, but hours and minutes! Full Results
Contrary to last week's announcement, the winners for free entry into the Stowe 8 Miler and 5K have not yet been drawn. Shannon plans to draw them tonight and will let us know. There may still be some time for some bribes–oh wait, she works against fraud in the AG's office, I didn't say that, really.
I've seen some interesting articles circulating recently. Here's one about "How Slow Will You Go" Do you want to look at a table and see if you've slowed more or less than expected for your age? I will tell you this can be inspiring or depressing, so take your chances. Some of us have discussed adding a weight factor to the table. But if you are putting your weight and age in the same category, does that mean you think either both or neither of them can be controlled by you?
Then this one which lets us blame our declining race numbers on the whole generation of millenials. I think it means we need to add a "burpee challenge" at the top of Perry Hill. And maybe a leaf pile or 2 that runners have to jump into before continuing on to make it a novel experience (with judges points given to the best leaf pile leaps?)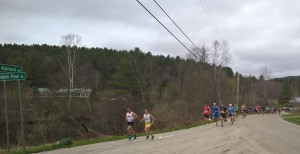 Gavin Boyles and Leah Frost practice synchronized running as they pull away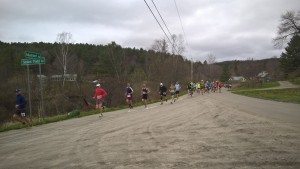 CVR runners Bob, Chris, Ben, Dot lead the rest of the pack.
Coming right up:
This Sunday: Mutt Strutt May 15 at 10 a.m. If Fido isn't quite ready for 3 hilly miles, Brittany Lafirira can still use a couple of volunteers.
Barre Town Spring Run May 21 is your 2nd opportunity to score points in the 2016 CVR/ORS Race series. Contact Andrea McLaughlin, ajvtskier@msn.com if you would like to volunteer.
20th Annual Kids Track Meet Friday June 3 from 6-7:30. This event is a fantastic community event and requires lots of volunteers. Here is the info from Sandy Colvin and Dot Helling:
We need volunteers to help with: Registration, Water Stations, Track Events, Softball Throw, Long Jump.
They do not need any experience to help. This is a very low key event and most important is the love of the sport and enthusiasm and encouragement for the kids!
Please have volunteers contact me (Sandy) via e-mail at Buckman43@comcast.net or by phone at 272-9795
Enjoy the sunshine, we've earned it,
Donna