CVR Weekly Track Workouts start June 1!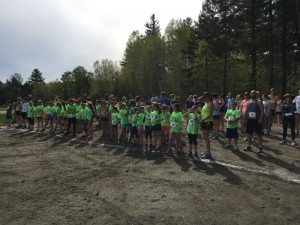 Running club shirts from CVR's donation to the Barre Girls and Boys Running Clubs. Wish I had a shot of them streaming down the road with Thorin, well in front of me, at the start.
---
Hi CVRunners,
I thought I kept the Central Vermont Runners apprised of most local running events. Imagine my surprise when I saw on the news that 1200 people ran (and walked) a 5K in Stowe this past Saturday and I'd never heard of it. I perused the results and didn't see any CVR members until Jeff pointed out that Leslie Welts was there. My guess is you can find out how her race went if you join the CVR Strava group. It's amazing how high quality, unlimited beer attracts people to races.
Another amazing thing, as also reported by observant Jeff Prescott, was watching the 9 year olds hold off Thorin Markison in the first 50 yards of the Barre Town Spring Run 5K. I wonder if anybody got that on video?
And speaking of amazing, CVR's own amazing Newton Baker is the designated speaker at the VCM Pasta Dinner this Saturday evening. He joins some amazingly famous company in that role. (Aren't you glad I'm saying amazing so many times instead of YUUUGE or awesome?)
Speaking of VCM…. The current forecast is for hot and probably humid. Here is the PT plus some experience coming out from me, If you are doing the marathon, ADJUST YOUR GOAL TIME, AND START THAT PACE IN THE FIRST MILE! And bring salt capsules. I would say add about 15-20 sec per mile to your goal if it is in the 70's and at least 30 sec per mile if it is in the 80's. That is unless you've been training in Hawaii for this race or really like crawling to the finish.
No CVR Races this week! So I hope you made Fun Run, unfortunately I missed it.
---
Track Workouts Announced:
CVR Member Steve Hill is heading up a weekly track workout at Montpelier High School on Wednesdays at 6 pm.The first one is scheduled for next week, that's June 1. Please contact Steve frmsteve@msn.com to let him know you are interested or just show up if you are willing to take the chance on missing a change of place or time announcement. I think the plan is to start the first interval at 6pm, so be warmed up by then.
---
Next Up:
20th Annual Kids Track Meet Friday June 3 from 6-7:30. Sandy and Dot report they are doing well with volunteers, but can always use more, since the more the merrier. Contact Sandy Colvin Buckman43@comcast.net or by phone at 272-979
John Valentine reports that Capital City Stampede on June 11 is doing pretty well for volunteers, so you can just run it and make use of your 3rd chance to win 2016 CVR/ORS series points. Roy Belcher is also doing fine on his very low volunteer requirement, so no excuse not to run Worcester 4 Miler on June 19. Andy Shuford and Pam Eaton could use some additional volunteers for the Paul Mailman 10 Miler on June 26. Please contact them at ashuford@myfairpoint.net and/or pamela.l.p.eaton@gmail.com
And looking further ahead…. CVR has volunteered our services to time the Montpelier Mile on July 3. We always need lots of help there to get about 200 runners finishing in about 10 minutes correctly timed. If you aren't running it, and can help out, please let me know. dosmyers@gmail.com
On the other hand, the Montpelier Mile is the fastest points you can accumulate in the CVR ORS series, so don't give that up easily.
See you at VCM somewhere? Donna
---
Fun Run every Tuesday at 5:30. Meet at the Dept of Labor parking off of Green Mtn Dr. at the bike path for 2, 4, or 6 mile course options.
Upcoming events
–> 5/29 VCM RUNVCM.ORG
–> 6/3 Kids Track Meet (CVR)
–> 6/5 Race to the Top of Bradford
–> 6/11 Capital City Stampede (CVR/ORS-3)
–> 6/11 Green Mtn Relay
–> 6/12 Equinox Trail Race (GMAA)
–> 6/16 1st Elmore Practice Triathlon of the season
–> 6/18 Mt Washington
–> 6/19 Worcester 4-miler (CVR)
–> 6/25 Newport Sprint Tri
–> 6/26 Paul Mailman 10 miler (CVR/ORS-4)
–> 6/30 2nd Elmore Practice Triathlon
–> 7/3 Montpelier Mile (CVR/ORS-5)
–> 7/4 Clarence DeMar 5K (GMAA)
–> 7/10 Stowe 8-miler & 5K (CVR/ORS-6)
–> 7/10 Mad Marathon, Mad Half and Relays