Here we go again…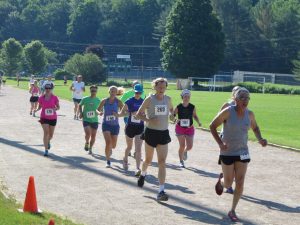 Richard Weinstein (bib # 203) at 2016 Paul Mailman 10-Miler
Hey you guys,
It turns out that we had a celebrity in our midst yesterday at the Paul Mailman 10-Miler although we didn't know it at the time. No, it wasn't Paul Mailman himself (although he and his family did attend in 2014). An anonymous club member told me yesterday afternoon that she was chatting with a man after the race. He mentioned to her that he was a former winner of the race back in the day. I contacted Bob Murphy and he e-mailed me race results from 1985. (Who else would have 31-year-old race results handy?) The winner of the Montpelier 10 Mile Race on June 29, 1985 happened to be Richard Weinstein of Brighton, MA in a time of 53:57. Welcome back, Richard!

Interesting notes the 1985 race:
There were 117 finishers with 36 finishers from out of state.
The race was the RRCA Eastern Regional 10-mile Championship.
The race director was Tim Noonan.
Notable results:
Dot Helling ran 71:19 for 3rd F 30-39
Darragh Ellerson ran 76:18 for 1st F 50-59
Norm Robinson ran 65:04 for 16th M 18-29
John Valentine ran 57:53 for 4th M 30-39
Bob Howe ran 69:45 for 16th M 30-39
Bob Murphy ran 58:09 for 2nd M 40-49
Gerry Carlson ran 71:33 for 3rd M 50-59
See below for more recent race results:
Paul Mailman 10-Miler
Catamount Ultra
Green Mountain Mile
Toughman Tupper Lake Tinman Triathlon
Fishy Run Run
Onward,
Jeff
Paul Mailman 10-Miler
The 42nd annual Paul Mailman 10-Miler was held Sunday, June 26 in Montpelier. There were 63 finishers. It was quite hot but the humidity was not too bad and there were rumors of a cooling breeze. Thanks to race director Andy Shuford and substitute co-director Pam Eaton for presenting a well-organized event.
With the warm conditions, times were a bit slower than usual. There were no finishers under an hour. The overall winner, despite being a Waterbury resident, is not a CVR member. He is a member of…(cough, cough)…another club. Even so, he is a frequent competitor in CVR events. I'd like to give a shout out to the overall winner, 52-year-old Tom Thurston, in a time of 1:01:11. [New Rule: Whenever someone my age takes first place overall, he/she will get an entire paragraph, regardless of club membership status.]
The top female was our own Lori Crotts. Lori was 6th out of all-comers in a time of 1:06:36.
CVR age group winners include:
Dylan Broderick, F 20-29 (Lori was removed as overall winner.)
Meg Valentine, F 30-39
Rowly Brucken, M 40-49
Jim Flint, M 50-59 (Tom was removed as overall winner.)
Nina Aitken, F 60-69
Chris Andresen, M 60-69
John Hackney, M 70-79
John Hackney ran 1:19:42 to demolish the previous M 70-79 record. The old record of 1:23:57 was set by Bob Murphy in 2011. Bob did the computer scoring for the race yesterday and seemed genuinely pleased to see his record fall. John has been very quietly rewriting the CVR record book since he turned 70 last year. I think he is 71 now but he is obviously still going strong.
This event was the 4th event of the 2016 CVR/ORS Race Series. We will send out a bulletin soon when updated series standings are available. In the meantime, your next opportunity to earn points is at Montpelier Mile on July 3. Your best 5 series results count so you still have time to when your age group even if you have not started yet!
Results are here: http://cvrunners.org/wp-content/uploads/2016/06/10Miler2016combined.pdf
Catamount Ultra
The Catamount Ultra 50k and 25k trails races were held Saturday, June 25 at Trapp Family Lodge in Stowe. This event is a fundraiser for the awesome Catamount Trail Association. There were 113 finishers in the 50k and 163 finishers in the 25k.
CVR participants in the 25k include Gary Kessler, Dodge Bingham and Fabienne Pattison.
Results are here: https://ultrasignup.com/results_event.aspx?did=37320
Green Mountain Mile
The Green Mountain Mile was held Saturday, June 25 in Waterbury. This event is held immediately before the Waterbury "July 4" parade…which is the usually the weekend before what normal folks consider to be the July 4 weekend. There were 228 finishers.
George Aitken was 2nd overall in a time of 5:13.4 (and only 1 second behind the winner). Geordi recovered quickly enough to run 1:11:40 at Paul Mailman 10-Miler the next morning. (Oh, youth…)
Results are here:
http://greenmountainmile.weebly.com/uploads/4/6/3/6/46362371/green_mountain_mile_2016_results.pdf
Toughman Tupper Lake Tinman Triathlon
The Toughman Tupper Lake Tinman Triathlon was held Saturday, June 25 in Tupper Lake, NY.
In the Olympic division (0.6-mile swim + 18.6-mile bike + 6.6-mile run), there were 56 finishers. Dot Martin was 2nd F Overall and 1st F 50-59. Looking at the splits in the female division, Dot had the 4th fastest swim, the 4th fastest bike and the 2nd fastest run to combine for 2nd best overall result. The overall winner had the fastest bike and run times but was only 15th in the swim. Sad!
John Martin observed that the 1st F Overall was 21 years old. John declared that Dot was old enough to be that girl's grandmother. Don't tell Dot he said that! Dot ran Paul Mailman 10-Miler as a recovery run. John suggested that she run 9:00 min/mile pace so Dot ran 8:21 min/mile. Married people!
There was another Vermonter in the Olympic Division. Her name was Bitsy Daut. I am not sure if I know a Bitsy Daut. Do you?
There were 70 finishers in the Sprint division. John Martin was 3rd M 60-69.
Olympic division results are here: https://www.sportstats.ca/display-results.xhtml?raceid=40019&status=results
Sprint division results are here: https://www.sportstats.ca/display-results.xhtml?raceid=29875&status=results
Fishy Run Run
The Fishy Run Run was held Sunday, June 12 in Middlesex. I know nothing about this event and it certainly seems fishy! There were 7 finishers in the 1-mile race and 2 finishers in the 5.7-mile race. (Isn't there another 5.7-mile race in Middlesex? Just saying…)
Jamie Shanley was the overall winner of the 5.7-mile race.
Full results are here: http://www.coolrunning.com/results/16/vt/Jun12_FishyR_1_set1.shtml