Montpelier Mile this Sunday!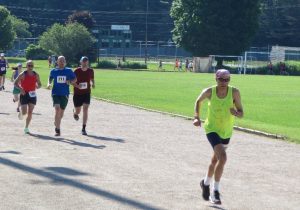 Rowly revels in the heat at Paul Mailman
Hi All,
The summer is just too short! I had so many things I wanted to do this past weekend. I ended up racing the Newport Triathlon (just $25 which is a great deal for triathlons) on Saturday and doing the Central Vermont Cycling Tour to benefit the Cross Vermont Trail on Sunday. I was really torn about not doing the 10 miler and after realizing that Sue Hackney didn't participate and Dot Martin was just getting in some LSD the day after placing 2nd OA F at the Toughman Triathlon, I regret not trying to score some big points there. Not sure how I am going to make it to 5 this year, but I am signed up for Stowe and hope to make it to Bear Swamp. That will get me to 3 with a few races left to go.

I think we made it through our string of 7 events in 8 weeks. Phew! Now it's time to get some CVR/ORS points the next 2 weekends at the July 3 Montpelier Mile and July 10 Stowe 8 Miler/5K in our non club events in the series. I highly recommend pre-registering here by July 1 for the Mile; it saves the timers (that's us!) a lot of stress race day if most people are preregistered, and it saves you $10. If you are not running on Sunday, July 3 at 6, I could still use a few more volunteers to help out at the finish line. Although it is not a CVR race, we help ORS out by timing it and manning the finish chutes, so you do get volunteer credit for the CVR/ORS series if you help out.
NEWS FLASH….Jim Flint, Rowly Brucken and Chris Andresen combined to win 3rd Master's Club Team at VCM. They are cash winners! It looks like some Master's Women team prizes went unclaimed due to the high non-finish rate. Congrats to Jim, Rowly and Chris for putting CVR in the top 3. Results are here.
You know how last week I apologized for telling you too late about an opportunity to participate in Vermont Senior Games Track and Field Championship? Well, just in time, I'm reminding you that the Vermont Senior Games 5K Championship is at the GMAA Clarence DeMar Road Race on July 4. Pre-register on line or by mail by July 1.
And don't forget about the CVR Track Workouts every Wednesday at 6 at Montpelier High School. I keep getting updates from Steve Hill about the workouts and I know they would be very very good for me, and maybe for you. Unfortunately, I have a conflict that day since I ride the Stowe Bike Club Time Trials Wednesdays. At least I am doing some sort of speed that day, but I'm not sure if anything will ever give me a better than pathetic finishing kick. If you have ever considered doing a track workout to gain some speed, I can guarantee that you will be more likely to do it on a regular basis if you join a weekly group. And I am pretty sure you will be less sore after races if you practice the pace on the track regularly.
And while I'm at the reminders…. Come to FUN RUN on Tuesdays! We are so lucky to have Darragh time them week after week. We just barely escaped the thunder storms tonight!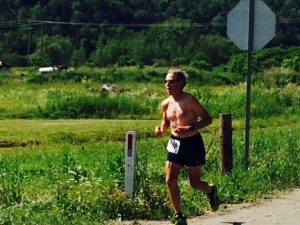 John Valentine doesn't like the heat quite as much as Rowly.
Ongoing events
Fun Run every Tuesday at 5:30. Meet at the Dept of Labor parking off of Green Mtn Dr. at the bike path for 1, 2, 4, or 6 mile course options.
CVR Track Workouts every Wednesday–Intervals start at 6 pm at the Montpelier High School Track
Upcoming events
–> 6/30 2nd Elmore Practice Triathlon
–> 7/3 Montpelier Mile (CVR/ORS-5)
–> 7/4 Clarence DeMar 5K (GMAA)
–> 7/10 Stowe 8-miler & 5K (CVR/ORS-6)
–> 7/10 Mad Marathon, Mad Half and Relays
–> 7/14 3rd/Final 2016 Elmore Practice Triathlon
–> 7/18 Vermont Sun Triathlon
–> 7/23 38th Annual Bear Swamp
–> 7/31 Barre Heritage 5K
–> 8/18 Berlin Pond 5 Miler