News You Can Use!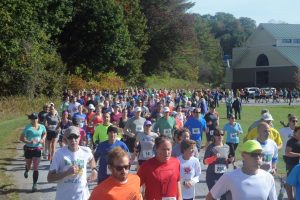 Leafpeepers 2016 coming right up! Join the party!
Hi All,
The August CVR meeting at Beth's had a talkative group of 18 members present. Here are a few tidbits to share:
Leafpeepers is nearing half full at 431 half marathoners registered and 139 in the 5K. Encourage your friends and family to sign up soon. June Burr is starting to gather the list of Leafpeepers volunteers. Motivational signs need updating–a fun volunteer opportunity for some artistic types and you can still run the race.
Mutt Strutt still needs a new Race Director or it will not happen next year. Let me know if you might want to help.
Berlin Pond and Leafpeepers need certification. John Valentine and I are the current certifiers, but would love to train anybody who would like to help out.
Discussion on including a longer race like the GMAA Common to Common 30K again in the CVR/ORS series for 2017
Donna and Eric will again provide a spaghetti supper for all participants at Sodom Pond 4 Miler Sept 14.

The CVR/ORS series continues with the Northfield Savings Bank 5K on Sept 3. Rowly tells me he has enough volunteers, so all of you can participate. Remember that 5-13 year olds can get CVR/ORS series points for the mile. I believe that somebody with the initials BB double dipped for points in both the mile and the 5K last year to make up for lost time.
Don't forget that volunteering is a requirement for inclusion in the final standings of the series. Your best opportunity to volunteer is for CVR's signature event, the Leafpeepers Half Marathon and 5K. Opportunities abound that allow you to work and run or you can have front row seats on the course and use that as your excuse not to run. June Burr coordinates the volunteers and appreciates any helpers. After that, you still have time to volunteer at the Fallen Leaves Series in November. I see quite a few people in the standings without an "X" in the volunteer column. Don't be left out because you didn't get around to it! I've seen 1st place prizes go down to the next person if the first did not get that "X". Also, if you don't see an "X" in the volunteer column and you have volunteered, contact the race director and make sure they submitted your name to Jim Flint.
Help Wanted:
Mitch Smoller is looking for help coaching the boys and girls cross country ski teams at Williamstown middle and high school. That person may also help with the running programs next year.
Donna
Ongoing events
Fun Run every Tuesday at 5:30. Meet at the Dept of Labor parking off of Green Mtn Dr. at the bike path for 1, 2, 4, or 6 mile course options.
CVR Track Workouts every Wednesday–Intervals start at 6 pm at the Montpelier High School Track
Upcoming events
–> 8/28 Race to the Top of Vermont
–> 8/28 Zoe's Race 1K/5K Oakledge Park
–> 9/3 NSB 1 Miler and 5K CVR/ORS Series
–> 9/4 Archie Post 5 Miler GMAA
–> 9/10 The Sprouty 5K and 10K, Sharon VT
–> 9/14 Sodom Pond Run CVR/ORS Series
–> 9/17 Common to Common 30K GMAA
–> 10/1 Art Tudhope 10K GMAA
–> 10/2 Leafpeepers Half Marathon and 5K CVR/ORS Series