CVR/ORS Series Update
Leafpeepers signup deadlines!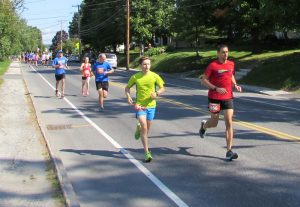 CVR/ORS Age Group Leaders Matt Rutherford, Brian Burns and Lori Crotts lead a pack at NSB 5K
---
Hi All,
Hot off the press: Jim Flint has updated the CVR/ORS Race Series standings including the Sodom Pond 4 Miler Results.

Here's Jim's play by play for the lead…..
Female 30-39 – Sarah London has the lead, Will Meg Valentine pull out a win at Leaf Peepers or Autumn Onion to get 500 points and move from 3rd to first in her age group?
Female 40-49 – Rima Carlson and Sandy Colvin each have 4 races and 1 age group win. Rima has a comfortable lead, but she will need to run one of the last two races to win the age group if Sandy competes at Leaf Peepers or Autumn Onion.
Male 40-49 – Brian Burns and Rowly Brucken are locked into the closest race of all age groups – 487 to 483 points. Brian has the edge in age group wins, 3 to 2. Rowly could narrow the gap with an age group win at Leaf Peepers or Autumn Onion.
Male 70-79 – Those free wheeling 70s guys are keeping the age group competition a surprise until the end. Greg Wight leads the age group in participation, with 5 races under his belt. He heads up a volunteer crew at Leaf Peepers, but Greg could add to his points by doing well at Autumn Onion and dropping a lower point race. Roger Cranse is 50 points back of Greg, with 4 races and 2 wins. He is directing Leaf Peepers, so it will come down to Autumn Onion if Roger wants to make a shot at the title. John Hackney is sitting in third place with 3 races and 3 age group wins. A strong performance at Leaf Peepers could boost John into the age group lead, but he may still need to compete in Autumn Onion to clinch the 70s title.
Here are the updated CVR/ORS Race Series leaders by Age Group:
Check here to see how you and everyone else are doing
F 0-19 — Jane Miller-Arsenault
F 20-29 — Lori Crotts (5 age group wins, displacing Dylan Broderick)
F 30-39 — Sarah London (2 age group wins, displacing Meg Valentine)
F 40-49 — Rima Carlson (1 age group win)
F 50-59 — Dot Martin (6 age group wins – 500 pts.)
F 60-69 — Nina Aitken (5 age group wins – 500 pts.)
F 70-79 — Marsha Bancroft (1 age group win)
M 0-19 — Brian Bushey (3 age group wins)
M 20-29 — Matt Rutherford (3 age group wins)
M 30-39 — Thorin Markison (2 age group wins, displacing Colin Clifford)
M 40-49 — Brian Burns (3 age group wins, displacing Rowly Brucken)
M 50-59 — Jim Flint (3 age group wins)
M 60-69 — Chris Andresen (6 age group wins – 500 pts.)
M 70-79 — Greg Wight
M 80+ — Gerry Carlson (5 age group wins – 500 points)


Gerry Carlson clinches his 500 points at Sodom Pond
---
You still have time:..Online registration closes for
Leafpeepers Half Marathon and 5K
on September 28 with mail in closing on Sept 23. Darragh Ellerson is in charge of providing 4-6 volunteers as backup timers for Granite State Race Services. So if you can help at the finish line,
contact Darragh
. Also, June Burr continues to need course volunteers. It is a great way to watch and cheer if you are not planning on running. If you haven't gotten your CVR volunteer duty in for the year, now is the time.
Contact June
and let her know you will be there.
Speaking of volunteer duty…. Looking at the most recent race series results, I see quite a few people near the top without the volunteer mark checked. You know that even if you are in first place you are omitted from final results if you haven't volunteered. As Jeff would say, "Don't be that person". And we don't really need 20 volunteers at the final Fallen Leaves Series 5K on Nov.19. So get it done at Leafpeepers!
Have you ever run on the Sparrow Farm Trails?
If so, Here's a request from Dan Voisin:
MAMBA is putting together a project to replace the Sparrow Farm Trail boardwalk. The boardwalk, in its current iteration, is currently about 12 years old and in drastic need of replacement. MAMBA, being a heavy user of the trail, is taking the lead on the project and have raised $2550 of the ~$4500 needed to repair the bridge with grants from the Vermont Mountain Bike Association, Concept2, and East Montpelier Trails. MAMBA will be putting membership dues towards the project and have started a KickStarter campaign to make up the balance. Here is the link: https://www.gofundme.com/2uf94ufg
As a runner, I can attest to the sketchy-ness of the current boardwalk – probably worse for runners now than for mtn bikers. I can also attest that local runners are frequent users of the trail. Most of the construction will be done on a volunteer work day October 15. If you can help out contact Dan by email or phone 279-8174
Donna
Ongoing events
Fun Run every Tuesday at 5:30. Meet at the Dept of Labor parking off of Green Mtn Dr. at the bike path for 1, 2, 4, or 6 mile course options. Note: Less than a month of daylight remains to continue the Fun Runs–Final Fun Run of the Season (4 miles max) is October 18. Plan on Julio's after the run.
CVR Track Workouts every Wednesday–Intervals start at 6 pm at the Montpelier High School Track
Upcoming events
–> 9/25 Island Vines 10K
–> 10/1 Art Tudhope 10K GMAA
–> 10/2 Leafpeepers Half Marathon and 5K CVR/ORS Series
–> 10/8 Michael Zemanek 5K and Fun Run, Montpelier HS
–> 10/9 46th Green Mtn Marathon & Half Marathon GMAA
–> 10/9 Calais/Woodbury Mountain Tamers 5K Trail Run
–> 10/30 Autumn Onion 5K CVR/ORS Series
–> 11/5 Fallen Leaves 5K #1 CVR
–> 11/12 Fallen Leaves 5K #2 CVR
–> 11/19 Fallen Leaves 5K #3 CVR