Leafpeepers Special Edition!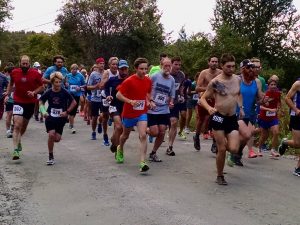 Multiply distances and elevations by 3 at Sodom Pond and you come pretty close to the Leafpeepers course.
Sounds like 3 times the fun except for no pasta and wine at the finish.
---
Hi All,
You still have time, barely!:..Online registration closes for
Leafpeepers Half Marathon
and 5K on September 28. I believe that is today! June Burr continues to need a few more course volunteers. She has divided many corners into 2 shifts, so you won't be out there too long.
Contact June
and let her know you can help. We really don't want any confused runners out there at the final corners of the race! Darragh Ellerson also could use one more finish line volunteer, so if you can help at the finish line,
contact Darragh
.
If you have friends, relatives or neighbors who might be interested in watching the race, you could get them to volunteer too–you don't have to be a runner to tell people which way to go and cheer them on. Maybe they will get inspired to join in the fun next year.
And just so this isn't only about Leafpeepers. Our newsworthy Newton Baker hits the T-A headlines again…
There are so many other recent great results from CVR members–marathons, 50 milers, triathlons. I cannot keep track. Congrats to all of you who have recently met goals you trained all summer for.
See you at the finish line this Sunday (I'll be working there),
Donna
Ongoing events
Fun Run every Tuesday at 5:30. Meet at the Dept of Labor parking off of Green Mtn Dr. at the bike path for 1, 2, 4, or 6 mile course options. Note: Less than a month of daylight remains to continue the Fun Runs–Final Fun Run of the Season (4 miles max) is October 18. Plan on Julio's after the run.
CVR Track Workouts every Wednesday–Intervals start at 6 pm at the Montpelier High School Track
Upcoming events
–> 10/1 Art Tudhope 10K GMAA
–> 10/2 Leafpeepers Half Marathon and 5K CVR/ORS Series
–> 10/8 Michael Zemanek 5K and Fun Run, Montpelier HS
–> 10/9 46th Green Mtn Marathon & Half Marathon GMAA
–> 10/9 Calais/Woodbury Mountain Tamers 5K Trail Run
–> 10/15 Sparrow Farm Trail Work Day
–> 10/22 Victory 5K/10K for Karen Newman
–> 10/30 Autumn Onion 5K CVR/ORS Series
–> 11/5 Fallen Leaves 5K #1 CVR
–> 11/12 Fallen Leaves 5K #2 CVR
–> 11/19 Fallen Leaves 5K #3 CVR