Happy New Year!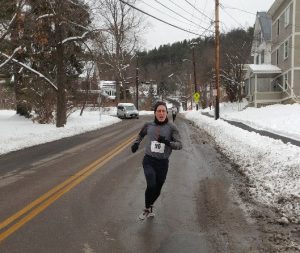 Tim Noonan can't hold off Theresa
but he leads his new AG for the 2017 CVR/ORS Series
Bob Howe has announced that the deadline for the next CVR newsletter is January 15. Send him your interesting 2016 stories or motivational articles for 2017. As a special addition, he would like to include photos of your favorite running medal. A random drawing from the medal photo submissions will be held for a special prize (details to be announced). Please email your articles and photos to Bob! lucycarol18@gmail.com

This week's CVR Winter Long Run will be hosted by yours truly (that would be me) in Adamant. Meet at 1171 Haggett Rd at 9:30 a.m. for distances to be determined by participants. Dress warmly; it is winter. And as for everything held in Adamant, expect food and beverages after the run. Contact dosmyers@gmail.com for more info and to let me know if you are coming. RSVP not required, but we are more likely to wait for you if we know you are on your way.
Deadline for reservations for the Annual CVR Volunteer Appreciation Dinner and CVR/ORS Series Awards on January 26, 2017 approaches. Contact John Martin by Jan 18 to RSVP. Remember, volunteers are free, guests and member/non volunteers are $25.
And have you seen this, from the NY Times? Ed Whitlock ran a sub 3-hour marathon at age 73, and sub 4-hour at age 85. http://www.nytimes.com/2016/12/28/sports/ed-whitlock-marathon-running.html?_r=0
Is that inspirational or just freaky?
Happy 2017!
Dot Helling navigating the potentially icy sidewalk before heading to Colorado.
Does Manny Sainz catch her? See results at cvrunners.org
Ongoing events
CVR Saturday Morning Winter Long Runs. Contact Jeff Prescott to be included in the weekly information emails.
CVR Speed Workout Wednesdays at 6 pm–Yes, they really do continue. Meet near the MHS track on the bike path. Bring a headlamp! Contact Steve Hill if you have questions and want to be added to his email list.
Official Fun Runs for 2016 are over! See you there next April/May at 5:30 on Tuesdays
Upcoming events
–> 1/26 CVR Annual Volunteer and Awards Dinner at Positive Pie in Barre
–> 2/24-2/25 World Snowshoe Championships Saranac Lake, NY
–> 1/29 Boston Prep 16 Miler, Derry NH
Feel free to email me any additional events that should be listed here.