News you can Use!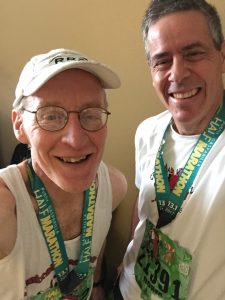 CVR Reunion at Gasparilla Half Marathon last weekend
---
Happy CVR Birthdays!
Happy Birthday this week to: Bonnie Burkholder, Joe Loga, Ariane Kissam, Kari Bradley, Julia Shedd, Rosa DeAngelis, Willem Colvin, Haley Tamburo, Eric Morse!
(This is a new feature I thought would be fun. If you don't want to be listed, let me know. If I miss you, sorry, I'm getting it from the membership list which doesn't have everyone's birthday on it.)
---
The Saturday CVR Winter Long Run for March 4 will be hosted by John Valentine in Roxbury. Meet at John and Jane's house at 440 Northfield St, Saturday at 9:30 a.m. ready to run. Contact John
jvalentine@tds.net
for directions, more information and to let him know you'll be coming. Brrr, I hear winter is coming back just for the Roxbury run. At least it won't be muddy like last year.
Bob Howe has announced the deadline for the March newsletter–Get it to Bob, lucycarol18@gmail.com by March 12. He invites you to let him know any favorite races you'd like to get more CVR members going to (like my plugs for Mount Washington….lottery closes at midnight!) Any other fun articles and pictures are always welcome–did you go on a winter racecation? Tell us about it!
Time to start thinking about the CVR Annual Meeting… March 26th at Four Corners School House in East Montpelier. Have you ever heard of Chi Running? I often recommend some of the Chi Running concepts for injury prevention and I've lined up CVR member and Chi Running instructor Sarah Richardson to do an introductory clinic prior to the meeting. Tentatively, the clinic will be at 3 pm, pot luck at 5 pm and meeting starting at 5:30 pm. Stay tuned!
Donna
Ongoing events
CVR Saturday Morning Winter Long Runs. Contact Jeff Prescott to be included in the weekly information emails.
CVR Speed Workout Wednesdays at 6 pm–Yes, they really do continue. Meet near the MHS track on the bike path. Bring a headlamp! Contact Steve Hill if you have questions and want to be added to his email list.
Unofficial Fun Runs for 2017 will start March 14, as soon as daylight savings time arrives! Official Fun Runs start in May at 5:30 on Tuesdays.
Upcoming events
–> 3/18 Spring Fling 5K/10K , Shelburne
–> 3/26 38th Annual GMAA Kaynor's Sap Run, Westford
–> 4/1 Funny Twunny ~20K or ~20 Mi plus jokes and riddles, Huntington
–> 4/8 Unplugged Half Marathon
–> 4/22 GMAA Rollin Irish Half Marathon, Essex
–> 4/29 Greenfield NH 5K and 10 K
–> 4/30 CVR Mutt Strutt
Feel free to email me any additional events that should be listed here.