News you can use!
---
CVR Birthdays this Week!
Happy Birthday this week to: Brian Carlson, Darragh Ellerson, Dan Voisin, Estherline Carlson, Jo-ann Beaudin, Devin Baker, Dan Miller-Arsenault, Marissa Watson, Celine Blais (new AG!)
---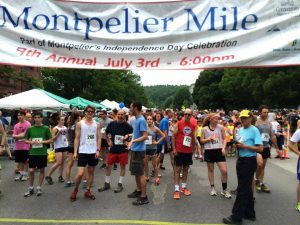 ---
No thunderstorms and no severe wind gusts in the forecast.
The Montpelier Mile Banner will rise again this year!
---
Montpelier Mile tomorrow! Race Day Registration 3:45-5:30. We have our full set of volunteers, so if you want to participate, you'd better run it!
Correction from last week: The day after the Montpelier Mile is July 4, but also a Tuesday. Darragh will not be able to stay to time. Darragh will be there at the start letting people know they are welcome to run, but Fun Run will be unofficial on the holiday. I assume Wednesday speed work will be on the usual schedule. And if you are looking for a 4th event in a row, note that the Final 2017 Elmore Triathlon and Picnic is this Thursday at 6:30!
Registration ends July 5 for the July 9 Stowe 8 Miler and Flying Onion 5K! Don't miss out!
Jim Flint has compiled the results through Paul Mailman 10 Miler for the CVR/ORS series –see how you are doing HERE. And of course if he has missed you, or you notice an error, please send him a nice note to help him out. jimflintvt@gmail.com
Looking ahead: Save 50% by registering early (by July 22) for Barre Heritage 5K on July 30.
Leafpeepers Half Marathon and 5K registration is up! Sign up early here!
CVR/ORS Leafpeepers training group to be coached by Richarda Ericson. Runs will be Saturday mornings at 8 from ORS. Full details coming very soon! Richarda and I will be recruiting runners to help lead the runs.
Ongoing events
CVR Fun Run every Tuesday, May to October, at 5:30 pm. Meet at the bike path behind the Dept of Labor Park & Ride. Run 1, 2, 4 or 6 miles. Run for time and/or as a social run–your choice!
CVR Speed Workout Wednesdays at 6 pm. Meet on the MHS track warmed up by 6. Contact Steve Hill if you have questions and want to be added to his email list.
Upcoming events
–> 7/3 Montpelier Mile CVR/ORS Race Series
–> 7/4 Harry Corrow Freedom Run 5K, 10K, 10 Mile Trail Race
–> 7/4 35th Annual Clarence DeMar 5K
–> 7/6 Final Elmore Practice Triathlon (and picnic!)
–> 7/9 Stowe 8 Miler and 5K CVR/ORS Race Series
–> 7/15 39th Annual Bear Swamp Race CVR/ORS Race Series
–> 7/30 Barre Heritage Festival 5K Trail Race
–> 8/17 Berlin Pond 5 Miler CVR/ORS Race Series
–> 8/18 Last Mile 5K Run and Walk, Randolph
Feel free to email me any additional events that should be listed here.