News you can use!
---
CVR Birthdays this Week!
Happy Birthday this week to: Celine Blais (new AG!), Marissa Watson, Rick DeAngelis, Grace Morinth, Jon Floyd, Kimberly Caldwell, Sarah Ricker
---
CVR's classic, The
39th Annual Bear Swamp Race
is this coming Saturday at 9 a.m. Earn more CVR/ORS series points! Tim Noonan still needs several volunteers, so if the hill/trail features are not your favorites, please contact Tim 802-223-6216 or:
carrnoonan@comcast.net
to help out.
Barre Heritage Festival 5K is coming up quickly! You just have until July 22 to enter for $5. After that the price doubles to a whopping $10! (Only from CVR can you get such a deal.) Jackie Jancaitis and her Rehab Gym helpers definitely still need some CVR volunteers. Contact Jackie, 802-479-4000 or jacqueline.jancaitis@rehabgym.com, to volunteer and then explore the beautiful trail network at a leisurely pace after the race.
Race to the Top of Vermont is offering a discounted price if we send in 5 or more applications at one time. Sandy Colvin will gather the applications to be sent in at the same time. So save $ and get the printed app with a check to Sandy. She needs them by July 24th. She can be contacted at: Buckman43@comcast.net, or you can drop them off at her house or mail them to 121 Spring Hollow Rd. in Montpelier. See http://www.rtttovt.com/register/teamsclubsgroups/ for info.

Jim Flint has compiled the results through Montpelier Mile for the CVR/ORS series –see how you are doing HERE. Only the over-achieving Mens 60-69 group already has 2 people with a full 5 count of races. I'll bet Manny and Tim keep racking up more points anyway. Can I find 3 more races that Dot Martin doesn't run to strive for a tie? And of course if Jim has missed you, or you notice an error, please send him a nice note to help him out. jimflintvt@gmail.com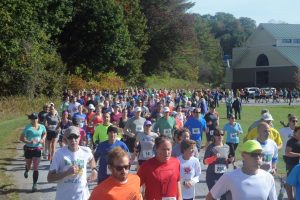 As promised….the details:
Leaf Peepers Half Marathon Training Series
For both CVR members and people who probably should be members of CVR
Central Vermont Runners' largest event, the Leaf Peepers Half Marathon and 5K, is scheduled for Sunday, October 1 in Waterbury…and to help you get ready Onion River Sports and Central Vermont Runners are excited to present the Leaf Peepers Half Marathon Training Series!
Join us for this 10-week training program on Saturday mornings from July 22-September 23. Runs leave at 8:00am Saturdays from the Onion River Sports parking lot in Montpelier. This series includes Saturday group distance runs, flexible weekly training plans, email consultations with coach RIcharda Ericson, plus the option to attend mid-week speed workouts with your teammates–all at a price that breaks down to just $5 per week! Runners not registered for Leaf Peepers are also welcome to join the series! Training runs will break into beginner and experienced groups. Cost: $50
RSVP Required! Please email theonions@onionriver.com or call (802) 229-9409 to sign up. You can also register for the training program when you register for the Leaf Peepers race at https://register.chronotrack.com/r/31145. Full race details can be found at https://leafpeepershalfmarathon.org/
Registered participants receive 20% off in-stock running apparel and running shoes at Onion River Sports during the series.
*Participants should be able to run at any pace for 30 consecutive minutes before signing up.
SPREAD THE WORD!
---
Hey you really fun runners: I just found an easy alternative to speed work Wednesday nights. The Runderachievers meet at Good Measures Brewing in Northfield at 5:30 for a 1-3 mile run or walk followed by $3 pints! Actually, maybe you could make both the brew and the speed work if you hurry? I hear they have a brew made just for the runners called the 30 minute mile with a Gatorade theme to the flavors.
---
Ongoing events
CVR Fun Run every Tuesday, May to October, at 5:30 pm. Meet at the bike path behind the Dept of Labor Park & Ride. Run 1, 2, 4 or 6 miles. Run for time and/or as a social run–your choice!
CVR Speed Workout Wednesdays at 6 pm. Meet on the MHS track warmed up by 6. Contact Steve Hill if you have questions and want to be added to his email list.
Upcoming events
–> 7/15 39th Annual Bear Swamp Race CVR/ORS Race Series
–> 7/15 Round Church Women's Run 5K/10K GMAA (note date change)
–> 7/30 Barre Heritage Festival 5K Trail Race
–> 8/17 Berlin Pond 5 Miler CVR/ORS Race Series
–> 8/18 Last Mile 5K Run and Walk, Randolph
Feel free to email me any additional events that should be listed here.