News you can use!
---
CVR Birthdays this Week!
Happy Birthday this week to: Richarda Ericson, Simon Bradley (New AG!), Sue Emmons, Steve Hill, and Colton Evans!
---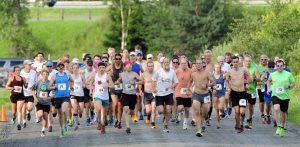 How many CVR Members can you count in this
Times Argus photo by Jeb Wallace-Brodeur?
Jeff Prescott named 21 CVR members he recognizes. Can you top that?
---
The Stowe Bike Club Wednesday Time Trials have finished for the year, so this week, I joined the Wednesday speed workout to force myself to continue to go hard once a week. Apparently, I just cannot push it unless somebody besides myself says "GO". I am happy to report that the Tuesday runs and Wednesday track workouts are both going strong. I met new people both nights this week. If you are looking for a change of "pace" this fall, join one or both groups. The only regulars that I saw at both runs are Mack Gardner Morse and Manny Sainz. And I happen to know they both go really fast 2 nights in a row… and as of now, Mack is leading the
CVR/ORS series
for his AG and Manny is less than 20 points out of 1st in his.
Rowly Brucken reports the NSB is a little short of volunteers for the 5K and the 1 Mile this Saturday. Here's a quick opportunity to volunteer (and then eat some fried dough). Contact Rowly, rbrucken@norwich.edu, who will connect you with the NSB race director to volunteer.
However, if you are not volunteering….
SIGN UP TODAY!!!! The 39th Annual NSB 5K and 1 Miler are on-line only registration. NO RACE DAY REGISTRATION! Sign up now– Don't get closed out from your next chance at CVR/ORS Series points. You and your neighbors should pre-register the kids for the 1 Mile too. A 5K then fried dough while you watch the kids. What could be better?
VERMONT SENIOR GAMES: The NSB 5K is also the 2017 Vermont Senior Games 5K Road Race Championship. Anyone who will be 50 years old by 12/31/17 is eligible to dual register (no additional fee) and have the chance to win Gold, Silver, or Bronze in your age category (5-year increments) Complete info is available on the VSGA website: http://vermontseniorgames.org/event/5k-run/
Help wanted department…
Are you creative, funny or just willing to get your 2nd grade on with some poster board and markers? The Leafpeepers Perry Hill Motivation / Humor signs need updating. Some are looking old and we need new signs so people can be inspired or distracted on the climb up Perry Hill. Please let me know if you are willing to get a Poster Party together sometime in the next month. I have all the old signs to work with and you can purchase (courtesy of CVR) additional supplies as needed.
Greg Wight and John Valentine volunteered to form the nominating committee for next year's Executive Committee. Please let either of them know if you would consider an officer's position or would like to help find appropriate people to fill those positions. We definitely need a new President and Vice President in 2018. Ann Bushey needs a co-director for the NYE 5K this year because she will be in CA for some time just before the race. If you can help Ann out, please let her know. BusheyA@wssu.org.
Jim Flint has tallied up the Berlin Pond results in the standings posted on CVRunners.org. Your next opportunity to get points is this Saturday at NSB 5K and 1 Mile followed by the Sodom Pond Run Sept 20
If you see any problems with your score, contact Jim Flint. If you don't see an X next to your name in the volunteer column, remember you'll need to get one to stay in the standings.
Leaf Peepers Half Marathon Training Series
The 10-week training program on Saturday mornings from July 22-September 23 for Leafpeepers runs at 8:00am Saturdays from Onion River Sports in Montpelier. Contact Richarda or Caroline if you can be a group leader (either beginner or advanced) for the runs.
Ongoing events
CVR Fun Run every Tuesday, May to October, at 5:30 pm. Meet at the bike path behind the Dept of Labor Park & Ride. Run 1, 2, 4 or 6 miles. Run for time and/or as a social run–your choice!
CVR Speed Workout Wednesdays at 6 pm. Meet on the MHS track warmed up by 6. Contact Steve Hill if you have questions and want to be added to his email list.
Upcoming events
–> 9/2 NSB Northfield 5K CVR/ORS Race Series
–> 9/3 Archie Post 5 Miler GMAA
–> 9/9 Charlotte Covered Bridges Half Marathon, 5K & 10K
–> 9/9 The Sprouty 5K/10K Sharon, VT
–> 9/16 Common to Common 30K GMAA
–> 9/20 Sodom Pond 4 Miler CVR/ORS Race Series
–> 10/1 Leafpeeper Half Marathon CVR/ORS Race Series
–> 10/7 Art Tudhope 10K GMAA
–>10/14 Shelburne Farms 5K
–> 10/15 Green Mountain Marathon and Half Marathon GMAA
–>10/28 Gory Daze 5K White River, VT
–>10/29 Autumn Onion 5K CVR/ORS Race Series
Feel free to email me any additional events that should be listed here.