News you can use!
---
CVR Birthdays this Week!
Happy Birthday this week to: Donna Smyers (YAY! finally really in my new AG!), Jeffrey Johnson (new AG!), Zoe Colvin, Maryke Gillis, Andrea McLaughlin, Marissa Olesen, Bodhi Evans, and Rowly Brucken!
---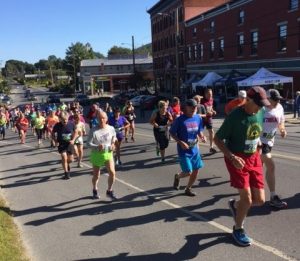 Sunny Day in Northfield!
I tried to head to the Fun Run yesterday. Wow, what a down pour. I turned the car through the wall of water and ran errands instead. I heard at least 4 people were there already when it started. In case you wondered, Fun Runs are cancelled during thunder and lightening.
Next Up:
The Sodom Pond Run Sept 20 is your next chance for CVR/ORS points. Some changes this year… Registration will be at Fixer-Upper PT across from the Adamant Coop, 5052 Center Rd. Parking can be in the usual places around Adamant (the church and school parking lots and along Haggett Rd.), but unfortunately, no free dinner afterwards. I will miss the event this year. Maybe next year we can bring back the post race party. Contact Tim Noonan if you would like to volunteer or have questions.

Here's a Montpelier 5K on Sept 17 at 11:30: https://raceagainstracismvt.wordpress.com/
If you preregister, it is about the same as CVR prices and you don't even need to get up early.
Roger Cranse wants to know why you haven't signed up for Leafpeepers yet. Registration closes in 3 weeks. Sign up now so you don't forget: http://leafpeepershalfmarathon.org/
You can contact Roger about volunteering too: rcc59@comcast.net
Our finale to the 2017 CVR/ORS Series, the Autumn Onion is open for registration now too. Good pre-reg discount, and it supports one of my favorite local causes, the Cross Vermont Trail. Won't a bridge across the Winooski with a trail to avoid route 2 between East Montpelier and Montpelier be great some day?
Help wanted department…
Are you creative, funny or just willing to get your 2nd grade on with some poster board and markers? The Leafpeepers Perry Hill Motivation / Humor signs need updating. Some are looking old and we need new signs so people can be inspired or distracted on the climb up Perry Hill. Please let me know if you are willing to get a Poster Party together sometime in the next month. I have all the old signs to work with and you can purchase (courtesy of CVR) additional supplies as needed.
Greg Wight and John Valentine volunteered to form the nominating committee for next year's Executive Committee. Please let either of them know if you would consider an officer's position or would like to help find appropriate people to fill those positions. We definitely need a new President and Vice President in 2018. Ann Bushey needs a co-director for the NYE 5K this year because she will be in CA for some time just before the race. If you can help Ann out, please let her know. BusheyA@wssu.org.
Ongoing events
CVR Fun Run every Tuesday, May to October, at 5:30 pm. Meet at the bike path behind the Dept of Labor Park & Ride. Run 1, 2, 4 or 6 miles. Run for time and/or as a social run–your choice!
CVR Speed Workout Wednesdays at 6 pm. Meet on the MHS track warmed up by 6. Contact Steve Hill if you have questions and want to be added to his email list.
Upcoming events
–> 9/9 Charlotte Covered Bridges Half Marathon, 5K & 10K
–> 9/9 The Sprouty 5K/10K Sharon, VT
–> 9/16 Common to Common 30K GMAA
–> 9/17 Race Against Racism 5K Montpelier
–> 9/20 Sodom Pond 4 Miler CVR/ORS Race Series
–> 10/1 Leafpeeper Half Marathon CVR/ORS Race Series
–> 10/7 Art Tudhope 10K GMAA
–>10/14 Shelburne Farms 5K
–> 10/15 Green Mountain Marathon and Half Marathon GMAA
–>10/28 Gory Daze 5K White River, VT
–>10/29 Autumn Onion 5K CVR/ORS Race Series
Feel free to email me any additional events that should be listed here.