News you can use!
CVR Birthdays this Week!
Happy Birthday to: John Martin, Norm Robinson, Gavin Boyles, and Nina Aitken!
---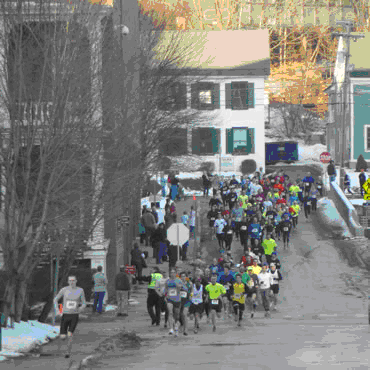 NYE 5K SIGN UP NOW!
---
Hey
, we've made it to the earliest sunsets for another year. We afternoon runners can all appreciate that sunset in Montpelier is now 4:11 pm from today until next Wednesday and then we start gaining some daylight. I'm afraid you morning runners have to wait until Dec 29-Jan 7 for your latest sunrise of 7:26 a.m. before you start heading the other way.
Wow! 17 people participated in the inaugural Saturday Winter Long Run of the series and a couple more showed up for post run refreshments. The best part is we had a distribution of ages 17-66 (almost, he turns 66 today) and practically filled La Brioche for an hour or so afterwards. The Saturday morning run for Dec 9 will be hosted by Beth Daut at 793 Crosstown Rd. in Berlin. Contact Beth for details and so she has an idea of how many want to run how far. Be there ready to run at 9:30.

Jeff Prescott reports that he updated the Mailchimp sublist with people who asked to be included on the Winter Long Run emails. If you asked him to include you, and you did not get an email from him this week (with a photo of 14 of the smiling runners at City Center), here are your 2 steps (in order):
1. Check your "promotions" or "clutter" folder in your inbox.
2. Recontact Jeff and ask again more nicely this time.
If you would like to be on the list and haven't asked yet, what are you waiting for?
Time to sign up for NYE 5K. Sign up in advance please–on line or mail in options. Don't make CVR get in trouble for collecting money in the Pavilion! The 2018 CVR Race Series will count your best 6 races (you don't have to stop counting at 5), so you better get started early.
Don't like to run straight uphill a mile then downhill a mile on snow and ice? Get your 2018 volunteer credit in 2017! Sandy and Ann still need volunteers. Contact Ann Bushey to sign up.
The Tuesday 5 pm Montpelier winter group has started and would love to have additional members. Contact Rebecca Harvey or Manny Sainz to get on their email list. And the track remains open for speed work at 6 pm Wednesdays. How long until it is covered with snow and ice???
Ongoing events
CVR Fun Run every Tuesday, May to October, at 5:30 pm. See you next year!
CVR Speed Workout Wednesdays at 6 pm. Meet on the MHS track warmed up by 6. Contact Steve Hill if you have questions and want to be added to his email list. These continue through the winter–bring headlamps!
Saturday Long Runs: Contact Jeff Prescott to be on the email list.
Unofficial Group Runs through the winter:
Mondays at 4:15 p.m. Meet at the Berlin Town Clerk's Contact dosmyers@gmail.com
Tuesdays at 5 p.m. Meet at the Fun Run start Contact Rebecca Harvey or Manny Sainz.
Tuesdays and Thursdays at 5 a.m. Plainfield/EMES/Adamant. Contact Mark Howard.
(please help me add to this list if you know of other groups)
Upcoming events
–> 12/10 Halo's 5K Santa Run, Orleans
–> 12/31 NYE 5K, CVR/ORS 2018 Race Series #1
Feel free to email me any additional events that should be listed here.