News you can Use!
---
CVR Birthdays this Week!
Happy Birthday to: Ava Shanley, Rachel Allen (new member!), Amanda Ellingson, and Bob Howe!
---
I've been sending you some pretty short News and Notes lately. I'm sorry to report that your reprieve is over. The season is upon us and there are lots of little notices in this one. Can you can make it all the way through?
Time Flies… Even though it is snow for tonight, Daylight Savings time starts Sunday. That means that unofficial Fun Runs can commence at 5:30 on Tuesdays. No Darragh timing or results in The World, but you have a good chance of finding another runner or 2 there. Also, no more headlamps for the Wednesday speed workouts at 6!
SHORT NOTICE: The due date for contributions to the next CVR Newsletter is March 12th. Get your winter running adventure pictures and stories and any other items of interest to Bob Howe, lucycarol18@gmail.com, by March 12–that is next Monday!

CVR's winter long run for Saturday, March 10 will be hosted by Manny Sainz on the 2nd floor of his home at 147 Mill St in East Barre. Jeff promises that you will run some place new if you do the winter long runs and this season is living up to its billing. Contact Manny to let him know you are coming and if you have questions.
The Leafpeepers Rejuvenation Committee is getting going and would very much like a younger CVR member (twenty or thirty something?) on the committee to help reinvent the race. If you'd like to contribute to the club on this important task, contact Greg Wight, wight@norwich.edu.
The CVR Annual Meeting at the Four Corners Schoolhouse in East Montpelier is March 25. We are meeting before dinner so everyone knows when to show up. Meeting will start promptly at 4:30 pm, pizza will be delivered at 6 pm, which should help guarantee a timely completion of the meeting. Salads, desserts or non alcoholic beverages may be contributed to complete the meal. The schoolhouse is accessible by pavement if mud season returns that weekend. We elect new officers and plan our year's donations at this meeting–come have your say and get psyched for the 2018 season.
The 2nd 2018 CVR/Onion River Race Series event-Kaynors Sap Run 10K is at 11 a.m. in Westford on March 25. You will have time to get back for the Annual Meeting at 4:30; I'm sure of it. Remember you can count up to 6 races for 2018, so don't delay getting some points in the bank. Let me know if you are looking for a carpool and I'll put people in touch with each other.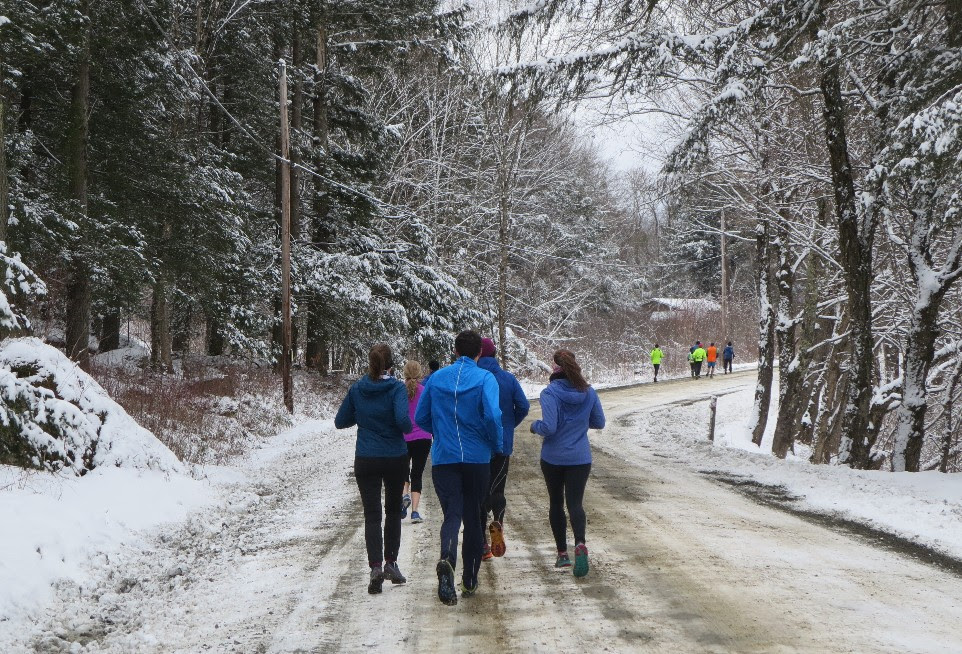 Norm Robinson will be returning to VT with a couple of teams from Nashville (which somehow include Tim Noonan) to run a new Ragnar Relay trail race at Mt. Ascutney August 3-4. He encourages CVR to field some teams to join him in the fun.
Ongoing events
CVR Fun Run every Tuesday, May to October, at 5:30 pm. Unofficial runs will start March 13!
CVR Speed Workout Wednesdays at 6 pm. Meet near the MHS track on the bike path warmed up by 6. Contact Steve Hill if you have questions and want to be added to his email list. No more headlamps!
Saturday Winter Long Runs: Contact Jeff Prescott to be on the email list.
Group Runs you might want to join:
Mondays at 4:15 p.m. Meet at the Berlin Town Clerk's Contact dosmyers@gmail.com
Tuesdays and Thursdays at 5 a.m. Plainfield/EMES/Adamant. Contact Mark Howard.
Wednesdays at 5:30 The Runderachievers run from Good Measures Brewing in Northfield
Fridays at 6:30: Susannah Colby hosts a trail run from her house in Randolph on the Green Mountain Stock Farms trails. FB info: 802 Trail Running
Upcoming events
–> 3/10 Shamrock Shuffle 5K, Lebanon NH
–> 3/17 Leprechaun Dash 5K/10K, Shelburne
–> 3/17 Shiver Me Shamrocks 5K, Rutland
–> 3/25 CVR Annual Meeting
–> 3/25 *Kaynor's Sap Run 10K
–> 3/31 Spring Fling 5K/10K, Shelburne
* Part of the CVR Race Series
Feel free to email me any additional events that should be listed here.