Leaf Peepers This Weekend
---
CVR Birthdays this Week!
Happy Birthday to: Greg Wight, Rebecca Vanden Bergh, Julia Carlson-Hillier, Bill Frantz
---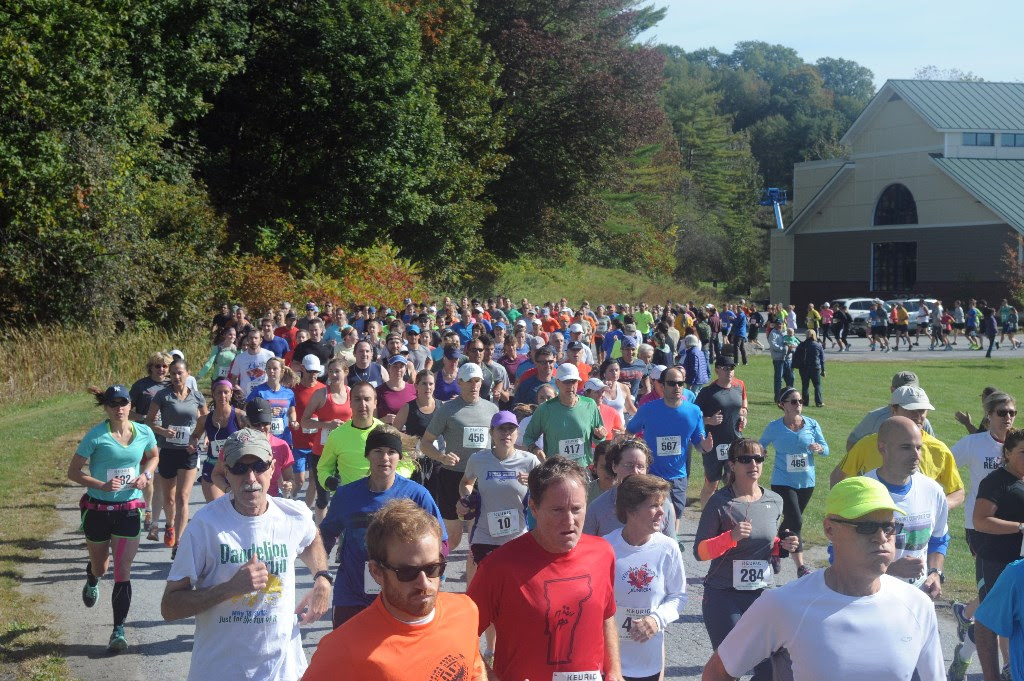 Newsletter
It won't be long before the next newsletter. If you have some running adventures from this summer that would make a good article, please write it up and send it to Maryke Gillis. She wants your submissions by October 15.
Leaf Peepers
This Sunday the half marathon kicks off at 11am and the 5K at 11:10. Looks like good weather but not much leaf color yet. The leaf peeping will have to wait but you can still run. Good luck to everyone!
Race Series Standings
Jim Flint has been busy updating the standings through Sodom Pond so now you know where you stand. Two more races to go, Leaf Peepers and Autumn Onion.
Next Club Meeting
It is Monday, November 5. Location TBD.
Relay Opportunity
Running for Refuge is sponsoring a relay on the 90 mile Cross Vermont Trail on October 20. Minimum amount to run is 10 miles. This is a fundraiser for refugee resettlement. This is the 4th time the event has run.
Andy
Ongoing events
CVR Fun Run every Tuesday, May 1 to October, at 5:30 pm. Location: Montpelier Rec Path behind the VT Dept. of Labor on Green Mountain Dr.
CVR Speed Workout Wednesdays at 6 pm. Meet near the MHS track on the bike path warmed up by 6. Contact Matt Rutherford if you have questions and want to be added to the email list.
Group Runs you might want to join:
Mondays at 4:15 p.m. On hold for the summer, check back later in the year.
Tuesdays and Thursdays at 5 a.m. Plainfield/EMES/Adamant. Contact Mark Howard.
Wednesdays at 5:30 The Runderachievers run from Good Measures Brewing in Northfield
Wednesdays at 6:30pm at the Brunswick School (formerly the Three Stallion Inn) in Randolph, Contact Hannah Barden or 802-728-2052 to get put on the email list.
Fridays at 6:30: Susannah Colby hosts a trail run from her house in Randolph on the Green Mountain Stock Farms trails. FB info: 802 Trail Running
Upcoming events
**September 30, Leaf Peepers Half Marathon and 5K, Waterbury, 11am.
–>October 6, Vermont Foliage 15k and 5k, Randolph, 1pm.
–>October 6, Art Tudhope 10K, GMAA, Shelburne, 9am.
–>October 6, CVMC 5k for Komen, Barre Town Rec Field, 9:30am
–>October 6, Stark Mountain Hill Climb, Mad River Glen, 10am
–>October 7, Run for the Lake, Friends of Northern Lake Champlain, 10k/5K, 9am, Georgia Shore Beach.
–>October 7, Mad Dash, 10k/5k, Waitsfield,10am
–>October 13, Westmore Mountain Challenge, Trail run/hike, varying distances up to marathon, Charleston to Westmore.
–>October 14, GMAA Green Mountain Marathon and Half, South Hero, 8:30am
–>October 20, YWCA Trick or Trot Trail Run, 10k/5k, Morse Farm in East Montpelier, 9am
**October 28, Autumn Onion 5k, Onion River Outdoors, Montpelier
->>November 3, 10 and 17, Fallen Leaves 5k, Montpelier High School, 9am
–
It's a good idea to check the race information on the race website as dates and times can change.
** Part of the CVR/ORO Race Series
Feel free to email me any additional events that should be listed here.