CVR Birthdays this Week!
Happy Birthday to: Jon Williamson, Gordon MacFarland, Coleman Bingham, and Alison Grogan
---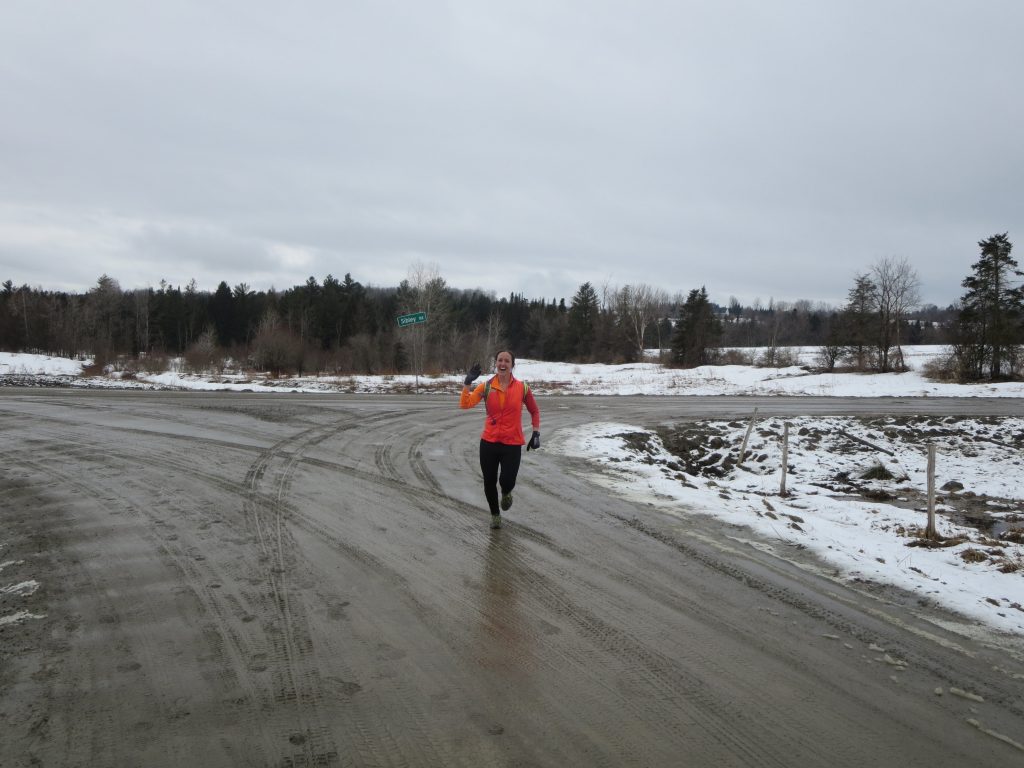 Non-CVR Races Coming Up
This Saturday quite a few CVR members will be running the Unplugged Half Marathon in Burlington. And I know of at least three members running the Boston Marathon on Monday the 15th. Good luck everyone! For you weather geeks, looks like OK weather for Unplugged except for a strong SW wind (the point to point course heads SW). Boston looks like the same problem, a NE wind, plus a good chance of rain. Let's hope the forecasts are wrong!
Winter Long Run
There will be a Winter Long Run this week for those not running the Unplugged Half Marathon. It will be in Northfield at 9:30am and hosted byRowly Brucken. Contact Rowly for questions or to tell him you will be there.
Newsletter
The next newsletter will go out before the May Meeting (May 13). Start working on articles now and have them to Maryke Gillis no later than May 4. Some spring race reports would be good. Anyone going to Boston should write an article!
Kids' Track Meet
An unfortunate scheduling conflict has caused the cancellation of the Kids Track Meet this year, originally scheduled for June 7. Montpelier High School could not accommodate us and other options were not acceptable. But we plan for it to be back in 2020.
Green Up
The annual tradition of greening up the Fun Run course will occur on Thursday, May 2. Meet at the Fun Run start at 5:30pm (behind VT Dept. of Labor on Green Mountain Dr.). Mack Gardner-Morse will be in charge and will have some bags and gloves, but you may want to bring your own. If you want to come early, Mack will be there early and will stay at the start until at least 6pm if you can't get there at 5:30pm. This year's green up is in honor of Scott Skinner, who passed away last year and was a frequent participant.
Got Spikes?
Do you (or your kids) have track spikes gathering dust in a closet at your home? If so, would you like to donate them to a small school track and field team in the Northeast Kingdom? Craftsbury Academy's track team is rebuilding this year from scratch and is in need of track shoes for its runners. Thanks to a CVR mini-grant, the team will be able to purchase several pairs of spikes, but not enough for all the kids who need them. The team's first meet is on April 24. Over twenty kids have come out for the team this year, a 500% increase from a year ago. Please contact Jim Flintat jimflintvt@gmail.com if you have spikes and would like to help the team's cause. Thank you!
Mud-'tis the season
Those wishing to get out on the trails for the next few weeks should note that the Green Mountain Club has issued their annual mud season warning. While this past Sunday it was still very much winter conditions in Smugglers Notch with at least three feet of packed snow on the road, trails with little or no snow will likely be soft and not conducive to foot traffic.
Andy
---
Ongoing events
CVR Fun Run Unofficial runs on Tuesday at 5:30pm, official runs return May. Location: Montpelier Rec Path behind the VT Dept. of Labor on Green Mountain Dr.

CVR Speed Workout Wednesdays at 6 pm. Meet near the MHS track on the bike path warmed up by 6. Contact Matt Rutherford if you have questions and want to be added to the email list.

Group Runs you might want to join:
Mondays at 4:15 p.m. Usually at Berlin Town Office, sometimes in Adamant. Contact Donna Smyers if you want to get on the list.
Tuesdays and Thursdays at 5 a.m. Plainfield/EMES/Adamant. Contact Mark Howard.
Wednesdays at 5:30 The Runderachievers run from Good Measures Brewing in Northfield
Wednesdaysat 6:30pm at the Brunswick School (formerly the Three Stallion Inn) in Randolph, Contact Hannah Barden or 802-728-2052 to get put on the email list.
Fridays at 6:30: Susannah Colby hosts a trail run from her house in Randolph on the Green Mountain Stock Farms trails. FB info: 802 Trail Running
Upcoming events
April 13, Half Marathon Unplugged, Colchester/Burlington, 9am and 11am
April 13, Dartmouth Big Green Fun Run, 5K, 12 noon, Hanover
April 14, Dream Big 5K, Essex Middle School, 10am
*April 27, Paul Mailman 10 Miler and 5K, Dept. of Labor Parking Lot, 8:45am
April 27, Rollin Irish Half Marathon, Essex, 9am.
April 28, Mutt Strutt, 3 mile race with dogs, Little River State Park
May 4, Pump it Up 5 miler, Jericho, 9am
May 5, Middlebury Maple Run, Half marathon, 9am
*May 11, Adamant Half Marathon (+ relay), NEW CVR RACE!, 10am in Adamant
May 11, Road to the Pogue, 6 mile trail race, Woodstock, 8:30am
May 16, Vermont Corporate Cup and State Agency Race 5k, 6pm.
*May 18, Barre Town Spring Run 5K , Barre Town Rec Area, 9am
May 26, Vermont City Marathon and Relay, Burlington
June 1, Colchester Causeway Race, 15k/10k/5k, 8:30am Airport Park, Colchester
*June 8, Capital City Stampede 10K, 9am, Onion River Outdoors on Langdon St.
It's a good idea to check the race information on the race website as dates and times can change.
* Part of the CVR/ORO Race Series 2019
Feel free to email me any additional events that should be listed here.