News and Notes
---
CVR Birthdays this Week!
Happy Birthday to: Craig Colvin, Todd Crowe, Maricela Acosta, Becky Diedrich, Caroline Evans, Helen Bryan, John Hackney and Chris Lacey
---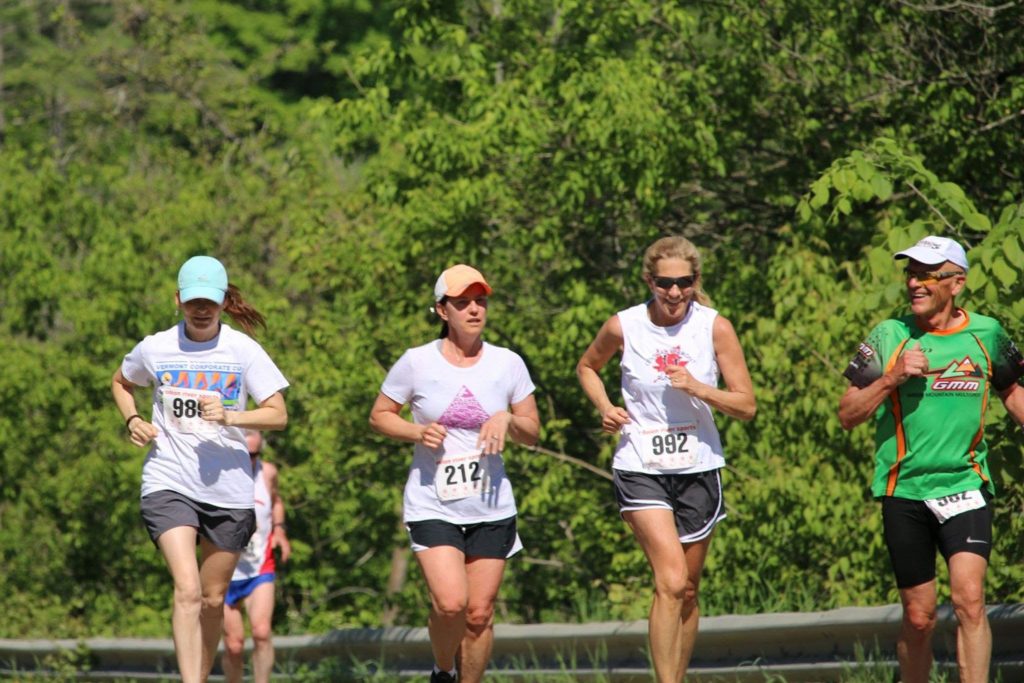 Capital City Stampede
Race directors Shannon Salembier and Colin Clifford and the volunteers put on a great 42nd Annual Capital City Stampede on Saturday.   The weather was great, the traffic control was flawless and there were 87 finishers (13 more than last year).  There was a big GMAA contingent since this race was in their series, but Alex Jinks held them off and won the Men's Race in 34:17. Jess Marino of Burlington won the Women's Race in 41:20. 
This was the 6th race in the CVR/ORO Race Series and the race seriesstandings have been updated. Several perfect scores but no one has achieved six races yet.
Free Beer this Saturday!
Well, not quite free.  This Saturday, Matt Caldwell, is fundraising forVermont Adaptive Ski and Sports at Good Measure Brewing in Northfield. Good Measure has a special keg for the fundraiser and all sales of this beer will go to Vermont Adaptive. The keg tapping is at noon but at 11:30, Matt will host a 3 to 4 mile run at the brewery, all are invited.  Matt is raising funds for Vermont Adaptive for the Vermont 100.  If you can't be at the fundraiser but would like to contribute, here is the link.
Elmore Tri's Coming Up 
See calendar below for the world famous Elmore Practice Triathlons,  at Elmore State Park.  Dates are June 20, July 1 and July 18.  While these have usually been held on Thursdays, note that July 1 is a Monday (because of the 4th).  The other dates are Thursdays.
Next CVR/ORO Race Series Race
Montpelier Mile is at 6pm on July 3.  Don't see any on line registration yet, but will let you know when I do.
Andy
---
Ongoing events
CVR Fun Run  Tuesday at 5:30pm.  Location: Montpelier Rec Path behind the VT Dept. of Labor on Green Mountain Dr.

CVR Speed Workout Wednesdays at 6 pm. Meet near the MHS track on the bike path warmed up by 6.  Contact Matt Rutherford if you have questions and want to be added to the email list.  

Group Runs you might want to join:
Mondays at 4:15 p.m.  Usually at Berlin Town Office, 2nd Mondays in Adamant.  Contact Donna Smyers  if you want to get on the list.
Tuesdays and Thursdays at 5 a.m. Plainfield/EMES/Adamant. Contact Mark Howard.
Wednesdays at 5:30 The Runderachievers run from Good Measures Brewing in Northfield
Wednesdaysat 6:30pm at the Brunswick School (formerly the Three Stallion Inn) in Randolph, Contact Hannah Barden or 802-728-2052 to get put on the email list. 
Fridays at 6:30:  Susannah Colby hosts a trail run from her house in Randolph on the Green Mountain Stock Farms trails. FB info: 802 Trail Running
Upcoming events
June 15, NH-VT Covered Bridge Half Marathon, + 5K and relay, Colebrook, NH, 8:30am
June 15, CVMC Berlin Pond Fun Run and Walk, 8:30am, Berlin Pond, parking at Town Clerk's
June 16, GMAA Equinox Trail 10K and 5K, Charlotte, 9:30am
June 20, Elmore Practice Triathlon #1, 6:30 pm, Elmore State Park
June 22, Catamount Ultra 50k/25K, Trapp Family Lodge, 7am and 8:30am (25K)
June 29, Waterbury Not Quite Independence Day 1 mile race, 3:45pm (before the parade)
June 30, Champ's Challenge, 5K run or bike rides 8 miles to 100K, Basin Harbor Club.
July 1, Elmore Practice Triathlon #2, 6:30 pm, Elmore State Park
*July 3, Montpelier Mile, 6pm, before the parade
July 4, Clarence Demar 5K, Folsom School, South Hero, 8:30am
July 7, Mad Marathon and Half, Waitsfield, 7:00am
July 7, Stowe 8 Miler and 5K, Stowe, 8:30am
*July 13, Bear Swamp Run, Rumney School, Middlesex, 9am
July 18, Elmore Practice Triathlon #3, 6:30 pm, Elmore State Park
July 20, Vermont 100 Endurance Race, 4am, Hartland
July 27, Barre Heritage Festival 5K Trail Race, Millstone, 9am
August 10, Kingdom Run, Half, 10k, 5K, 8:30am, Irasburg
It's a good idea to check the race information on the race website as dates and times can change.
* Part of the CVR/ORO Race Series 2019
Feel free to email me any additional events that should be listed here.