News and Notes
---
CVR Birthdays this Week!
Happy Birthday to: Dick Ferno, June Burr, Henry Busetti and Elliott Stewart
---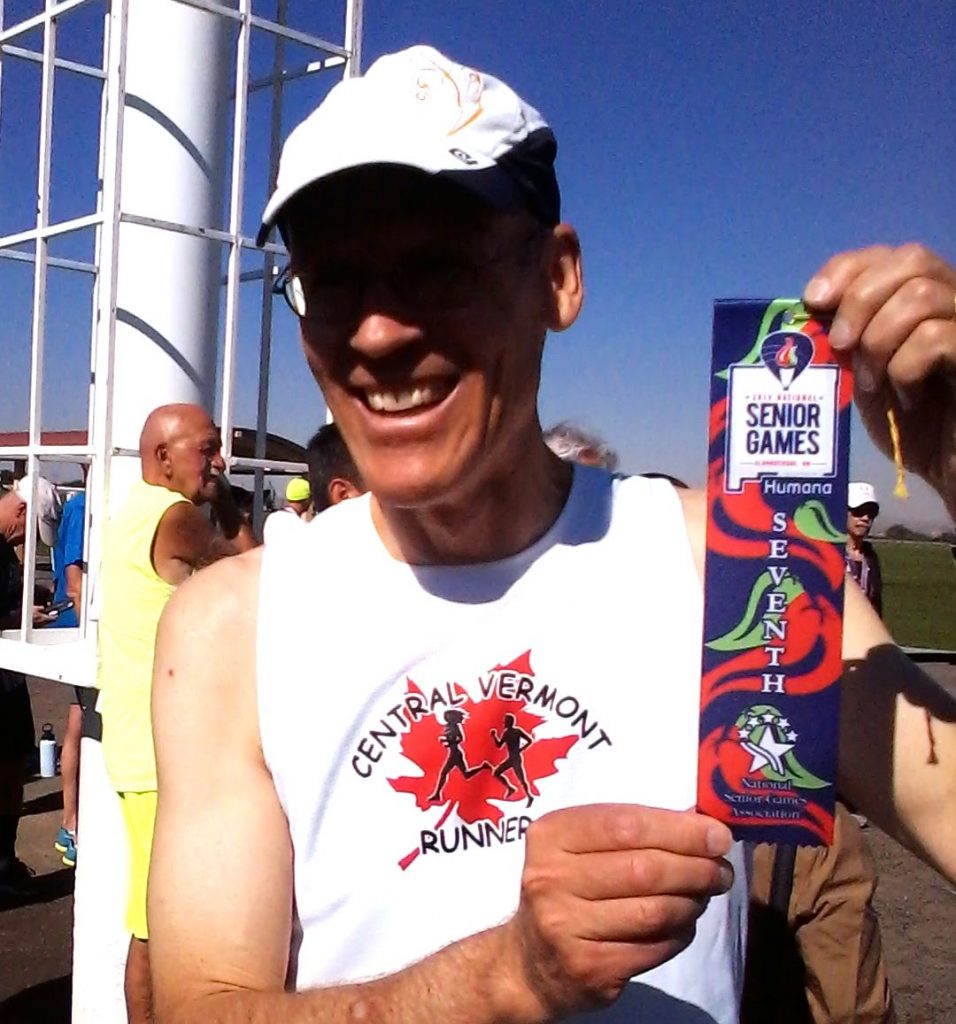 CVR Members in National and International Races this past weekend
Congratulations to two CVR members who had successful race outings this past weekend!
Jim Flint placed 7th at the National Senior Games in the 60-64 AG in boththe 5K (Friday, June 21) and the 10K (Sunday, June 23).  The top three get medals; fourth through eight get ribbons. The Games this year were held in Albuquerque, NM, at over 5,000 feet elevation. 5K results are here; 10K results are here. 
Donna Smyers went across the border for the Mont Tremblant Half Ironman on Sunday and won 1st place in the 60-64 AG. Here are results.
Race to the Top of Vermont – discounted entries
Sal Acosta has a limited number of discounted entries available to the Race to the Top of Vermont (August 25).  If you plan to enter the race and would like to a discount, contact Sal and you can be a part of his group.
Memorial for Scott Skinner
Long-time CVR member Scott Skinner passed away in December.  Scott had a long history as a lawyer and community activist.  He was also a great Leaf Peepers volunteer! There will be a memorial service for him at the Old Labor Hall in Barre this Saturday,June 29 at 2pm. 
Mt. Washington update
Dot Helling reports that not only did the CVR team (Dot, Donna Smyers and Ann Bushey) win the Veteran's division, they also now have the Veterans's course record!
Next CVR Meeting and Newsletter Deadline
The next CVR meeting will be Monday, August 12 in Craftsbury.  We will combine this with a summer picnic. More details to follow.
That means there is a newsletter coming up.  Please send your contributions to Maryke Gillis by August 7.
Montpelier Mile – next CVR/ORO Race Series Race
Montpelier Mile-Next CVR/ORO Race Series Race
Montpelier Mile is at 6pm on July 3. Register here for lower price and to avoid the crowd on race day. If you want to do some last minute training,Waterbury has a mile race on Saturday, June 29.
Here is more info for the Waterbury race:
The 12th Annual Green Mountain Mile will take place just before Waterbury's Independence Day Parade on Saturday, June 29, at 3:45 PM sharp.
The one-mile course starts on the access road to the Ice Center in Waterbury. The course then merges onto VT Route 100 north and continues up Main Street to finish on Bank Hill at the intersection with Stowe Street.
Applicants are encouraged to pre-register for the race and pick up bibs on Friday, June 28, from 5 to 7 p.m. at Thatcher Brook Primary School. There will be race day registration from 2:30 to 3:30 PM at the Ice Center. Applications can be found at Here. Entry fees are: $5 for kids (14 and under), $10 for adults.
Andy
---
Ongoing events
CVR Fun Run  Tuesday at 5:30pm.  Location: Montpelier Rec Path behind the VT Dept. of Labor on Green Mountain Dr.

CVR Speed Workout Wednesdays at 6 pm. Meet near the MHS track on the bike path warmed up by 6.  Contact Matt Rutherford if you have questions and want to be added to the email list.  

Group Runs you might want to join:
Mondays at 4:15 p.m.  Usually at Berlin Town Office, 2nd Mondays in Adamant.  Contact Donna Smyers  if you want to get on the list.
Tuesdays and Thursdays at 5 a.m. Plainfield/EMES/Adamant. Contact Mark Howard.
Wednesdays at 5:30 The Runderachievers run from Good Measures Brewing in Northfield
Wednesdaysat 6:30pm at the Brunswick School (formerly the Three Stallion Inn) in Randolph, Contact Hannah Barden or 802-728-2052 to get put on the email list. 
Fridays at 6:30:  Susannah Colby hosts a trail run from her house in Randolph on the Green Mountain Stock Farms trails. FB info: 802 Trail Running
Upcoming events
June 29, Waterbury Not Quite Independence Day 1 mile race, 3:45pm (before the parade)
June 30, Champ's Challenge, 5K run or bike rides 8 miles to 100K, Basin Harbor Club.
July 1, Elmore Practice Triathlon #2, 6:30 pm, Elmore State Park
*July 3, Montpelier Mile, 6pm, before the parade
July 4, Clarence Demar 5K, Folsom School, South Hero, 8:30am
July 7, Mad Marathon and Half, Waitsfield, 7:00am
July 7, Stowe 8 Miler and 5K, Stowe, 8:30am
July 13, Paine Mountain Trail Races, Marathon, Half, 10K and Kids run, Norwich Univ., 8am to 10am start times
*July 13, Bear Swamp Run, Rumney School, Middlesex, 9am
July 18, Elmore Practice Triathlon #3, 6:30 pm, Elmore State Park
July 20, Vermont 100 Endurance Race, 4am, Hartland
July 27, Barre Heritage Festival 5K Trail Race, Millstone, 9am
August 10, Kingdom Run, Half, 10k, 5K, 8:30am, Irasburg
*August 15, Berlin Pond 5 Miler, 6pm,  registration at Berlin Town Clerk's Office
August 25, Race to the Top of Vermont, 9am run, 10am bike, Stowe
It's a good idea to check the race information on the race website as dates and times can change.
* Part of the CVR/ORO Race Series 2019
Feel free to email me any additional events that should be listed here.