CVR/ORO Race Series Standings and More!
---
CVR Birthdays this Week!
Happy Birthday to: Mike Gillis, Carolyn Ritter, Charlie Windsich, William Everett, Emma Kessler, and Henry Marcy
Berlin Pond 5 Miler
Last Thursday was the 41st Annual Berlin Pond 5 Miler Race. Out of 70 runners, the husband and wife team of Neal Graves and Sara Graves won the men's and women's races. This transports us back to the 1980s and 1990s when the Berlin Pond race was a couples race! It also was an 8K back then since that is the actual distance around the pond. The couples race concept ended in 1999, too bad for Neal and Sara. They also won the King and Queen of the Hill. Here are results. As usual, the race went flawlessly. Thanks to race directors Sue Emmons and Jeff Prescott and a great group of volunteers! Note that Sue and Jeff have co-directed the race for 10 years. Jeff has decided to step down after this year but Sue has found a replacement close to home, Bob Emmons. Can't wait until next year!
CVR/ORO Race Series
Berlin Pond was yet another race series event and now the standings are really taking shape. Here they are. Only 4 more chances left (NSB 5K, Sodom Pond, Genny Tenny 10 Mile and Leaf Peepers). Chris Andresenhas already won the men's 60-69 with 600 points!
Next race up in the Northfield Savings Bank 5K and 1 mile on August 31. The 1 mile is for 13 years and under only and is a chance for runners in that category to get some series points. Also, the 5K is the Vermont Senior Games 5k and if you qualify (age 50 or over), make sure you sign up for the Vermont Senior Games when you register. Registration is here.
Groton Trails Work Day
From Mark Howard: There is a trail work day scheduled for August 25th (Sunday) in Groton State Forest, with the objective of opening a new trail connecting to the Devils Hill trail in Peacham. We will meet at 9 AM at the junction of Peacham Bog and Coldwater Brook road, locally known as the Gravel Pit road. Email Mark if interested.
And Groton Forest Trail Run registration is still open, here it is. Don't delay, it closes September 1.
Leaf Peepers
If you plan on running either the half or 5K at Leaf Peepers (October 6), you should sign up before September 1 as prices increase. Remember this year we are bringing back the old courses for both races. And the courses have just been USATF certified thanks to Bob Murphy, Donna Smyers and John Valentine.
If you don't plan to run, you should volunteer. Contact June Burr if you can help.
Race to the Top of Vermont
On line registration closes Wednesday (today). If you are still on the fence,Donna Smyers has invited you to participate at a 20% discount, just use the code 19goodBuddyDeal20. Register here.
Andy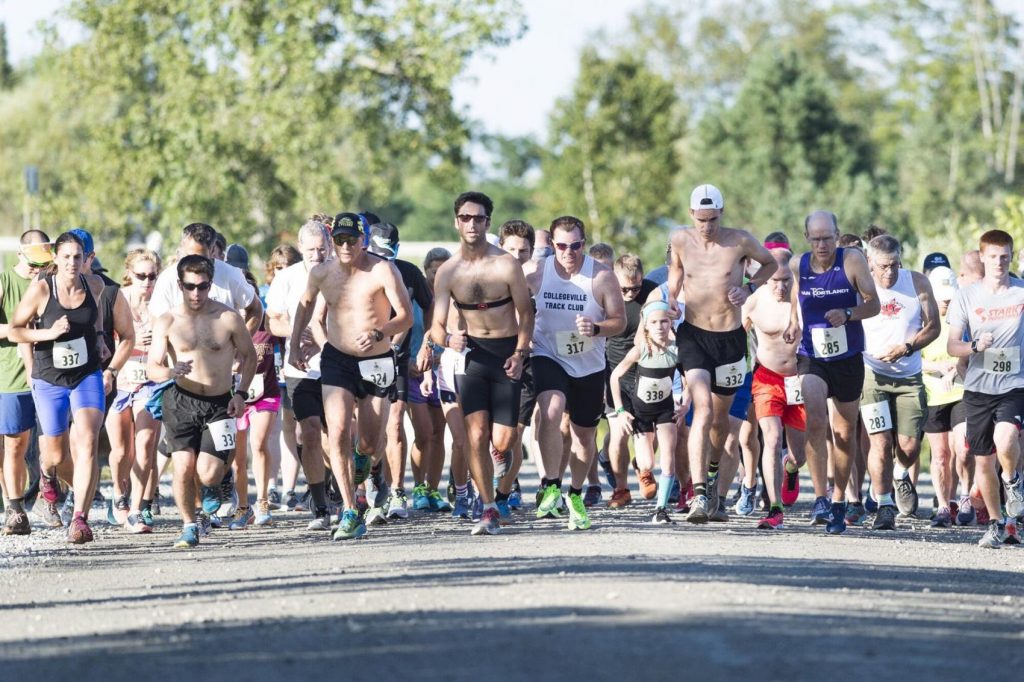 ---
Ongoing events
CVR Fun Run Tuesday at 5:30pm. Location: Montpelier Rec Path behind the VT Dept. of Labor on Green Mountain Dr.

CVR Speed Workout Wednesdays at 6 pm. Meet near the MHS track on the bike path warmed up by 6. Contact Matt Rutherford if you have questions and want to be added to the email list.

Group Runs you might want to join:
Mondays at 6pm at Harwood Union High School. Kids and Adults Fun Run. Small fee. Contact: Ann Zetterstrom • zettx3@gmail.com
Tuesdays and Thursdays at 5 a.m. Plainfield/EMES/Adamant. Contact Mark Howard.
Wednesdays at 5:30 The Runderachievers run from Good Measures Brewing in Northfield
Wednesdaysat 6:30pm at the Brunswick School (formerly the Three Stallion Inn) in Randolph, Contact Hannah Barden or 802-728-2052 to get put on the email list.
Fridays at 6:30: Susannah Colby hosts a trail run from her house in Randolph on the Green Mountain Stock Farms trails. FB info: 802 Trail Running
Upcoming events
August 25, Race to the Top of Vermont, 9am run, 10am bike, Stowe
*August 31, NSB 5K and 1 Mile, 9:30am 5K, 10:30am mile, Northfield
August 31, Elmore 5K, 9am, start at Elmore Town Garage, (free to first 60 Lamoille County, Hardwick and Craftsbury residents)
September 1, Archie Post 5 Miler, 8am, S. Burlington
September 7, Groton Forest Trail Run, 26.5 and 15 mile, 7am/9am, Boulder Beach State Park
September 8, Pine Street Mile, Burlington, 9:30am
September 14 and 15, 24 Hours of NEK, E. Charleston, 6/12/24 hour individual and relay
September 15, LL. Bean Flannel 5K, Burlington, 9am, Leddy Park to Battery Park
*September 15, Genny Tenny 10 Miler, Craftsbury, 10am
*September 18 (Wed.), Sodom Pond 4 Miler, Adamant, 6pm
September 22, Harpoon Flannel 5K, Windsor, 10am
September 22, Island Vines 10K, South Hero, 10am
*October 6, Leaf Peepers Half Marathon and 5K, 9:00am, Waterbury
October 19, Trapp Mountain Marathon, marathon and half, Trapp Family Lodge
October 27, Black River Beatdown, 15k, 30k, 45k, Craftsbury
It's a good idea to check the race information on the race website as dates and times can change.
* Part of the CVR/ORO Race Series 2019
Feel free to email me any additional events that should be listed here.