NSB 5K and 1 Mile on Saturday!
---
CVR Birthdays this week!
Happy Birthday to: Cindy Allen, Simon Bradley, Richarda Ericson, Sue Emmons and Steve Hill.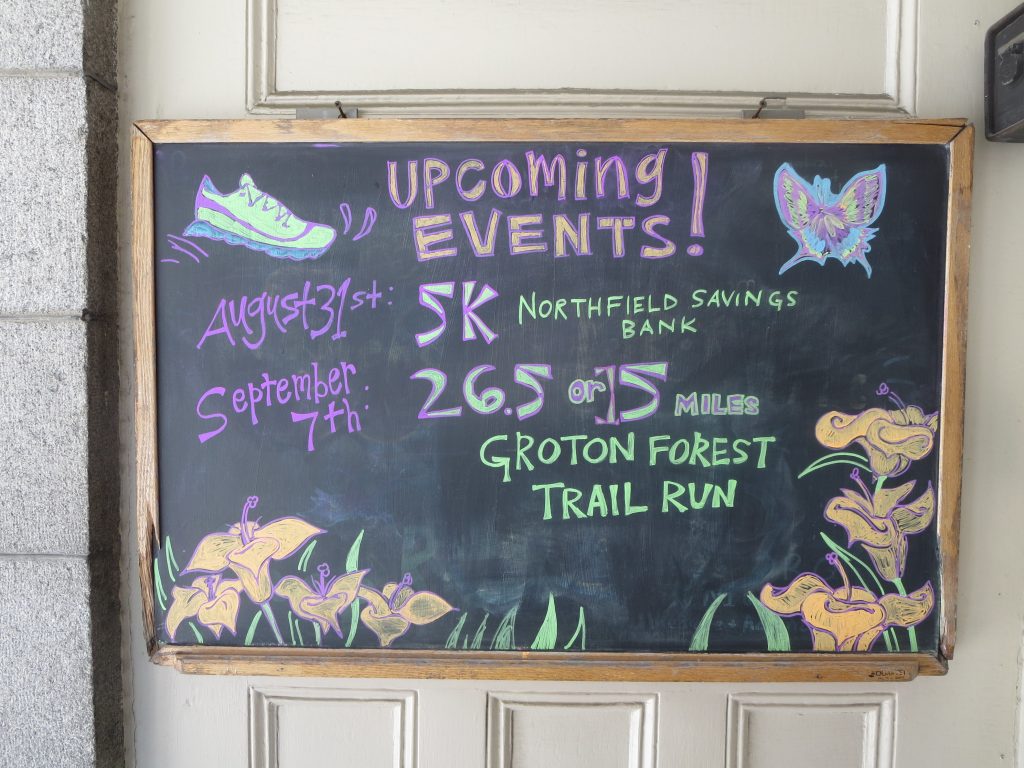 NSB Race this weekend!
Next race up is the Northfield Savings Bank 5K and 1 mile on Saturday, August 31. The 1 mile is for 13 years and under only and is a  great chance for runners in that age group to get some race series points.  Also, the 5K is the Vermont Senior Games 5k and if you qualify (age 50 or over), make sure you sign up for the Vermont Senior Games when you register.  Registration is here.On line registration closes Friday.
Groton Forest Trail Run
Groton Forest Trail Run is Saturday, September 7. Registration is still open, here it is. Don't delay, it closes September 1.
Mark Howard could use some volunteers to help with sweeping the course after the runners have come through.  If this sounds interesting (you'll get some mile in), contact Mark.
Genny Tenny Ten Mile
Sunday, September 15 is the second annual Genny Tenny Ten Mile, in Craftsbury. This year it is in the CVR/ORO Race Series.  On line registration is available here.  Note that Sunday the 15th is the correct date; the ORO Race Series poster shows the 14th as the date but that is wrong as the poster was done before we knew the race date.  Just a head's up in case you saw the poster with the wrong date.  Otherwise, go to the race on Sunday the 15th!   It is point to point from Craftsbury to Albany on dirt roads and proceeds support re-opening the Albany General Store.
Leaf Peepers
If you plan on running either the half or 5K at Leaf Peepers (October 6), you should sign up before September 1 as prices increase.  If you don't plan to run, you should volunteer.  Contact June Burr if you can help.
GMC Tribute to Scott Skinner
The Green Mountain Club Montpelier section newsletter has a nice tribute to Scott Skinner, see it here (on page 2). Scott was a long-time CVR member among many other things (as you can see from the tribute).
Andy
---
Ongoing events
CVR Fun Run  Tuesday at 5:30pm.  Location: Montpelier Rec Path behind the VT Dept. of Labor on Green Mountain Dr.

CVR Speed Workout Wednesdays at 6 pm. Meet near the MHS track on the bike path warmed up by 6.  Contact Matt Rutherford if you have questions and want to be added to the email list.  

Group Runs you might want to join:
Mondays at 6pm at Harwood Union High School. Kids and Adults Fun Run. Small fee. Contact: Ann Zetterstrom • zettx3@gmail.com
Tuesdays and Thursdays at 5 a.m. Plainfield/EMES/Adamant. Contact Mark Howard.
Wednesdays at 5:30 The Runderachievers run from Good Measures Brewing in Northfield
Wednesdaysat 6:30pm at the Brunswick School (formerly the Three Stallion Inn) in Randolph, Contact Hannah Barden or 802-728-2052 to get put on the email list. 
Fridays at 6:30:  Susannah Gravel hosts a trail run from her house in Randolph on the Green Mountain Stock Farms trails. FB info: 802 Trail Running
Upcoming events
*August 31, NSB 5K and 1 Mile, 9:30am 5K, 10:30am mile, Northfield
August 31, Elmore 5K, 9am, start at Elmore Town Garage, (free to first 60 Lamoille County, Hardwick and Craftsbury residents) 
September 1, Archie Post 5 Miler, 8am, S. Burlington
September 7, Groton Forest Trail Run, 26.5 and 15 mile, 7am/9am, Boulder Beach State Park
September 8, Pine Street Mile, Burlington, 9:30am
September 14 and 15, 24 Hours of NEK, E. Charleston, 6/12/24 hour individual and relay
September 15, LL. Bean Flannel 5K, Burlington, 9am, Leddy Park to Battery Park
*September 15, Genny Tenny 10 Miler, Craftsbury, 10am
*September 18 (Wed.), Sodom Pond 4 Miler, Adamant, 6pm
September 22, Harpoon Flannel 5K, Windsor, 10am
September 22, Island Vines 10K, South Hero, 10am
*October 6, Leaf Peepers Half Marathon and 5K, 9:00am, Waterbury
October 19, Trapp Mountain Marathon, marathon and half, Trapp Family Lodge
October 27, Black River Beatdown, 15k, 30k, 45k, Craftsbury
 It's a good idea to check the race information on the race website as dates and times can change. 
* Part of the CVR/ORO Race Series 2019
Feel free to email me any additional events that should be listed here