News you can Use!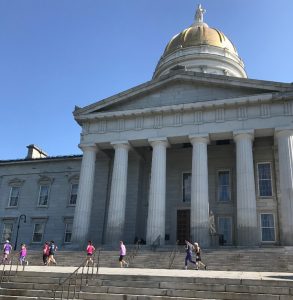 ---
CVR Birthdays this Week!
Happy Birthday this week to: Rebecca Diedrich, Caroline Evans, Helen Bryan, John Hackney, Chris Lacey, Sarah London
---
It was fun seeing so many familiar faces at Capitol City Stampede. Great turnout from the volunteers and congrats to Shannon on building back the participant numbers (by ordering some nice weather?). Results are on
CVRunners.org
. Jim Flint is now compiling the results to date for CVR/ORS series now that we are 3 races in–expect a posting notice soon.
Next HELP! request… they just keep coming, but things slow down soon:
Paul Mailman 10 Miler and 5K is Sunday, June 25. You only get CVR/ORS Series points for the 10 Miler, but the 5K should be fun if you want to watch the 10 milers suffer at the finish after you've rested and eaten. Let Andy Shuford, andy.cvr@myfairpoint.net know if you can volunteer for Paul Mailman. He is short quite a few volunteers right now since there is so much going on that weekend and some usual volunteers have other commitments.
Weather more conducive to thinking about July 3 finally got here, so… Montpelier Mile Registration is open. Save $10 by registering early. Get your CVR/ORS series points in just 10 minutes +/- effort! I hear Miss Teen Vermont was such a hit at the kids track meet that she may be the race starter here too!
And next thing you know, it will be July 9 with the Stowe 8 Miler and Flying Onion 5K then July 15 for the 39th Annual Bear Swamp 5.7 Mile Race. Peak racing season is short, so just go for it! The schedule seems to slow down after mid July.
CVMC's 5 Mile Fun Run around Berlin Pond is the day before Paul Mailman. Good for those who are volunteering at Paul Mailman or have a conflict racing on Sunday or want to do a local double for the weekend. Good practice for the real one (I.e. the CVR Berlin Pond 5 Miler) on August 17.
Here's the info https://www.cvmc.org/community-wellness/classes-and-events/cvmc-fun-run
And here is a notice reminding you that summer is short….
Leafpeepers Half Marathon and 5K registration is up! Sign up early here!
Ongoing events
CVR Fun Run every Tuesday, May to October, at 5:30 pm. Meet at the bike path behind the Dept of Labor Park & Ride. Run 1, 2, 4 or 6 miles. Run for time and/or as a social run–your choice!
CVR Speed Workout Wednesdays at 6 pm. Meet on the MHS track warmed up by 6. Contact Steve Hill if you have questions and want to be added to his email list.
Upcoming events
–> 6/17 Mount Washington Road Race
–> 6/18 GMAA Equinox Trail Race
–> 6/18 Essex Father's Day 5K
–> 6/22 2nd Elmore Practice Triathlon for 2017
–> 6/24 CVMC 5 Mile Fun Run (and walk)
–> 6/25 Paul Mailman 10 Miler and 5K CVR/ORS Race Series
–> 7/3 Montpelier Mile CVR/ORS Race Series
–> 7/4 35th Annual Clarence DeMar 5K
–> 7/6 Final Elmore Practice Triathlon (and picnic!)
–> 7/9 Stowe 8 Miler and 5K CVR/ORS Race Series
–> 7/15 39th Annual Bear Swamp Race CVR/ORS Race Series
Feel free to email me any additional events that should be listed here.