Come to admant this Saturday!
---
CVR Birthdays this week!
Happy Birthday to: Pam Erickson, Casarah Acosta, Meredith Naughton (new AG!), Heather Socha, Phyllis Tillinghast, Tim Noonan, and Christine Duke.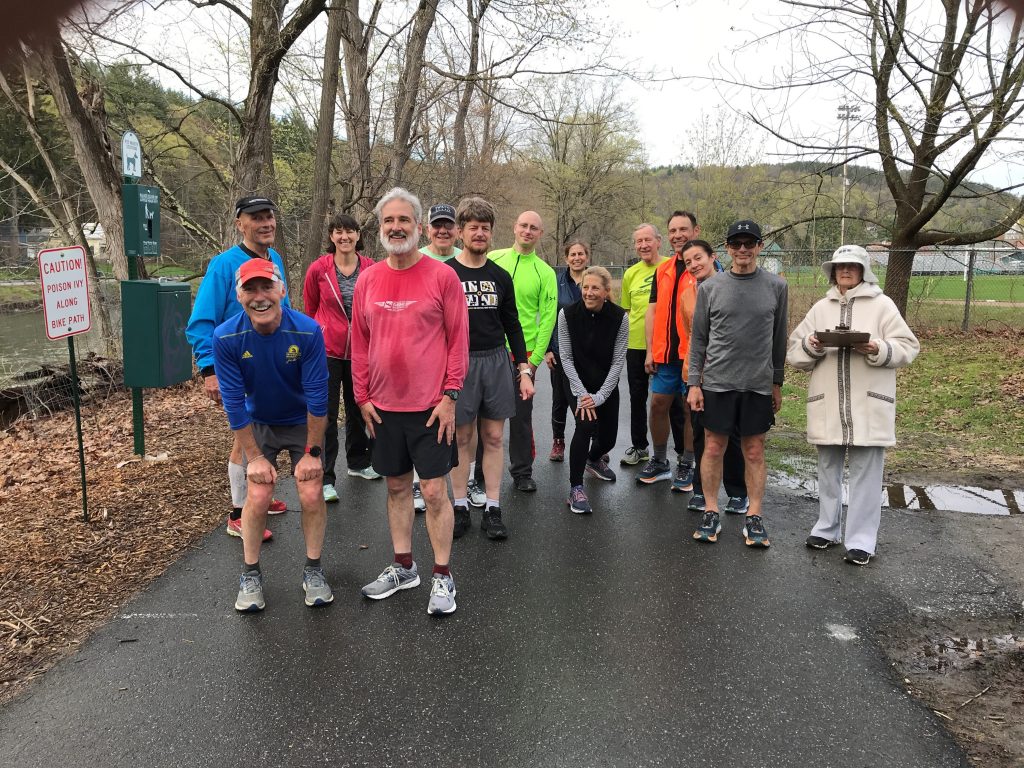 Adamant Half Marathon and Relay this Weekend!
The inaugural Adamant Half Marathon and Relay is Saturday at 10AM.  Wednesday the 8th is the last day of pre-registration.  You can registerhere right now.  After Wednesday at midnite, you will have to register day of at $25 half and $35 relay.  Still a bargain!
The relay splits out at 5.1 miles and 8 miles.  Leg 1 is the shorter one but has the big Adamant Rd. hill.  So there will be many arguments as to which leg is harder…
If you run the half, you are guaranteed a race PR and get soup and other great food at the finish.
Remember the half is part of the CVR/ORO Race series!
Volunteers Needed – Adamant
If you can help with the Adamant Half Marathon this Saturday, May 11, let Donna Smyers know.  Still short a few volunteers.  
CVR Meeting, Monday May 13
The next meeting will be at Donna Smyers and Eric Ryea's house at 1171 Haggett Rd. in Adamant. The potluck starts at 6pm and the meeting at 6:30pm. This happens to be the week that the Monday Berlin Pond run is held in Adamant, so come early (4:30pm) so you can run in Adamant before the meeting.  This gives everyone a chance to run in Adamant if you had to miss the Adamant Half Marathon (2 days before).
Barre Town Spring Run
The races are coming up fast now and next weekend (May 18) is yet another CVR/ORO Race Series race.  The Barre Town Spring Run 5K is at 9am at the Barre Town Rec Facility adjacent to the Barre Town school.  The course is mostly on the Barre Town Rec path and is the year end closing event for the Barre Town School Kids Running Program.   But it also is a competitive race in the Race Series and this is the 11th year.  If you want to run, it is a bargain at $10 (adults); 8th grade and under are free. If you would like to volunteer, please contact Phil Krajewski.Here is a race flyer, feel free to spread it around!
VT 251- the Race Less Traveled
This is a group of folks with the goal of running organized events in all 251 Vermont towns.  They can be races or "challenge runs".  Here is their recent newsletter.  You will notice quire a few CVR members here. Also, the group maintains a nice race calendar . I am sure they will be glad to have others join the group.  
Send a note to Gerry Carlson
Gerry Carlson had surgery recently and is recovering at Woodridge, and probably won't go home earlier than late next week.  Don't think he is accepting visitors, but if you can send Gerry a card, I am sure it will be much appreciated.  The address is:
Woodridge Rehabilitation and Nursing
PO Box 547
Berlin, VT  05641
Andy
---
---
Ongoing events
CVR Fun Run  Tuesday at 5:30pm.  Location: Montpelier Rec Path behind the VT Dept. of Labor on Green Mountain Dr.

CVR Speed Workout Wednesdays at 6 pm. Meet near the MHS track on the bike path warmed up by 6.  Contact Matt Rutherford if you have questions and want to be added to the email list.  

Group Runs you might want to join:
Mondays at 4:15 p.m.  Usually at Berlin Town Office, 2nd Mondays in Adamant.  Contact Donna Smyers  if you want to get on the list.
Tuesdays and Thursdays at 5 a.m. Plainfield/EMES/Adamant. Contact Mark Howard.
Wednesdays at 5:30 The Runderachievers run from Good Measures Brewing in Northfield
Wednesdays at 6:30pm at the Brunswick School (formerly the Three Stallion Inn) in Randolph, Contact Hannah Barden or 802-728-2052 to get put on the email list. 
Fridays at 6:30:  Susannah Colby hosts a trail run from her house in Randolph on the Green Mountain Stock Farms trails. FB info: 802 Trail Running
Upcoming events
*May 11, Adamant Half Marathon (+ relay), NEW CVR RACE!, 10am in Adamant
May 11, Road to the Pogue, 6 mile trail race, Woodstock, 8:30am
May 11, Rail Trail and Ale 5K, Danville, 11am
May 16, Vermont Corporate Cup and State Agency Race 5k, 6pm.
*May 18,  Barre Town Spring Run 5K , Barre Town Rec Area, 9am
May 26, Vermont City Marathon and Relay, Burlington
June 1, Colchester Causeway Race, 15k/10k/5k, 8:30am Airport Park, Colchester
June 1, Craftsbury Beer Run, Half marathon from Craftsbury to Hill Farmstead, 9:30am
June 1, Race to the Top of Bradford, 3.5 mile trail race, 9am, Bradford
*June 8, Capital City Stampede 10K, 9am, Onion River Outdoors on Langdon St.
June 15, NH-VT Covered Bridge Half Marathon, + 5K and relay, Colebrook, NH, 8:30am
June 16, GMAA Equinox Trail 10K and 5K, Charlotte, 9:30am
It's a good idea to check the race information on the race website as dates and times can change.
* Part of the CVR/ORO Race Series 2019
Feel free to email me any additional events that should be listed here.