Barre Heritage Festival 4K Trail Race this weekend!

---

CVR Birthdays this week!
Happy Birthday to: Arthur Foelsche, Fabienne Pattison, and Audrey Acosta.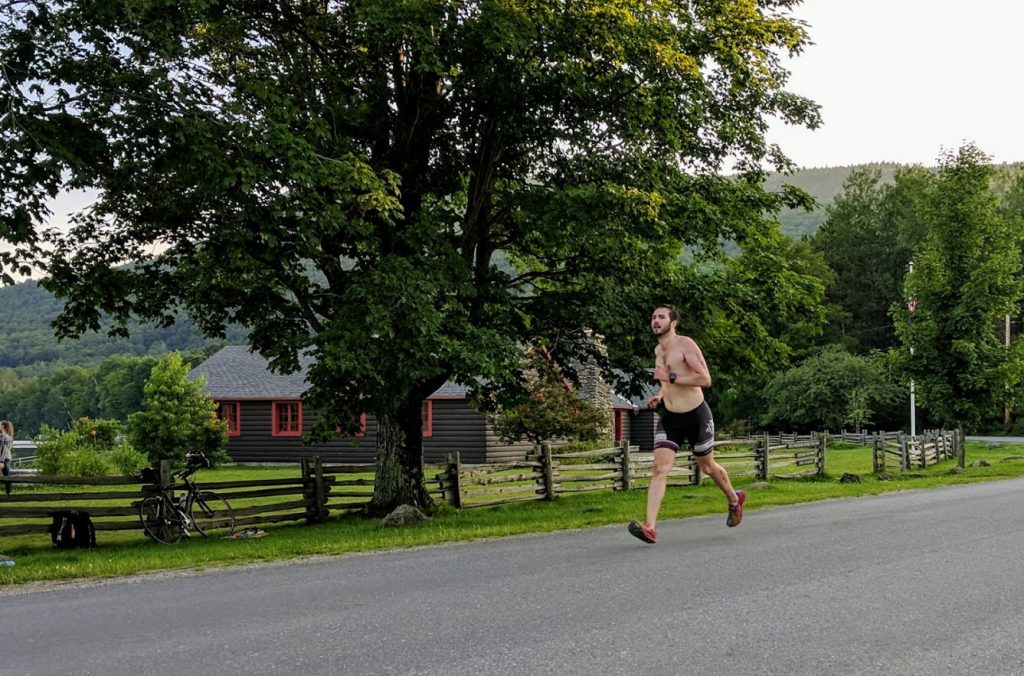 Barre Heritage Festival 5K Trail Race
For the first time, the race will be on Saturday. It is at 9am this Saturday at the Barre Town Forest parking area at 44 Brook St. in Websterville.  The race is only $10 and you get to run on the scenic Millstone trails. If you don't want to run, please volunteer!  Contact Jackie Jancaitis, if you can volunteer.
Next CVR Meeting and Newsletter Deadline
The next CVR meeting will be Monday, August 12 in Craftsbury, at Jim Flint's house. Jim has a run planned at 4:30pm, followed by a cooling off dip in the creek. Potluck and cookout will be at 6pm. Jim will have the grill fired up, so bring burgers or whatever meat you want to cook. Other pot luck items too. We will have a brief business meeting and a short talk about the Craftsbury running program and the upcoming Genny Tenny race by Heidi Caldwell, Craftsbury Running Director (and 2019 Mt. Washington co-winner).
Craftsbury is a beautiful venue for our summer meeting and less than an hour drive from Montpelier, so please come on the 12th!
Newsletter Deadline
Please submit articles about your summer adventures.  Please send your contributions to Maryke Gillis by August 7.
Vermont 100 Endurance Race
Congratulations to Dylan Broderick (21:56:32) for a third place finish (and 1st VT woman I believe) in Saturday's Vermont 100 Endurance Race. This must have been the hottest VT100 on record and it is amazing just to finish on a day with temperatures in the 90's and high humidity.  Only 156 finishers this year compared to 277 last year. Another CVR finisher was Heidi White in 29:12:24.  Last year Dylan was 4th with a time of 18:45:51 so you can see how the heat affected times.  Another example: last year, 39 runners were under 20 hours; this year there were 5.  Hereare results.
Vermont City Marathon Relay Teams Pay Off!
Back in May, I reported that in the team competition at the Vermont City Marathon CVR swept the women's team competition with first place in both Open and masters. Scoring for the Women's Open team was Megan Valentine, Dylan Broderick and Sandy Colvin. The winning Master's team consisted of Megan, Sandy and Meg Allison.
As part of the RRCA team competition at VCM, they award $500 to each club that wins a division.  So that means CVR has been awarded $1,000 for the awesome efforts of our two teams!
Upcoming CVR Races
Berlin Pond 5 Miler is the next CVR/ORO Race Series race, on Thursday, August 15 at 6pm.  Volunteers are also needed for it; contact Jeff Prescott, if you can help.
Andy
---
Ongoing events
CVR Fun Run  Tuesday at 5:30pm.  Location: Montpelier Rec Path behind the VT Dept. of Labor on Green Mountain Dr.

CVR Speed Workout Wednesdays at 6 pm. Meet near the MHS track on the bike path warmed up by 6.  Contact Matt Rutherford if you have questions and want to be added to the email list.  

Group Runs you might want to join:
Mondays at 4:15 p.m.  Usually at Berlin Town Office, 2nd Mondays in Adamant.  Contact Donna Smyers  if you want to get on the list.
Mondays at 6pm at Harwood Union High School. Kids and Adults Fun Run. Small fee. Contact: Ann Zetterstrom • zettx3@gmail.com
Tuesdays and Thursdays at 5 a.m. Plainfield/EMES/Adamant. Contact Mark Howard.
Wednesdays at 5:30 The Runderachievers run from Good Measures Brewing in Northfield
Wednesdaysat 6:30pm at the Brunswick School (formerly the Three Stallion Inn) in Randolph, Contact Hannah Barden or 802-728-2052 to get put on the email list. 
Fridays at 6:30:  Susannah Colby hosts a trail run from her house in Randolph on the Green Mountain Stock Farms trails. FB info: 802 Trail Running
Upcoming events
July 27, Barre Heritage Festival 5K Trail Race, Millstone, 9am
July 27, Round Church Women's Run, 5k and 10k, Richmond, 8:30am
July 28, Caspian Challenge, 6.8 mile and 5k, Greensboro, 8:30am
August 3, Fairfax Egg Run, 5k and 10k, Fairfax, 9am
August 10, Kingdom Run, Half, 10k, 5K, 8:30am, Irasburg
August 10, Jenkins Mountain Scramble, Half and 10k trail, Paul Smiths NY, 10:30am
*August 15, Berlin Pond 5 Miler, 6pm,  registration at Berlin Town Clerk's Office
August 25, Race to the Top of Vermont, 9am run, 10am bike, Stowe
*August 31, NSB 5K and 1 Mile, 9:30am 5K, 10:30am mile, Northfield
–>August 31, Elmore 5K, 9am, start at Elmore Town Garage, (free to first 60 Lamoille County, Hardwick and Craftsbury residents) 
–>September 7, Groton Forest Trail Run, 26.5 and 15 mile, 7am/9am, Boulder Beach State Park
September 15, LL. Bean Flannel 5K, Burlington, 9am, Leddy Park to Battery Park
It's a good idea to check the race information on the race website as dates and times can change.
* Part of the CVR/ORO Race Series 2019
Feel free to email me any additional events that should be listed here.