Happy Halloween from News and Notes
---
CVR Birthdays this week!
Happy Birthday to: George Aitken, Tim Francis, Matt Rutherford, Eliza Gardner-Morse, Donna Heney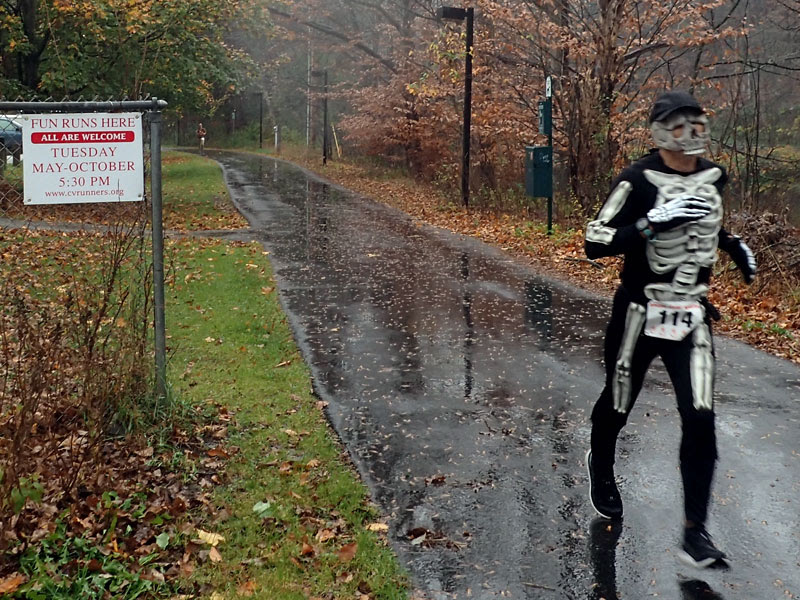 CVR Meeting on Monday
The next meeting is Monday, November 4, at Denise Ricker's house in Montpelier. Potluck at 6pm and meeting at 6:30pm. Please be there for discussion of the slate of 2020 races and the race series.
Pre-Meeting Run: Meet at 4:30pm at Hunger Mountain Co-op for a tour of the new section of the Montpelier bike path. After the run, we will go to Denise's house for the meeting.  No need to RSVP for the run, just be ready to run by 4:30.  When parking, please use the adjacent lots or street parking instead of the co-op's busy lot.  Also, since it will be dark, you may want a headlamp.
Fallen Leaves 5K's
The first Fallen Leaves 5K is this Saturday!  The race begins on the Montpelier High School track at 9am.  Just $5!
Speedwork Hiatus
Matt Rutherford has proposed that Wednesday speedwork take a break for the winter. Attendance has been low lately and would likely be worse in the winter. So no speedwork beginning this week until further notice.
And of course Tuesday Fun Runs are done for the season and will return in May.
But we do have Winter Long Runs to look forward to in December!
CVR Member in at the News
Here is an interesting article about the establishment of a historic flood level gauge on Langdon Street by the USGS.  CVR member Jamie Shanley works for the USGS and was involved in erecting the marker.
New Fundraiser – Turkey Trot in Northfield
STAND WITH ERICK is officially on!
What the Stand with Erick movement is about is to support and raise money for our fellow community member, Norwich student, and friend, Erick Nyambuoro, who is battling stage four cornea cancer while trying to complete his Masters degree in architecture here at Norwich University. The American Institute of Architecture Students (AIAS) is putting this event on for the entire central Vermont community. Our goal is to not only raise money for Erick and his family, but to also connect with our community that we are so happy to be apart of. To participate in STANDING WITH ERICK there is a seasonal themed "turkey Trot" on November 17th (start is Norwich University football field at 10am) where participants are encouraged to come in costume and compete for prizes. (sign up link below). Participation can also be in the form of buying one of our limited edition T shirts or putting a donation on the STAND WITH ERICK goFundme page. (links below). All the t shirt, goFundme, and race sales will all go to him and his family for chemotherapy costs. Contact Aran Hird with any questions.
ahird1@stu.norwich.edu.

Here are the links for more information:
Entrance Fee: If they buy a T-shirt there's no extra cost. If they don't, then it's a $10 fee for an entry.
Entrance
https://docs.google.com/forms/d/e/1FAIpQLScJ5_xvR_7gGw9ymNP-jiZiAiNJzek2YJMvQT6VAWj8zEZVUg/viewform?usp=sf_link

Tshirt https://docs.google.com/forms/d/e/1FAIpQLSeaXidJH1sr8xYjI59ADqNjxoT_RoY4GERbX_MAusrcLHFREQ/viewform?usp=sf_linK

For the race they can either show up in T-shirt or costume. We'll know from the form if they signed up or not. Also if they bought a T-shirt they can get it the day of the event.
Rowly needs help for this event: he will not be there race day but the students would like to borrow the CVR clock.  We need a CVR member willing to be responsible for the clock, pick it up from Fallen Leaves on Saturday the 16th, take it to the race on Sunday and then return it to the CVR storage unit.  Anyone willing to help, please contact Rowly.

Cape Cod Marathon and Half
CVR was well-represented at Cape Cod this past weekend. The half was on Saturday with beautiful weather and lucky John Martin ran in that race. Not so lucky were the marathon runners who ran on Sunday, and according to John had to endures steady rain, 30+mph winds and the surf crashing over the road barriers. It didn't stop Dot Martin who placed 3rd in her AG and Celine Blais who was 2nd in hers and the oldest woman in the marathon. Congratulations!
Andy
---
Ongoing events
CVR Fun Run Done for the year-will be back first Tuesday in May

CVR Speed Workout Wednesdays – done for the year, will be back in Spring, stay posted
Group Runs you might want to join:
Tuesdays and Thursdays at 5 a.m. Plainfield/EMES/Adamant. Contact Mark Howard.
Wednesdays at 5:30 The Runderachievers run from Good Measure Brewing in Northfield
Fridays at 6:30:  Susannah Gravel hosts a trail run from her house in Randolph on the Green Mountain Stock Farms trails. FB info: 802 Trail Running
Upcoming events
–>November 2, 9 and 16: Fallen Leaves 5K, Montpelier High School , 9am
–>November 3, Shelburne Field House Half Marathon, 10K and 5K, 8am, Shelburne
–>November 17, Stand with Erick Turkey Trot, 5K, Norwich Univ, 10am
–>November 23, Westford Turkey Trot, 10K, Westford, 10am
–>November 28, Gobble Wobble Turkey Trot, 5K, Barre Town, 9:30am
–>November 28, GMAA Turkey Trot, 5K, Burlington (UVM), 10AM
–>November 30, Jingle Jog 5K, 10am, Shelburne
*December 31, 2019, New Year's Eve 5K, Montpelier, 2pm
It's a good idea to check the race information on the race website as dates and times can change.
* Part of the CVR/ORO Race Series 2020
Feel free to email me any additional events that should be listed here.