---
CVR Birthdays this week!
Happy Birthday to: Kari Bradley, Brian Burns, Willem Colvin, Shaina Kasper (new AG!), Hannah Phillips, Heidi White and Sam Planck.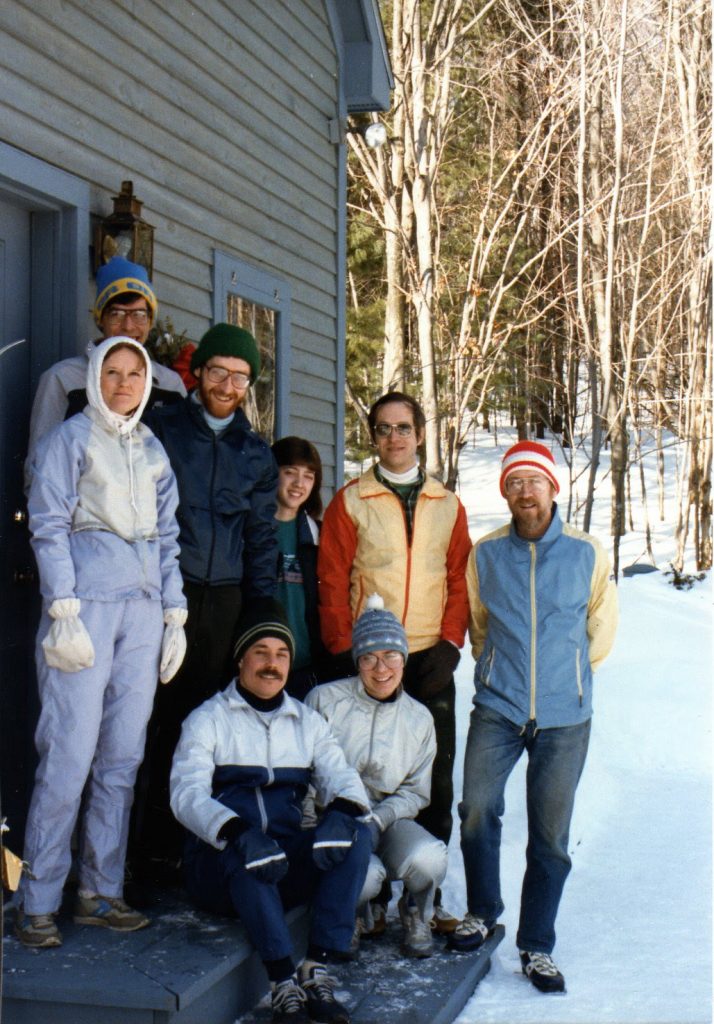 Photo Contest
Location is Stowe, before a run at a CVR meeting. Decade is the 80's. I will award a special prize to the first person who can correctly identify at least 5 out of 8 here. (Hint: at least 5 are current members).
Newsletter Coming Up!
The next newsletter will be out before the March Annual Meeting. Please submit your photos, stories and race reports to Maryke Gillis by March 13.
Winter Long Run
This week's Winter Long Run will be start at La Brioche in Montpelier at 9:30am on Saturday. If you have questions, contact this week's host Jeff Prescott.
CVR Annual Meeting
The Annual Meeting will be at the 4 Corners Schoolhouse in E. Montpelier on Sunday, March 22.  The meeting starts at 4:30pm, after which is a potluck around 6pm. As part of 40 year celebration, we will also have birthday cake!
Help Wanted – Race Timers
John Hackney and the other race timers would like some help. No experience necessary, will train:
CVR needs volunteers to learn to time our races! This year we're timing ten races, and only three people, Donna Smyers, Bob Murphy and John, are doing all of the timing. They enjoy timing races, but they also like to race. We need new people to learn the RunScore timing application, the use of the TimeMachine timers, and the details of timing races and producing results using these tools. You need to be comfortable using a computer, but you don't need any programming experience. They will work with you to help you learn RunScore, and they will work with you on your first races until you've built the confidence to handle races on your own.
Please consider helping us with this very important part of our club's race management responsibilities. If you're interested in learning more about becoming a race timer, please contact John Hackney (jhackney67@gmail.com), Bob Murphy (rmm.vt@charter.net), or Donna Smyers (dosmyers@gmail.com). 
Shoe Article
No doubt you have heard about the controversy with Nike Vaporfly shoes. Here is a NY Times article about a study using Strava and race data that clearly shows their advantage.
Andy
---
Ongoing events
CVR Fun Run Done for the year-will be back first Tuesday in May

CVR Speed Workout Wednesdays – done for the year, will be back in Spring, stay posted
Group Runs you might want to join:
Monday at 4:15pm: Berlin Pond, meet at Berlin Town Office, once per month run is in Adamant, info dosmyers@gmail,com
Tuesdays and Thursdays at 5 a.m. Plainfield/EMES/Adamant. Contact Mark Howard.
Wednesdays at 5:30 The Runderachievers run from Good Measure Brewing in Northfield
Fridays at 6:30:  Susannah Gravel hosts a trail run from her house in Randolph on the Green Mountain Stock Farms trails. FB info: 802 Trail Running
Upcoming events
->February 29 Marsh Billings Rockefeller Park Run, 5k, 9am, Woodstock. Continues every Saturday, even through winter, free
->March 14 Shamrock Shuffle, 5K, Lebanon, NH
->March 15 New Bedford Half Marathon, New Bedford, MA
**March 22 Kaynor's Sap Run, Westford, 11am
->April 11 Unplugged Half Marathon, 9am, Burlington Waterfront Park
->April 18 Rollin Irish Half Marathon, 9am, Essex Center
->April 19 Mutt Strut, 3 mile for dogs and humans, Little River State Park
**>April 25, Paul Mailman 10 Mile and 5K, 8:45am, Montpelier High School
Winter Wild Series:
-March 7, 2020: Ascutney VT
-March 14, 2020: Whaleback Mtn, NH
-March 22, 2020: Waterville Valley, NH
It's a good idea to check the race information on the race website as dates and times can change.
** Part of the CVR/ORO Race Series 2020
Feel free to email me any additional events that should be listed here.