Leaf Peepers this Sunday!
---
CVR Birthdays this week!
Happy Birthday to: Bill Frantz (new AG!), Maclay Ericson, Dot Martin, Amani Suter, Todd Sears, David Erickson, Clare Irwin and Philip Picotte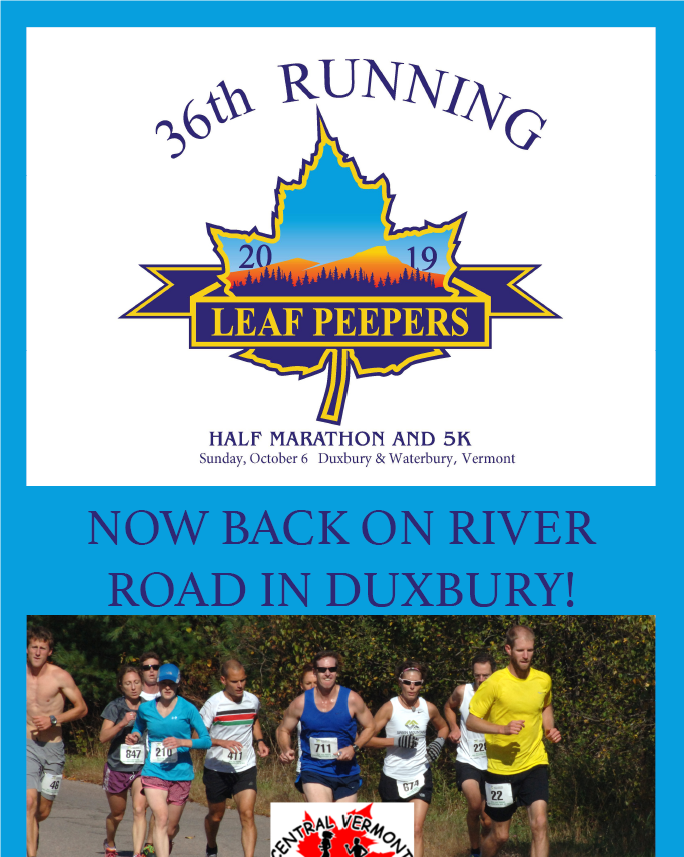 Leaf Peepers Half Marathon and 5K
This Sunday will see the race return to the historic River Rd. course. It will start at the Waterbury State Office Complex at 9am (half) and 9:15am (5k). B-tag pick up begins at 7am. Parking is at the State Office Complex. Portalets will be at the start and at miles 3.5 and 11. Water is at miles 3.5, 7 and 11.
The 5K will be a loop and very flat. Both races end up on the Cross Vermont Trail between the cemetery and State Office before finishing back at the State Office horseshoe. More information is here.
IMPORTANT REGISTRATION NOTICE!
Originally there was going to be race day registration.  Due to state rules, we will not be able to register on race day.  Therefore, you must register on line and by this Friday at noon.Here is the link.
Final race of the series!
Both the half and 5K count for the CVR/ORO Race Series, so here is a great opportunity for points.  Pick your favorite distance!  Standings are here.
Andy
---
Ongoing events
CVR Fun Run  Tuesday at 5:30pm.  Location: Montpelier Rec Path behind the VT Dept. of Labor on Green Mountain Dr.

CVR Speed Workout Wednesdays at 6 pm. Meet near the MHS track on the bike path warmed up by 6.  Contact Matt Rutherford if you have questions and want to be added to the email list.  

Group Runs you might want to join:
Mondays at 6pm at Harwood Union High School. Kids and Adults Fun Run. Small fee. Contact: Ann Zetterstrom • zettx3@gmail.com
Tuesdays and Thursdays at 5 a.m. Plainfield/EMES/Adamant. Contact Mark Howard.
Wednesdays at 5:30 The Runderachievers run from Good Measures Brewing in Northfield
Wednesdaysat 6:30pm at the Brunswick School (formerly the Three Stallion Inn) in Randolph, Contact Hannah Barden or 802-728-2052 to get put on the email list. 
Fridays at 6:30:  Susannah Gravel hosts a trail run from her house in Randolph on the Green Mountain Stock Farms trails. FB info: 802 Trail Running
Upcoming events
>October 5, Art Tudhope 10K, Shelburne, 9am
*October 6, Leaf Peepers Half Marathon and 5K, 9:00am, Waterbury
>October 13, GMAA Green Mountain Marathon and Half, South Hero, 8:30am
>October 13, Mad Dash 10k/5K, Waitsfield, 10am
>October 19, Trapp Mountain Marathon, marathon and half, Trapp Family Lodge
>October 20, Heady Trotter 4 Mile, Alchemist Brewery in Stowe, 10am
>October 20, The Hills are Alive 5K (GMAA), Trapp Family Lodge, 10am
>October 27, Black River Beatdown, 15k, 30k, 45k, Craftsbury
>November 2, 9 and 16: Fallen Leaves 5K, Montpelier High School , 9am
It's a good idea to check the race information on the race website as dates and times can change.
* Part of the CVR/ORO Race Series 2019
Feel free to email me any additional events that should be listed here.