---
CVR Birthdays this Week!
Happy Birthday to: Katherine Brucken, Marcella Dent, Kai Carlson-Hillier, and Kelly Collar.
---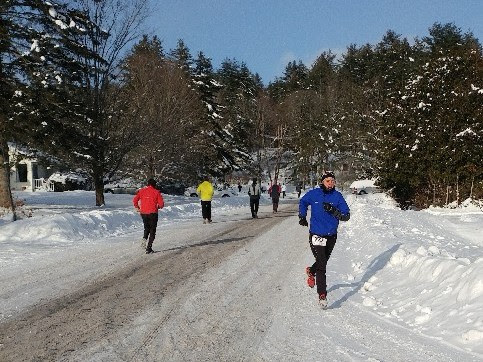 This Friday is the Winter Solstice. Reason to celebrate since the days finally start getting longer. But don't celebrate too much since it only improves by one second. And, the total daylight by the end of the month (8:55:09) is still less than the total we had on December 1 (9:06:52). But the good news, sunset on 12/31 is at 4:21pm which is better than December 1's 4:12pm. Here are 8 things to know about the winter solstice.
January Newsletter
The next newsletter comes out in January. Remember how great the last one was? Your contributions are encouraged and welcome, please send them to Maryke Gillis. She would like them by January 11. Good topics for you to write about: race reports, an interesting race that others may not know about, your favorite places to run in winter, etc.
Save the Date-Annual Volunteer and Awards Dinner
We will be at the Steak House in Berlin on Thursday, January 24th for the annual dinner. 5:45pm for social hour (cash bar) and dinner at 6:30pm. Remember that CVR member volunteers eat for free! You will soon receive a request by email to RSVP and reserve your place.

New Year's Eve Race
Remember the 2019 Race series starts on New Year's Eve! The race location is the same as in the past (at the Pavilion). Advance registration is suggested, see the info page here. The race starts in the warm part of the day, at 2pm.
We need volunteers for the race, please email Race Director Manny Sainzif you can help.
Winter Long Run
This week's Winter Long Run will be at the Red Hen in Middlesex on Saturday at 9:30am. Questions about this Saturday's run, contact me as I am hosting this week. Don't let the rainy forecast hold you back; we'll run anyway.
Sign of the Times?
For those of you who have run the Amherst 10 Miler in the past (a February race), there is bad news. The Sugarloaf Mountain Athletic Club (who produces the race) has decided to cancel the race this year and re-evaluate whether they want to continue it in the future. Here is their announcement.
Also another race on hiatus for 2019, the Shires of Vermont Marathon.
Merry Christmas, Happy Holidays and Seasons Greetings Everyone!
Andy
---
---
Ongoing Events
CVR Fun Run done for the season, will be back in May. Location: Montpelier Rec Path behind the VT Dept. of Labor on Green Mountain Dr.

CVR Speed Workout Wednesdays at 6 pm. Meet near the MHS track on the bike path warmed up by 6. Contact Matt Rutherford if you have questions and want to be added to the email list.

Group Runs you might want to join:
Mondays at 4:15 p.m. Usually at Berlin Town Office, sometimes in Adamant. Contact Donna Smyers if you want to get on the list.
Tuesdays and Thursdays at 5 a.m. Plainfield/EMES/Adamant. Contact Mark Howard.
Wednesdays at 5:30 The Runderachievers run from Good Measures Brewing in Northfield
Wednesdaysat 6:30pm at the Brunswick School (formerly the Three Stallion Inn) in Randolph, Contact Hannah Barden or 802-728-2052 to get put on the email list.
Fridays at 6:30: Susannah Colby hosts a trail run from her house in Randolph on the Green Mountain Stock Farms trails. FB info: 802 Trail Running
Upcoming Events
–>December 22, Winter Wild Uphill Series , Magic Mountain in Londonderry, 7am start
**December 31, (Monday), CVR New Year's Eve 5K, Montpelier, 2pm
–>December 31, Resolution Run 5K and Walk, Champlain Valley Expo, 3:30pm (formerly First Run which used to be held on New Year's Day).
–>January 26, Winter Wild Series, Cranmore Mountain (NH), 7am
–>January 27, Winter Wild Series, Black Mountain (NH), 7am
–>January 27, Boston Prep 16 Miler and 5 Mile, Derry NH, 10am
–>February 16, Cupid 5K, Shelburne, 10am
It's a good idea to check the race information on the race website as dates and times can change.
** Part of the CVR/ORO Race Series 2019
Feel free to email me any additional events that should be listed here.