Adamant Half Marathon and Relay
Sunday, May 7, 2023
Scenic figure 8 course on 90% dirt roads with ponds and hills through Calais and East Montpelier. Run the Half Marathon or share the fun with a partner in the relay.
.
New! Double Dirt Challenge
Can't get enough scenic hilly dirt roads? Training for an ultra or maybe the Circumburke, Fly to Pie or Mad Marathon? Or just can't decide which iconic event to do on May 6 – 7? Enter the Double Dirt Challenge! Run the Genny Tenny on Saturday 5/6 and the Adamant Half Marathon on Sunday 5/7. Participants are eligible for 10% off each race with a unique award and double the fun! Participants must sign up for each race individually in the Double Dirt Challenge category.
COVID-19 NOTICE
Race will be held pending VT State COVID-19 health guidelines as of May 7, 2023.
---
Directions: The race site this year will be outdoors at 1171 Haggett Rd. in Adamant. From Montpelier, follow Main St. through the roundabout and up the hill. Main St. becomes County Road. At 6 miles from Montpelier, turn right on Haggett Rd. There will be parking signs as you enter Adamant in 1.1 mile on Haggett Road.
Beneficiary: A portion of race proceeds will be donated to the Adamant Community Arts Council.
Registration: Pre-registration encouraged! by midnight May 5, 2023. Early number pickup at Onion River Outdoors on May 6 from 3:00 to 4:30pm. Race day registration and number pickup at 1171 Haggett Rd. 8:30-9:45am.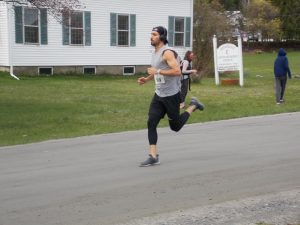 Fee: Until April 30, 2023: $20 individual, $35 per relay team.
May 1 to May 5, 2023: $25 individual, $40 per relay team.
Late or Race Day Registration: $30 individual, $45 per relay team.
Starting time: Race starts promptly at 10:00 a.m.
Early Start Option: Runners who expect to complete the half marathon in 2:40 (12 min/mile pace) or longer are encouraged to sign up for the early start option. They will start at 9:30 a.m. Runners who start early and finish in less than 2:15 will not have an official finishing time since the 9:30 a.m. wave is designed for slower runners only.
Cut-off Time: Aid stations and finish line will remain open for those finishing by 1:00pm.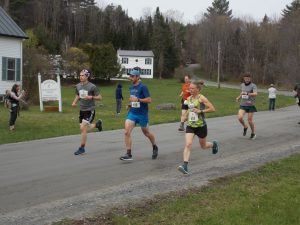 Aid stations: Approximately every 2-3 miles along the course, including Gatorade and water.
Prizes, etc.: Prizes to 1st overall M & F & Non-Binary and 1st M & F & Non-Binary in each 10 year age division in the Half Marathon. Relay awards to top male team, female team and mixed team. Raffle prizes from our sponsors will be drawn randomly. All half marathon finishers will receive a unique Adamant Half finishers 'medal'.
The return of Adamant traditional post-race hearty hot soups and breads is planned!
Note: Running with strollers or dogs is prohibited in the event. Headphones and earbuds are strongly discouraged for the safety of all participants on the roads which are all open to traffic.
Course: Course map
The relay exchange is in Adamant near the start/finish line.
For more information: Contact Donna Smyers at: dosmyers@gmail.com