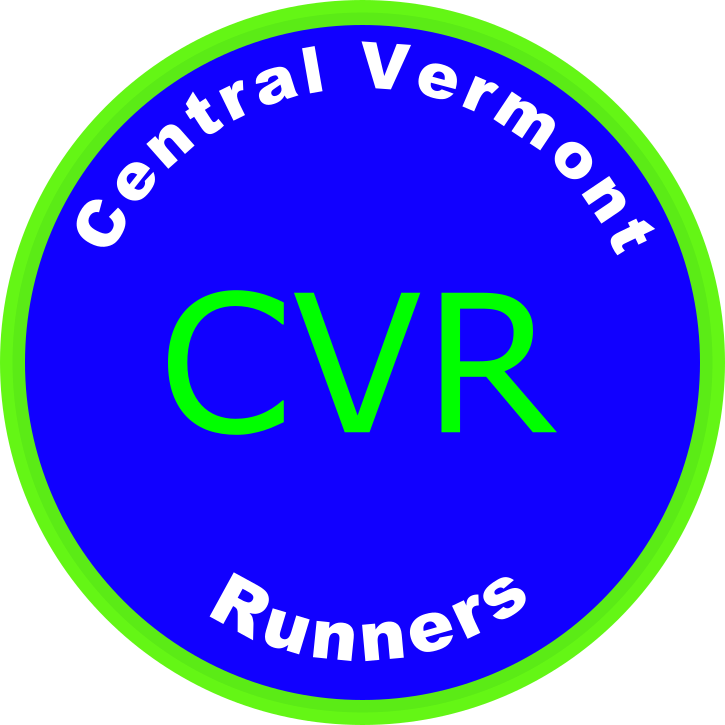 ---
CVR Birthdays this week:
Happy Birthday to: Maricela Acousta, Rima Carlson, Rebecca Diedrich, John Matter, Andrew McCormick
---
Hi CVR Members,
The Capital City Stampede is coming up this weekend! Final day for registration is midnight today. There are 78 participants as of this writing.
Summer Trail Runs
The summer trail run series continues to be very successful. Last week the event was hosted by Joe Merrill in Montpelier covering North Branch to Sparrow Farm and Hubbard Park. This week the series is off due to the Capital City Stampede. It will pick up again on the 19th with a run on Irish Hill in Berlin.
 If you want to join the special mailing send me a message and I will add you Manny. We are still looking for future host. If you can host an event please reach out to Mark Howard.
Bear Swamp 5.7 Miler
Bear Swamp was moved to June 26 this year and is now open for registration! Again, go to our CVR website to register


CVR Meeting
We had our 2nd CVR meeting of the year on June 2nd. 15 members attended. A few major topics discussed.
Financials results are good.
Memberships are study.
A committee was formed to consider our January Club Event.
Summer Trail Run series is going extremely well.
Races are on schedule.
Clothing and merchandising plans are coming soon.
For full details of the meeting please go to our website. CVR Meeting 6/3/2021.
CVR 2021 Race Dashboard
I finally created a dashboard for this year's events and will add to it for each race we complete. You can go to the link and view the dashboard. It is interactive as the one last year. So far it has the results for Paul Mailman and Adamant Half Marathon. It does not have the relay yet but I hope to add it soon.
Click here to view the dashboard. CVR 2021 Race Dashboard
Dashboard snapshot: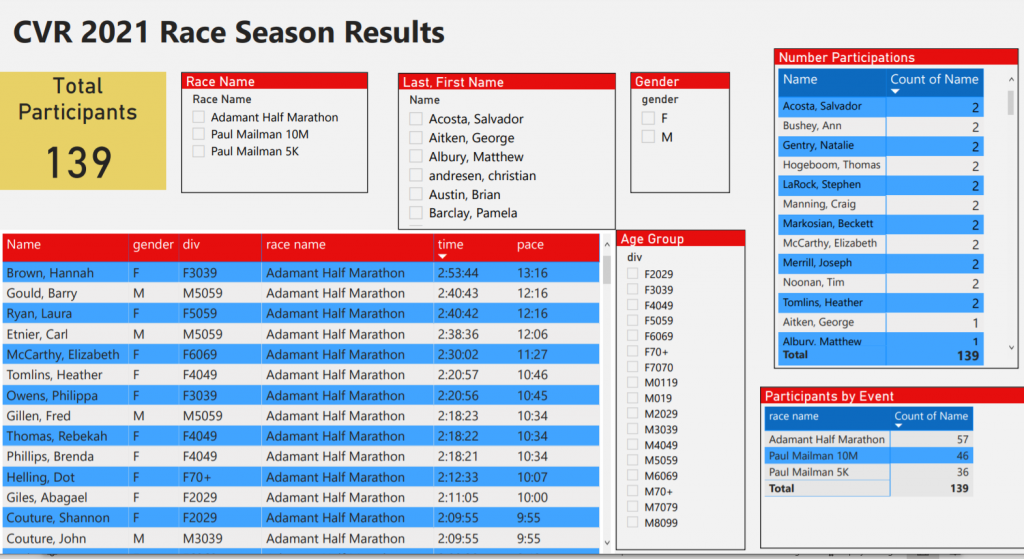 Volunteers Needed!
During the CVR meeting last week we discussed the issue of not having enough volunteers to support our events. Having volunteers is critical to the success of our events. I can frame the discussion results as, it is the expectation when you join CVR that you volunteer for at least one event. In past years volunteers were allowed to join our January Awards banquet for free. Even though we will not have races series awards in January, we will have a banquet and we will bring back the same rule. So please sign up!

Thank you to those who have already gone to this link to sign up to volunteer for a race. It is a live document so please sign up to volunteer when you can. CVR Race Volunteer List. Thanks!
 
VCM 5 Person Relay Entry for Sale
Greg Wight asked me to post this. His 5 person team will not be able to participate in the October event so it is up for sale. Price is $265. If you have interest in purchasing this entry please contact Greg.

Millstone Virtual Trail Series
Millstone Trails is raising money by doing a 13 week trail virtual series. Click the following links for more details.
https://www.facebook.com/millstonetrails/
http://www.millstonetrails.org/?fbclid=IwAR3zwO_KmvIZyN6l3fdqiEmpztMs-W-sRO0LUyUHSAfKVAJujrMxBwke4YI
Safe Running!
Manny Sainz
---
Ongoing/Upcoming events
CVR Races
Capital City Stampede 10K – June 12
Bear Swamp 5.7 Mile – June 26
Fun Runs – Every Tuesday night at 5:30 PM starting on the Montpelier bike path
Click this link for the Catamount Race Series.