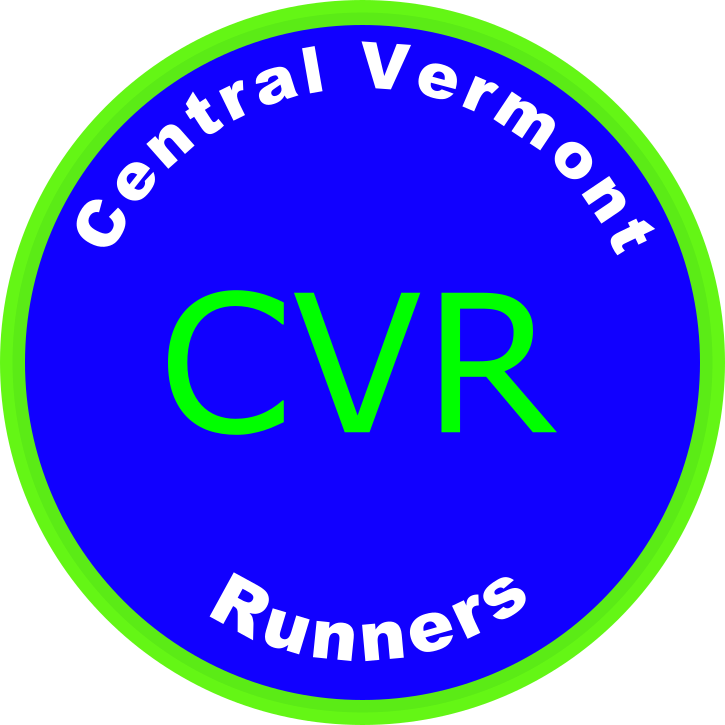 CVR Birthdays this week:
Happy Birthday to: Diane Baker
---
Hi CVR Members,
We made it to the end of June! What a hot and humid week. Conditions were great for the Bear Swamp so let's jump into that first.
Bear Swamp 5.7 Mile Race
It was a beautiful day for the Bear Swamp challenge on Saturday. Runners had the chance to run straight uphill for 2.3 miles before hitting a class 4 section and running all downhill from then. Race director Tim Noonan mentioned this year the class 4 road had little water and mud as usual. Overall and male winner was George Aitken in a time of 35:37 while the female winner was Kelly Hadiaris in a time of 43:38. Congratulations to all the runners!
The following is a screen shot of the age group winners from my dashboard. If you cannot read it please click on the dashboard below.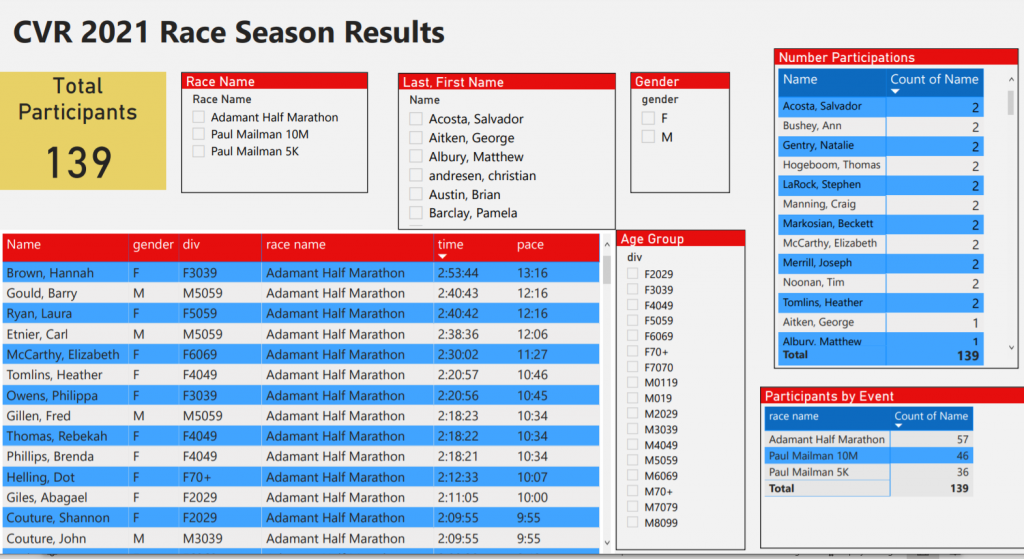 Summer Trail Runs
Summer trail runs return this week and will be hosted by Mack Gardner-Morse. The run will be on Robinson Hill trails in Calais. Should be a fun one. Stay tuned for the email blast tomorrow with all the details.
If you want to join the mailing list send me a message and I will add you Manny. We are still looking for future hosts. If you can host an event please reach out to Mark Howard.
Next Up Races
The Barre Heritage Trail 5K is on July 31 and a special note the entrance fee will increase from $5 to $10 after July 5th so register now! Race director Jackie Jancaitis also wanted me to mention that this year again, she will have Custom Granite awards! Berlin Pond is on August 12 and is open for registration. Also open for registration is Leaf Peepers on October 3rd.
CVR 2021 Race Dashboard
Bear Swamp has been added. I also added a 2nd page to the dashboard where you can select and view the age group winners for each race. So far Ann Bushey leads in events participated in. She has competed in all four so far.
Click here to view the dashboard. CVR 2021 Race Dashboard
Volunteers Needed!
Thank you for volunteering. If you can please sign up for future events. CVR Race Volunteer List. Thanks!
---
Ongoing/Upcoming events
CVR Races
Barre Heritage Trail 5K – July 31
Berlin Pond 5 Miler – August 12
Fun Runs – Every Tuesday night at 5:30 PM starting on the Montpelier bike path.
Millstone Virtual Trail Series
Millstone Trails is raising money by doing a 13 week trail virtual series. Click the following links for more details.
https://www.facebook.com/millstonetrails/
http://www.millstonetrails.org/?fbclid=IwAR3zwO_KmvIZyN6l3fdqiEmpztMs-W-sRO0LUyUHSAfKVAJujrMxBwke4YI
Catamount Race Series
Many CVR members are participating in this series. I have heard they are in need of volunteers. If you have a chance, please volunteer. https://www.catamountultra.com/volunteer.html. Click this link for theCatamount Race Series.
Safe Running!
Manny Sainz