CVR Birthdays this week:
Happy Birthday to: Audrey Acosta, Deborah Barnes, Lindsay Budnik
---
Hi CVR Members,
We made it to the end of July and summer is almost over…well just kidding but the weather definitely feels like autumn. But we do have Barre Heritage 5K trail race this weekend! See you there. Let's get into the news.
Summer Trail Runs
Last week the trail run was going to be in Warren but Gary Kessler indicated the trails were wet and by running on them would cause damage. I therefore switched to our partners ORO who were having a run in Hubbard Park and North Branch. While some of us were doing a Mt. Washington thing and others were holding back for the DoubleUp (which was also postponed for wet trails), I was happy to see a few CVR runners joining ORO. Allison Pineault provided me the pictures. This week we are off due to our trail race.
We have completed 9 trail runs with 5 to go! If you haven't done one with us you should give it a try because everyone is having fun. You do not need to be an expert trail runner to run with the group so join us next week!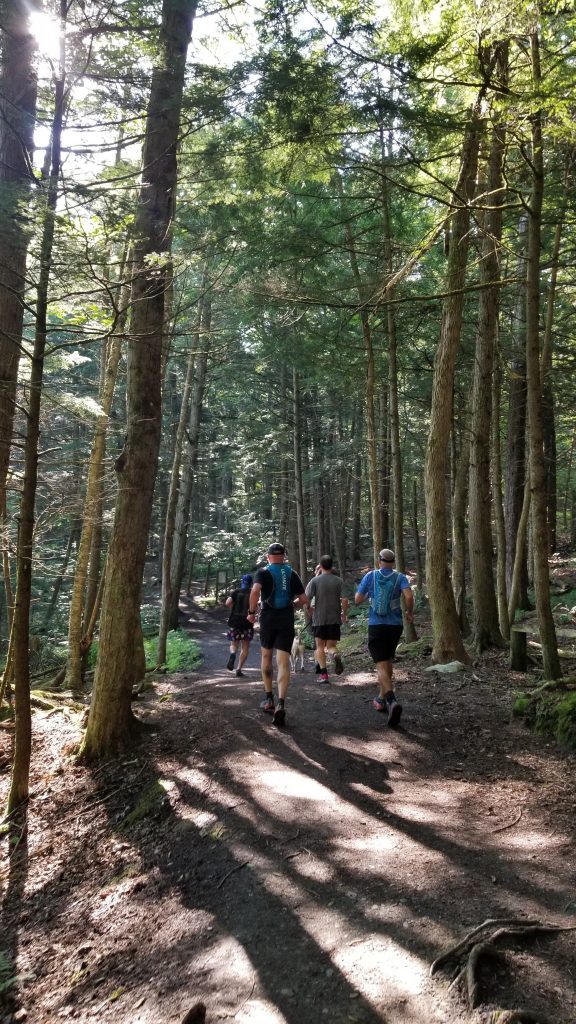 If you want to join the mailing list send me a message and I will add you Manny. It is exciting that we have host identified for all remaining trail runs!
Fun Run
We had a wet Fun Run this week but participation was still very good. The eat out at Julio's was postponed as there were no takers for the evening. There may not be enough interest for a group gathering for dinner after the Fun Run so I want to see what that interest may be for next week, Tuesday August 3rd. If you have an interest just click on this email link which says you have. After Fun Run dinner.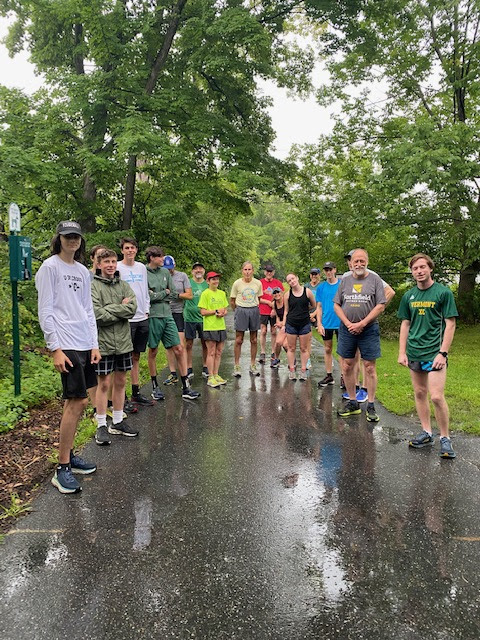 ---
Next Up Races
Barre Heritage 5K Trail Race is this weekend! As I mentioned last week, Race Director Jackie Jancaitis will be accepting race day registrations. Then we have Berlin Pond 5 miler coming up next on Thursday, 8/12. Race Directors Bob and Sue Emmons are looking for a few more volunteers so if you can please sign up. Next after that is the Northfield Savings Bank 5K and it will also include the Vermont Senior Games. It is open for registration. Groton Forest on 9/11 and Leaf Peepers on 10/2 are also open for registration. Those events also need volunteers.
CVR 2021 Race Dashboard
Click here to view the dashboard. CVR 2021 Race Dashboard
Volunteers Needed!
Thank you for volunteering. If you can please sign up for future events. CVR Race Volunteer List. Thanks!
Leaf Peepers Training
Participation in this training is going to be awesome. Already 21 people have registered! The fee for training is only your registration fee for the race so essentially it is free. The first group lesson is on August 5th but homework is already being handed out. Go to our signup sheet to get involved! Any questions you can ask me or April.
Other News
Lake Placid Ironman
Donna Smyers competed in the Lake Placid Ironman last weekend and won her age group in a time of 12:29. Her times were 1:13 for the 2.4 mile swim, 6:23 for the 112 mile bike and 4:38 for the marathon. She says she is getting slow but this is an awesome performance that qualifies her for Hawaii. Congratulations Donna!
Mt. Mansfield Hike
April Farnham, Mark Howard, Justine Franco and myself hiked up Mt. Mansfield on Saturday and were met with beautiful views at the summit. The run down was painful.
Paine Mountain School
Rowly Brucken ask me to post this request:
Paine Mountain School District is looking for varsity boys and varsity girls XC coaches.  These are teams composed of Northfield and Williamstown high school runners.  Anyone interested please apply at schoolspring.com, or contact T.J. Powers (tpowers@cvsu.org, 802-455-8739)
Corporate Cup
Dot Helling asked me to post this message about the Corporate Cup.
The Corporate Cup is looking for volunteers. Dot Helling needs experienced runners and walkers to serve as course marshalls and judges over the competitive walking division. This 5K running and walking event is the largest fundraiser for the Governor's Council on Physical Fitness and Health. The event will be held LIVE on Thursday, September 16, 2021 starting from the Capitol in Montpelier. You will be trained to do the judging. Plan on a time commitment of 2-3 hours beginning around 5pm. More details to follow. Please contact Dot at dothelling@gmail.com.
Your news
This is for you, share your news!!
Newsletters
The submission deadline for our next newsletter is August 25th. Start writing your submission now!
---
Ongoing/Upcoming events
CVR Races
Barre Heritage Trail 5K – July 31
Berlin Pond 5 Miler – August 12
Northfield Savings Bank 5K – September 4
Groton Forest 26.5, 15, 6.2 – September 11
Fun Runs – Every Tuesday night at 5:30 PM starting on the Montpelier bike path.
Millstone Virtual Trail Series
Millstone Trails is raising money by doing a 13 week trail virtual series. Click the following links for more details.
https://www.facebook.com/millstonetrails/
http://www.millstonetrails.org/?fbclid=IwAR3zwO_KmvIZyN6l3fdqiEmpztMs-W-sRO0LUyUHSAfKVAJujrMxBwke4YI
Safe Running!
Manny Sainz