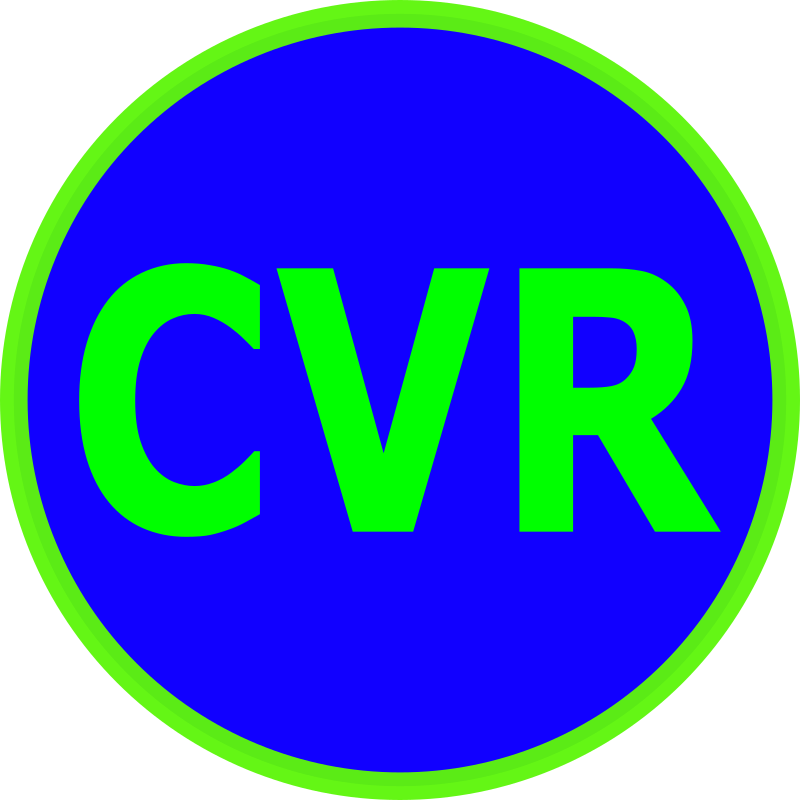 CVR Birthdays this week:
Happy Birthday to: George Aitken, Richard Cleveland, Kate Pain
---
Hi CVR Members,
As fall is winding down, the frost and cooler weather is with us. Plenty of running still going on however including the Vermont City Half Marathon on Sunday. This weekend will be Onion River Outdoors Autumn Onion – Halloween 5K and coming a week after will be the start of the Fallen Leaves Series. More about that later. Let's get into the news.
NEXT CVR MEETING
As announced before, our next CVR Club meeting will be held the first week of November. That's next week! I am planning on either Wednesday the 3rd or Thursday the 4th. Once I have the venue nailed down I will send the official invitation.

CVR Survey #2
We completed the survey a couple of weeks ago. We have many opened ended questions making it more difficult to read and analyze the results, but I'm making my way through them. I'm looking for a way to be transparent and share all the results with you so you yourself have a chance to review them at your leisure but I haven't found the way yet. So for this news and notes I will share just a few of the results to show how powerful the information can be.
CVR#2 Results (several of the questions)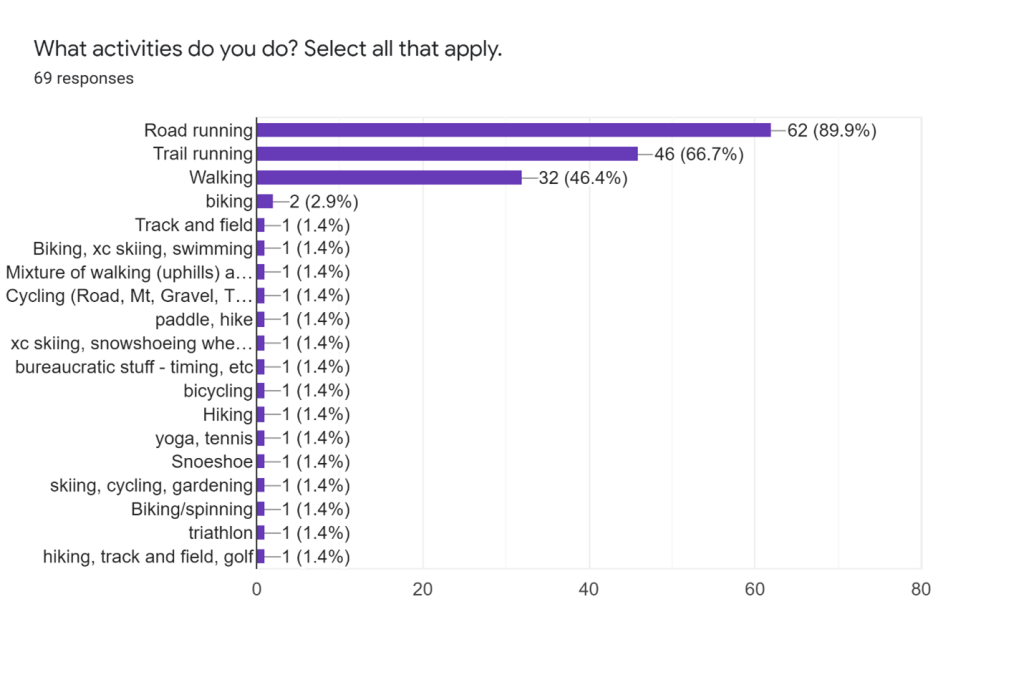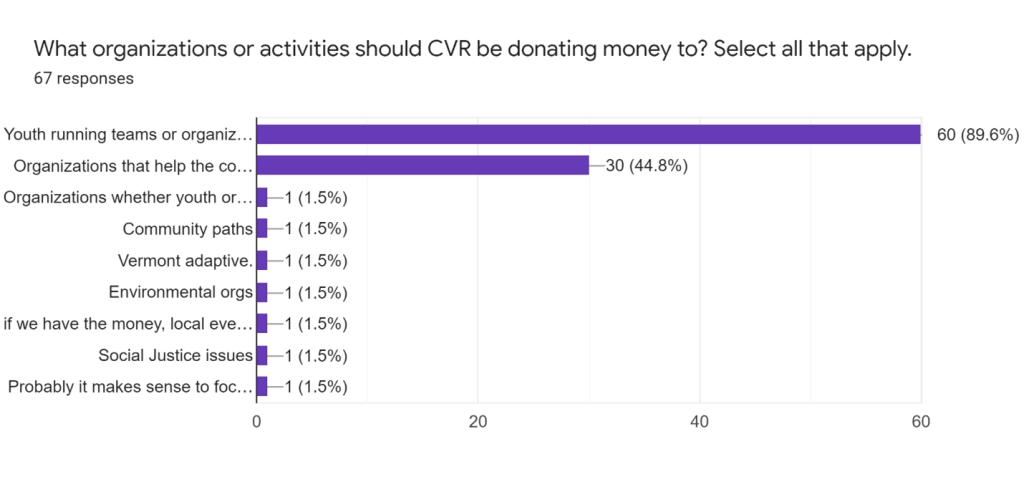 Next Up CVR Races
Tim Noonan wanted me to put this out there for the Fallen Leaves series coming up and starting next Saturday!
"This low-key, three race series is on a flat and fast 5K race course that begins and
finishes on the Montpelier High School track, and incorporates the Montpelier
bikepath."
Go to the Fallen Leaves Home Page for more details – Fallen Leaves.
Vermont City Marathon (Half)
For fear of missing someone's name, I will not try to mention everyone who participated in the half marathon and relay. You can view the results yourself by clicking this link – Vermont City Marathon Results.
Trail Run Series Extended
Natalie Gentry is planning to host a trail run this Saturday……weather permitting. I will blast out the details tomorrow.
Fun Run Extended
There wasn't a great turnout for the first extended fun run at 5 PM, but a few runners and walkers!
CVR Club Embroidery Campaign
The campaign was launched in an email blast last week. If you are interested in having an item embroidered with the CVR club logo please refer to that email.
2021 CVR Dashboard
No updates. View the dashboard at CVR 2021 Race Season Dashboard.
Volunteer Sign-up
Our webmaster has added a new way to sign up to be a volunteer for our races, for the remainder of this year. The sign up includes the Fallen Leaves Series and the New Year Eve 5K. Click on this link to go to the directions. Those who signed up on my old google sheet, your names have been moved to the new location. You do not need to do anything. Try it out by signing up!
RACE DIRECTORS NEEDED – Continued Request
There has been some interest expressed for a couple of these. Please understand that without directors we cannot put on race events. Thanks!
New Year's Eve – I am looking for a co-director to train for the future.
Mutt Strutt – We have some interest but have not nailed down a new director yet. This is really a long standing CVR event and there will be a lot of support to get you through it.
Barre Town Spring Run – We are looking for a director here as well and there will be plenty of support to transition the event to you.
Please signup by reaching out to me!
Next Up Races
Our next CVR Race won't be until the Fallen Leaves Series in November but there are many race events happening in October including ORO's Autumn Onion listed below.
Other News
Onion River Outdoors
Sunday, October 31st:
– Autumn Onion 5K, our annual costume race, at 9am: registration is open on runreg. Are you ready for the best Halloween Costume Race in VT! Join the fun and race through downtown Montpelier in your best Halloween costume. Categories for adults, and kids. Prizes for Funniest Costume, Most Creative Costume, Most Vermont-y Costume, Best Kid's Costume and Most Committed to Running in an Uncomfortable Costume.
– Fall Festival Trick or Trot, 1 miler, 1:30pm start time. Register here!
Support MRPS PIE and Montpelier Alive during the fall festival and come Trick or Trot with Onion River Outdoors during the Fall Festival! The festival runs from 1-4pm, with the Trick or Trot starting at 1:30pm. All ages and abilities are welcome, bonus points for costumes and no dogs please!
Your news
This is for you, share your news!!
---
---
Ongoing/Upcoming events
CVR Races
Fallen Leaves 11/6, 11/13, 11/20
Unofficial Fun Runs – Tuesday night at 5:00 PM starting on the Montpelier bike path. They will go on as long as members want to run together.
Runderacheivers in Northfield
Runderachievers is a social run group that meets in front of Good Measure Brewing Co every Wednesday at 5:30. (17 East St, Northfield, VT 05663)
All ages, and abilities are welcome. After a short run(or walk) we enjoy special pricing of their draft craft beers.
Anyone wishing to enter the brewery must show proof of vaccination.
Safe Running!
Manny Sainz