News you can use!
CVR Birthdays this Week!
Happy Birthday to: John Martin, Norm Robinson, Gavin Boyles, and Nina Aitken!
---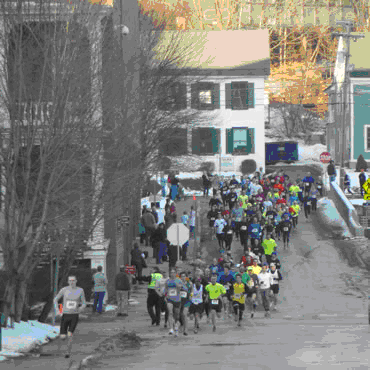 NYE 5K SIGN UP NOW!
---
Hey
, we've made it to the earliest sunsets for another year. We afternoon runners can all appreciate that sunset in Montpelier is now 4:11 pm from today until next Wednesday and then we start gaining some daylight. I'm afraid you morning runners have to wait until Dec 29-Jan 7 for your latest sunrise of 7:26 a.m. before you start heading the other way.
Wow! 17 people participated in the inaugural Saturday Winter Long Run of the series and a couple more showed up for post run refreshments. The best part is we had a distribution of ages 17-66 (almost, he turns 66 today) and practically filled La Brioche for an hour or so afterwards. The Saturday morning run for Dec 9 will be hosted by Beth Daut at 793 Crosstown Rd. in Berlin. Contact Beth for details and so she has an idea of how many want to run how far. Be there ready to run at 9:30.
Continue reading CVR News and Notes from Donna →