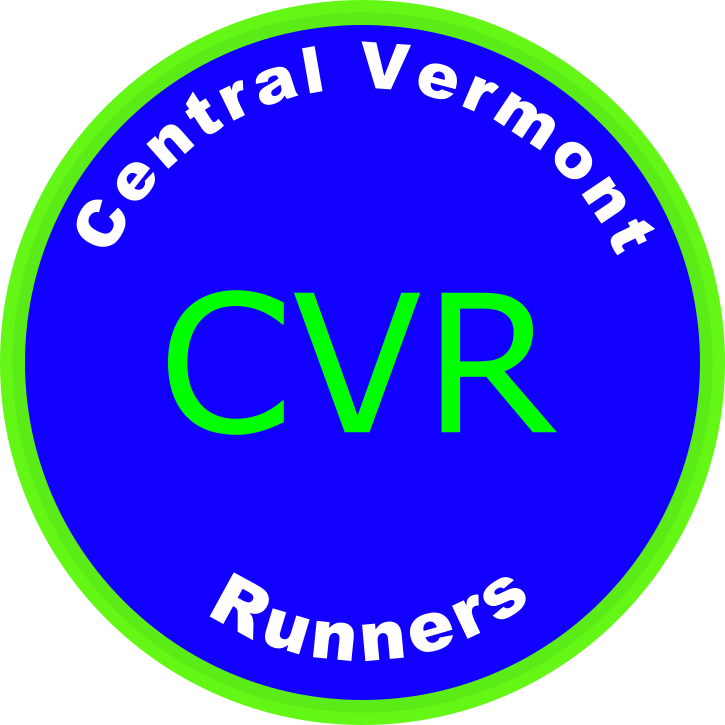 CVR Birthdays this week:
Happy Birthday to: Brynn Bushey & Darrel Lasell!
Greetings from quiet Adamant,
It's the Tuesday before Thanksgiving as I write this and I feel very appreciative of our running club.  A lot of the daily news highlights a divisive world. Yet on a cold Saturday morning, thirty-five runners, aged from twelve to seventy, stood shoulder to shoulder on a starting line. When the starter yelled "GO!" they ran together and were supportive of each other's efforts to compete in and complete a race. Afterwards they stood and clapped for each other at the awards ceremony. 
This was a scene that was repeated CVR race after CVR race all year long whether the race had forty runners or four hundred. While I wasn't able to run this year, I am still appreciative and thankful for all the runners and volunteers who made this year happen.

Happy Thanksgiving!

This past Saturday was the last Fallen Leaves race and last CVR race for the year. The course was slightly changed due to the Farmer's Market at the Montpelier High School. There were 35 finishers. Charles Kehler, age 15, from Greensboro was the top male in a time of 16:29. That's a 5:19 pace. Amy Felice, age 17, was the first female. Amy's from Calais and ran the course in 19:54. That's a 6:25 pace. Thirteen year old Thea Boyles won the Non-Binary category in a time of 25:36. That's an 8:15 pace. The 35 person field at this race was unusually fast. 7 Age Group winners, excluding overall winners, were under 7 minutes/mile pace, with 2 under 6 minute pace.


A reminder about the annual banquet. This is an event that also requires a lot of work, from finding a venue and picking a menu to deciding annual awards/recognitions. To pull this event off requires a group of volunteers. If anyone would be interested in helping with any of this, please let me know.

Fun Runs/walks are over officially for the year… 🙁
… but Winter Runs are coming!
With snow in the forecast Heather Tomlins is getting organized for the winter runs.
Calling all winter run (and walk) enthusiasts! The cold weather is upon us, and that means getting your thermal tights and Yak Trax out of mothballs to hit the roads and trails of central Vermont this winter with your fellow CVR members. Winter Group Runs (WGRs) will be starting up again December 3, but we need your inputs to start setting up the schedule. In the past, popular routes have been in and around Berlin Pond, Adamant, Plainfield, Middlesex (including a Red Hen stop), Danville (rail trail run), Northfield, Waterbury, etc. This year we'd love to add more spots to the list so please take the linked survey below to tell us more about your favorite places to run/walk. Please note that we are trying to be more inclusive of multiple route lengths (ranging from shorter to longer, and routes suitable for walkers) so please share your ideas so we can make these meetups work for as many members as possible!

Please fill out this short survey by November 22 so we can put the initial meetups together and build out a robust calendar of great routes. Open to ideas on new spots and branching outside the Montpelier area if we can!
If you are running in the evenings, please remember reflective clothing and enough blinking lights to resemble a Christmas tree. 🙂 

Trail Running
I'm not aware of a trail run this weekend but keep checking…
See the Group Trail Run spreadsheet for info on planned runs.

https://docs.google.com/spreadsheets/d/1QVYTimMdXi0NafvtSjvwcacQ1yP4uMNipIJw7FUeymU/edit#gid=650063008

It's a Google Doc. You can look ahead and see if there's a run that interests you. 

Volunteers
If you volunteered this year but don't see it indicated on the CVR Race Series spreadsheet, please reach out to our webmaster John Hackney. 
Race Results/reviews:  
City of Oaks Marathon Race from Bob Emmons.
Sue, daughter Sarah, and son-in-law Andrew, and I, ran November 6 at the City of Oaks Marathon race in Raleigh, NC. On a hot, humid day, Sue ran 24:30 for 5k and won her division. Of note, she came in ahead of all the women in the 40 and 50year old age groups, and all the men in the 60 year old age group. Sue finished 10th in the women's field, and 47th overall in a field of 850 plus. I reached my goal time for the half marathon.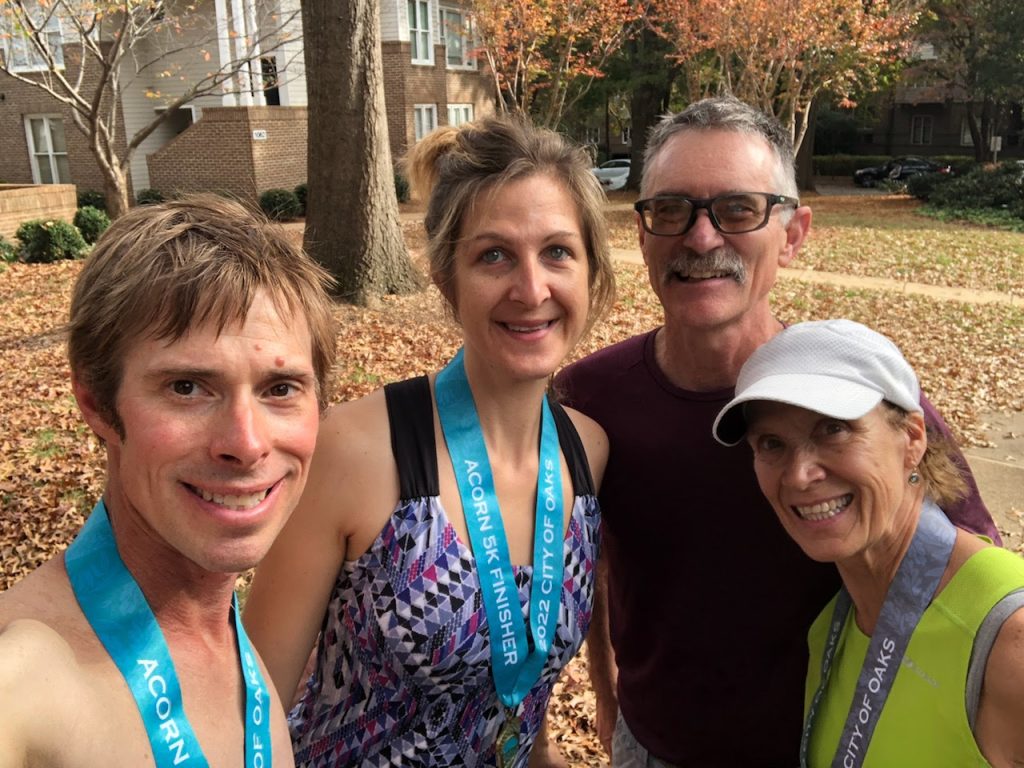 Rothman 8k
Jim Flint traveled to Philadelphia by train on Thursday to get ready for the Rothman 8k race. The 4.97-mile race is part of the Philadelphia Marathon race weekend. There were 3,346 finishers in the 8k race. Temperatures were in the 30s with a 10mph wind. The sunshine helped once we got going. The 8k course is an out and back along the Schuylkill River, after a lollipop loop in the beginning. The large field slowed down the first half mile, which was generally a good thing. I moved up steadily and then held on the last mile to finish 202nd overall and fifth in the M60-64 age group. My legs felt good despite walking 15 miles around the city yesterday. I was glad to run at 11 a.m. in the morning vs. 7 a.m. for the half marathon. Wearing my CVR long sleeve shirt brought good luck – including running into two old friends from Burlington, Bobbi Jean and Jay McGrath, after the race!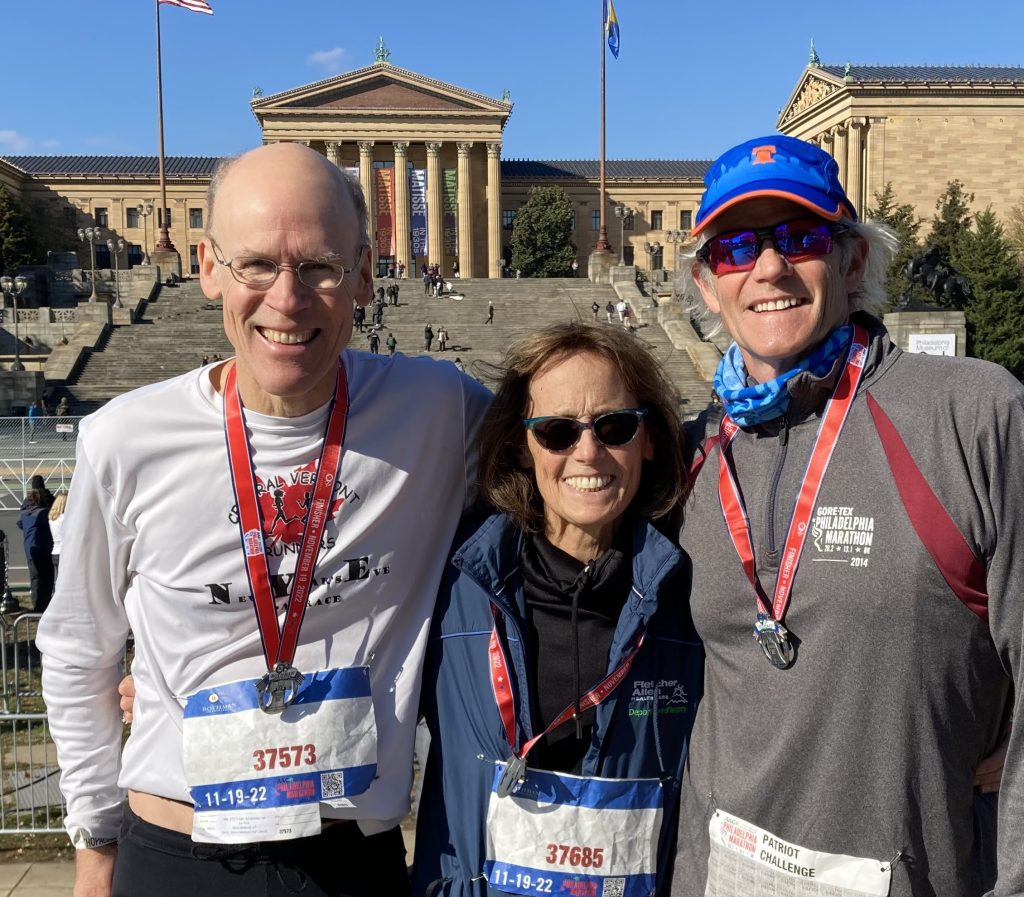 Pre-winter long run
Heather, Ann, Dot, & Laura did a ten mile run through the hills of Calais this past Sunday. Beautiful, sunny & cold.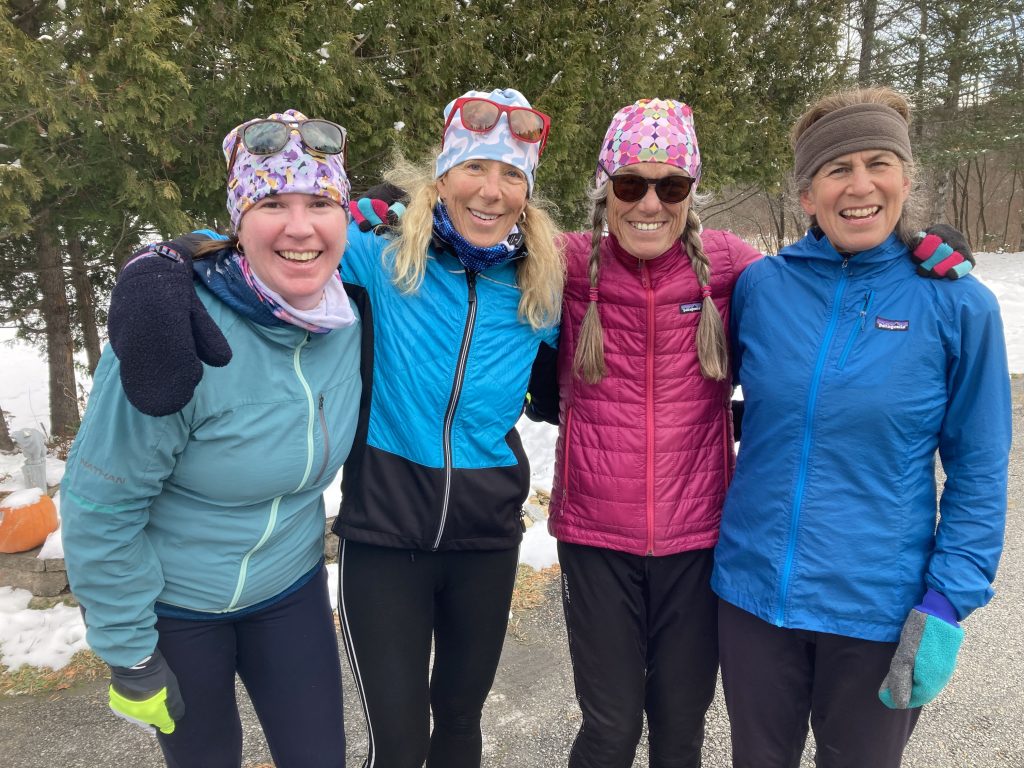 Up Coming Events.

Turkey Trot
Northfield, U32, and Spaulding High School are hoping to form a cooperative indoor track program for high school runners. The schools do not fund clubs, so Northfield is hosting a fundraiser: Thanksgiving Day Turkey Trot- 5k run or walk, starting at the Northfield High School front lobby. Day of registration, or mail-in registration- no online reg! 9:00 am, registration starts at 7:45. $20.00 for adults, $15.00 for students, Free for ten and under.
For more information: Ann Bushey: abushey@cvsu.org

Turkey Trot
Don Singer is organizing the Gobble Wobble Turkey Trott 5K

Location: Barre Town Elementary School
Price: $20.00 Race Fee + $2.20 SignUp Fee
Registration: Registration ends November 20, 2022 at 11:59pm EST
Start Time: 9:30am Thanksgiving Day
https://runsignup.com/Race/Events/VT/Barre/BCCGobbleWobble

Other News

Newsletter
John Hackney is putting together a newsletter for the club. John is looking for submissions, so if you have a piece about a run or club history, or anything you think the club would like to read about, please send your articles to John at: jhackney67@gmail.com by December 4th.

CVR Equipment Use
Anyone wanting to use equipment send Sal (and cc myself) a request that includes 1) Date equipment to be removed from the shed, 2) Itemized list of equipment being removed; including quantities, 3) Date equipment will be returned to the shed. Please send Sal (and cc the club president) and email to let us know when the equipment has been returned.

The Club Timing Clock
If you use the club timing clock, it's important it be returned the next day. The clock is used for a lot of events other than club races. It's club policy that if the clock is requested for a non-CVR event, a CVR member must be present to ensure proper handling.

FOR SALE
You have running gear you're not using and would like to sell it, I'm happy to post it here for you.
…………………………………………………………………………………………..
Elected Officers
President – Chris Andresen
Vice President – Kim Caldwell
Finance – John Valentine
Secretary – Cheryl Lasell
At Large Executive Committee: Bob Murphy, Darragh Ellerson

Keep your feet moving

Chris Andresen

If you have a comment or question, please don't hesitate to reach out to me at: andresen41@gmail.com