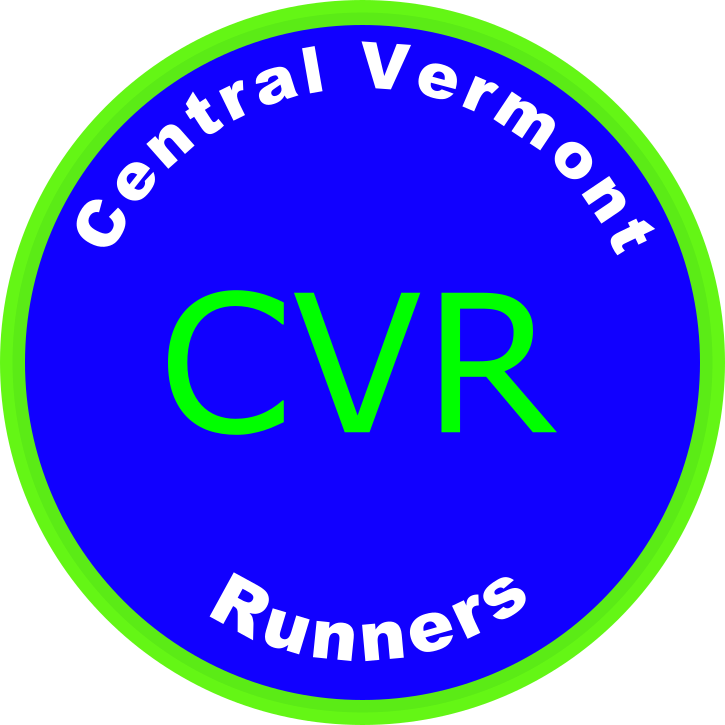 CVR Birthdays this week:
Happy Birthday to: Clare Irvin, Lynn Butler
---
Hi CVR Members,
Welcome to October! The year is going by fast but now is a great time of year for running and looking at the beautiful foliage. A great setup for the Leaf Peepers event so let's get into the news.
Leaf Peepers Half Marathon/5K
Sunday was a great day for our premier race of the year. Cool morning, a slight drizzle and muddy sloppy dirt roads, what more could you ask for? A really nice turn out for this Covid era. There were about 400 entrants with actually 132 showing up to run the 5K and 190 running the half marathon. Everyone had a great time. So many great performances and so many CVR members participating that I can't capture in my news and notes today. But Jordan Theisen won the half marathon in a time of 1:14:46 and CVR member Dylan Broderick won the women's division in a time of 1:33:29. For the 5K, Scott Savage was the overall winner with a time of 18:17 and CVR member Meg Valentine was the winner of the women's division with a time of 20:31. All results can be seen by clicking here. Congratulations to everyone.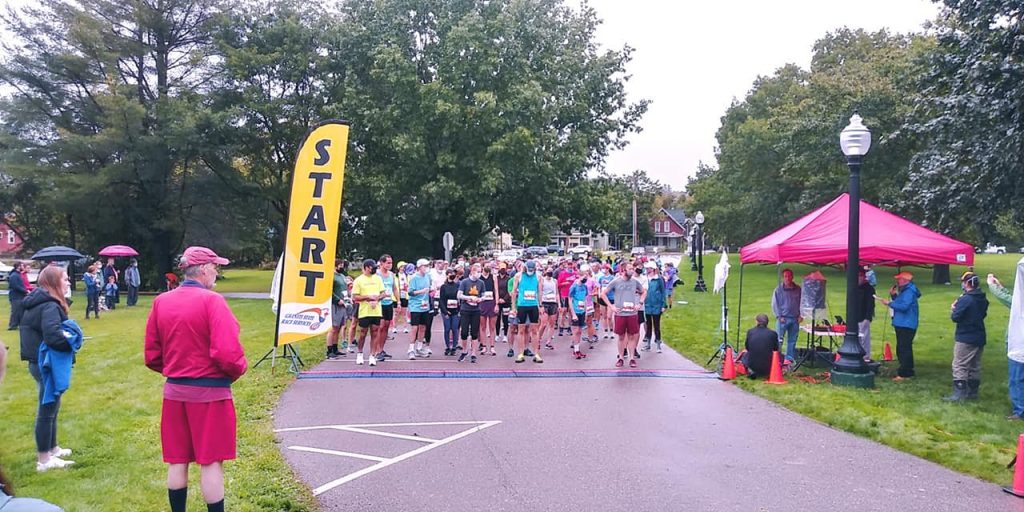 From the Hardwick Gazette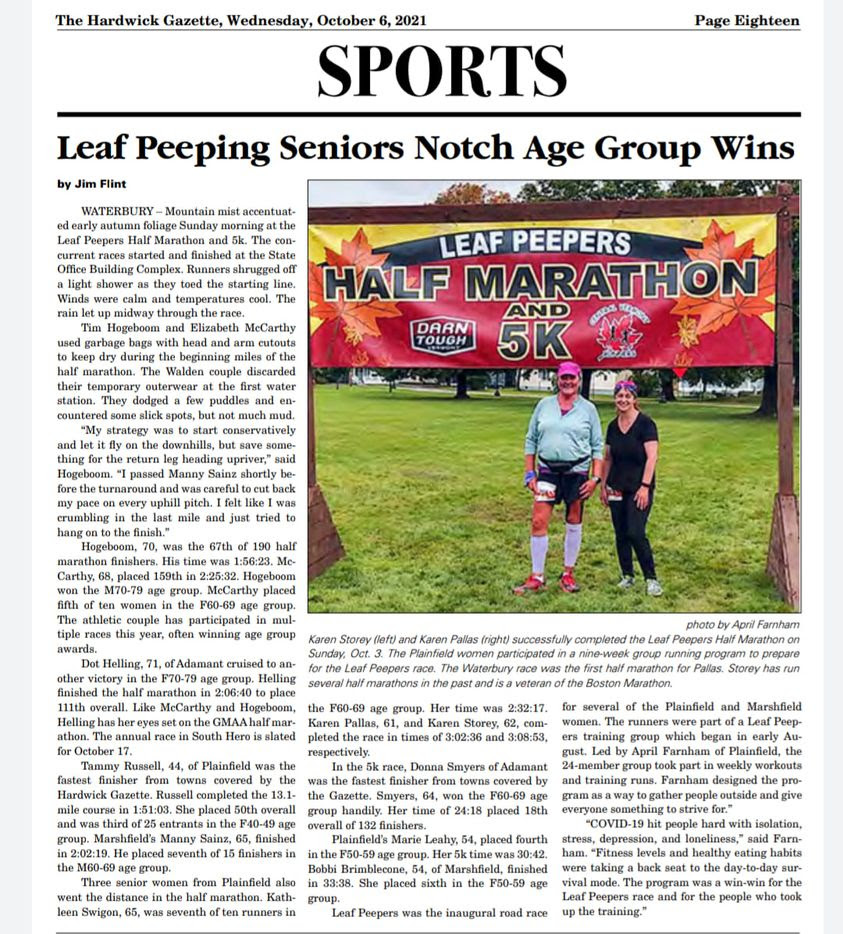 Leaf Peepers Training
Leaf Peepers training concluded with 22 members of the group participating in the 5K or half marathon. This is a great success story for this program as most of the group were trying to get back into running and for some it was their first ever 5K or first ever half marathon. Congratulations all of you!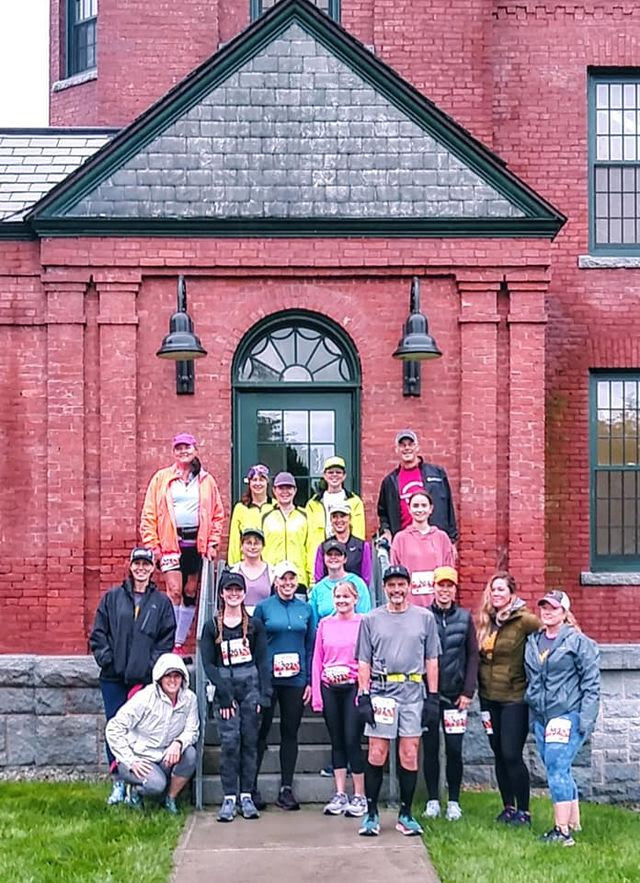 CVR Survey
The survey closes on Friday! I would love to have more of you participate in the survey. If you haven't done it yet please take 10 minutes out of your busy schedule and give us your thoughts. Thanks! CVR Survey
Trail Runs Extended
Scott Widmer will be hosting this Saturday at Irish Hill in Berlin. Details will come out as usual in an email to those on the trail run distribution list. If you would like to be added to the email post about the runs click here: Add me to Trail Email List.
Volunteer Sign-up
The volunteer signup sheet has been working very well for members to signup to volunteer. Therefore, our webmaster has added it to our website CVRunners.org, where members and race directors can easily find it. Go to our website and you'll see it in a big block. As always, thanks for volunteering.
CVR Fun Run Results
As you know Darragh Ellerson has been recording everyone's time at the fun runs on Tuesday night, typing them up and sending them to the World for publication. We also thought it would be pretty cool to have them available on our own website. Webmaster John Hackney has therefore created a location for this. Go to our website and you will see the last 2 weeks have been entered!
RACE DIRECTORS NEEDED
We need more race directors. If you have a desire to be a race director some day, here are the opportunities. You will get plenty of support from experienced directors so please come forward?

New Year's Eve – I am looking for a co-director to train for the future.

Mutt Strutt – We have some interest but have not nailed down a new director yet. This is really a long standing CVR event and there will be a lot of support to get you through it.

Barre Town Spring Run – We are looking for a director here as well and there will be plenty of support to transition the event to you.

Please signup by reaching out to me!

Next Up Races
Our next CVR Race won't be until the Fallen Leaves Series in November but there are many race events happening in October including ORO's Autumn Onion listed below.

Other News
Tim Noonan ran in the Maine Marathon over the weekend and and had a tremendous time of 3:46. Congratulations Tim.

Boston Marathon is on Monday, good luck to all those running.

For the Ultra runners in the group, Mark Howard is running the 100 mile Midsate Massive, a run from New Hampshire to Rhode Island and April Farnham is running the 12 hours of Devil's Den. Good luck to you guys!

2021 Race Dashboard
The dashboard has been updated through Sodom Pond. When I get the results for Leaf Peepers I will be adding it. View the dashboard here CVR 2021 Race Season Dashboard.
Old town Hall Oktoberfest 5K
I was asked to post this message about a new 5K.
Come join us this October 9th in Brookfield for the Old Town Hall's inaugural Oktoberfest 5K event! While our annual indoor Oktoberfest celebration may have been put on hold, this year's timed race is still going full steam ahead. The route begins and ends in Pond Village, looping up, out, and around to finish with a trot across the Floating Bridge. This is a timed race open to runners and walkers alike, and a way to appreciate autumn in Central Vermont with warmth and with community. Start tome 10AM. Register early to make sure that you can get a shirt that will fit you!

Onion River Outdoors
Wednesday, October 13th – 5:30pm – Altra Shoes and Ultra Brews
Join Onion River Outdoors and Altra on a fun run, October 13th 2021. Demo Altra shoes and find out why they are growing in popularity and then head on over for a drink at Three Penny Taproom on us!

We'll be demoing the shoes on a 5K loop of your choice – either a hilly trail run up to Hubbard Park or a flatter run on road and trails along the North Branch River, both led by ORO staff. Meet at our shop on Langdon St, Montpelier at 5:30pm. This demo is FREE! But please sign up here in advance so we know what demo shoes to have ready.

Sunday, October 24th – DWCX (Dam Wrightsville Cyclocross) 5K, 9am
We're holding a 5K race prior to the cyclocross race, but on the same course as our annual cyclocross! It's a combo trail run/cross country/steeplechase-esque race and will be both fun and challenging! More information and registration can be found here: https://www.bikereg.com/dam-wrightsville-cx

Sunday, October 31st:
– Autumn Onion 5K, our annual costume race, at 9am: registration is open on runreg. Are you ready for the best Halloween Costume Race in VT! Join the fun and race through downtown Montpelier in your best Halloween costume. Categories for adults, and kids. Prizes for Funniest Costume, Most Creative Costume, Most Vermont-y Costume, Best Kid's Costume and Most Committed to Running in an Uncomfortable Costume.

– Fall Festival Trick or Trot, 1 miler, 1:30pm start time. Register here!
Support MRPS PIE and Montpelier Alive during the fall festival and come Trick or Trot with Onion River Outdoors during the Fall Festival! The festival runs from 1-4pm, with the Trick or Trot starting at 1:30pm. All ages and abilities are welcome, bonus points for costumes and no dogs please!

Volunteers Needed!
Thank you for volunteering. If you can please sign up for future events. After Leaf Peepers we have the Fallen Leaves. CVR Race Volunteer List. this list is being used by Race Directors. Thanks!


Your news
This is for you, share your news!!
---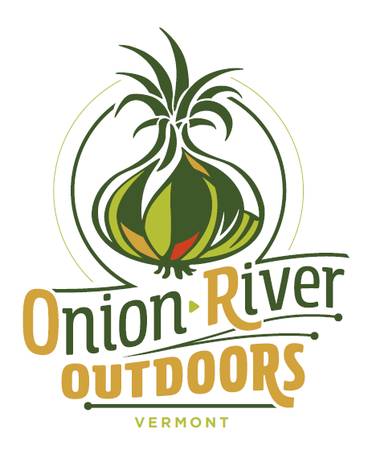 Ongoing/Upcoming events
CVR Races
Fallen Leaves 11/6, 11/13, 11/20
Fun Runs – Every Tuesday night at 5:30 PM starting on the Montpelier bike path.
Runderacheivers in Northfield
Runderachievers is a social run group that meets in front of Good Measure Brewing Co every Wednesday at 5:30. (17 East St, Northfield, VT 05663)
All ages, and abilities are welcome. After a short run(or walk) we enjoy special pricing of their draft craft beers.
Anyone wishing to enter the brewery must show proof of vaccination.
Safe Running!
Manny Sainz