Barre Town Spring Run 5K this Saturday!
---
CVR Birthdays this Week!
Happy Birthday to: Mark Howard, Jen Miller-Arsenault, Sargent Burns and Gary Kessler.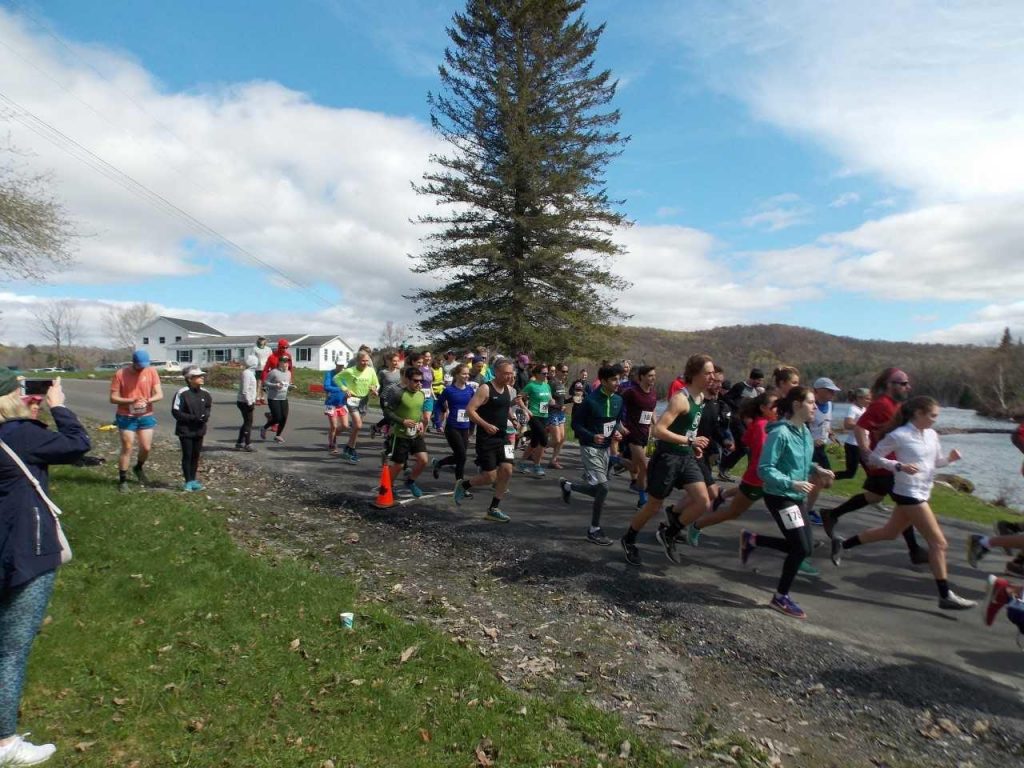 Adamant Half Marathon and Relay
The inaugural Adamant Half Marathon and Relay this past Saturday had a good turnout and enthusiastic reviews from many of the runners.  Neal Graves of Stowe won the race for the men in 1:24:21 and Maria Smith-Lopez from Laramie, Wyoming for the women in 1:37:15.  Top CVR runners were George Aitken (1:36:14) and Megan Valentine (1:43:17).   Megan, running with her dad, John Valentine, as relay partner, won the relay.  Results are here.  This was the fourth CVR/ORO Race Series race.  Thanks to race directors Donna Smyers and Chris Andresen for putting on the event.  And thanks to the volunteers!
Barre Town Spring Run
And this weekend is the fifth CVR/ORO Race Series race.  The Barre Town Spring Run 5K is at 9am Saturday at the Barre Town Rec Facility adjacent to the Barre Town school.  The course is mostly on the Barre Town Rec path and is the year end closing event for the Barre Town School Kids Running Program.   But it also is a competitive race in the Race Series and this is the 11th year.  If you want to run, it is a bargain at $10 (adults); 8th grade and under are free. 
Vermont City Marathon Expo Table
This year CVR will have table at the marathon expo, which is on Friday, May 24 and Saturday, May 25. Leaf Peepers race director Will Robenswill staff the table most of the time to promote Leaf Peepers and other CVR events. If you go to the expo, make sure you drop by. And even better, hang out a while and talk up CVR to the runners stopping by.
Will is looking for a volunteer or two to help him on Friday night of the expo at 5pm.  He has another commitment on Friday night so if you would like to cover the table for an hour or two, email Will.  The expo closes at 8pm and it would be good if we could cover the 5pm to 8pm slot.
Membership Reminder
You have to be a CVR member in good standing as of May 31 in order to participate in the 2019 CVR/ORO Race Series.  2018 memberships expired March 31.  If you are unsure of status, email Graham Sherriff.   If you have expired, you can renew here.
Andy
---
Ongoing events
CVR Fun Run  Tuesday at 5:30pm.  Location: Montpelier Rec Path behind the VT Dept. of Labor on Green Mountain Dr.

CVR Speed Workout Wednesdays at 6 pm. Meet near the MHS track on the bike path warmed up by 6.  Contact Matt Rutherford if you have questions and want to be added to the email list.  

Group Runs you might want to join:
Mondays at 4:15 p.m.  Usually at Berlin Town Office, 2nd Mondays in Adamant.  Contact Donna Smyers  if you want to get on the list.
Tuesdays and Thursdays at 5 a.m. Plainfield/EMES/Adamant. Contact Mark Howard.
Wednesdays at 5:30 The Runderachievers run from Good Measures Brewing in Northfield
Wednesdaysat 6:30pm at the Brunswick School (formerly the Three Stallion Inn) in Randolph, Contact Hannah Barden or 802-728-2052 to get put on the email list. 
Fridays at 6:30:  Susannah Colby hosts a trail run from her house in Randolph on the Green Mountain Stock Farms trails. FB info: 802 Trail Running
Upcoming events
May 16, Vermont Corporate Cup and State Agency Race 5k, 6pm.
*May 18,  Barre Town Spring Run 5K , Barre Town Rec Area, 9am
May 19, Barn Arts Race Around the Lake, 5k and 10k, Silver Lake in Barnard, 10:30am
May 26, Vermont City Marathon and Relay, Burlington
June 1, Colchester Causeway Race, 15k/10k/5k, 8:30am Airport Park, Colchester
June 1, Craftsbury Beer Run, Half marathon from Craftsbury to Hill Farmstead, 9:30am
June 1, Race to the Top of Bradford, 3.5 mile trail race, 9am, Bradford
*June 8, Capital City Stampede 10K, 9am, Onion River Outdoors on Langdon St.
June 15, NH-VT Covered Bridge Half Marathon, + 5K and relay, Colebrook, NH, 8:30am
June 16, GMAA Equinox Trail 10K and 5K, Charlotte, 9:30am
It's a good idea to check the race information on the race website as dates and times can change.
* Part of the CVR/ORO Race Series 2019
Feel free to email me any additional events that should be listed here.